Description
Alpine Halo9 iLX-F309TND
Custom-fit digital multimedia receiver with 9″ touchscreen for 2014-19 Toyota Tundras (does not play CDs)
Alpine Halo9 iLX-F309TND digital multimedia receiver with its startling 9″ touchscreen, I can now imagine enjoying an even better experience. The Tundra dash is roomy, which makes it the perfect spot for Alpine's supersized stereo experience. The Alpine interface "floats" on top of the included dash kit for a seamless factory look in 2014-19 Toyota Tundras. And Alpine really makes it easy to install this receiver in your Tundra:
The radio is already attached to the Tundra kit and situated for the ideal screen angle;
The iDatalink module has been pre-flashed and programmed for the vehicle;
Toyota-specific harnesses are ready for easy installation between radio and vehicle plugs.
PRODUCT OVERVIEW
The Alpine Halo9 iLX-F309TNDeasily installs a big screen into your Toyota Tundra without the guesswork of searching for a matching dash kit in addition to dealing with tricky installation issues.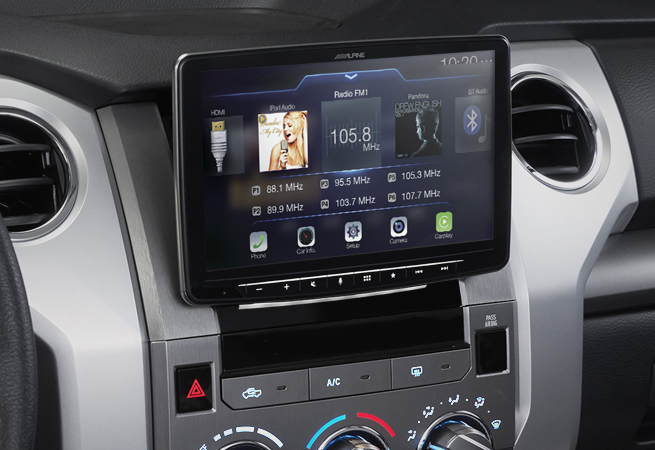 Alpine Halo9 iLX-F309TND TUNDRA-READY INSTALLATION
The iLX-F309TND comes with all the components you need to add the 9″ Alpine Halo9 to your Tundra. The main chassis specifically comes pre-assembled to the Tundra dash kit out of the box, so you don't need to research, buy, and assemble a compatible dash kit on your own. In addition, the iLX-F309TND's screen comes pre-positioned at the optimal angle, height, and depth for your Tundra, eliminating the need for you to tweak these positions through trial and error yourself. Generally, the required Tundra wiring harness and other adapters come with the iLX-F309TND too. The result? Finally a faster and easier installation, so you can get on the road and enjoy your iLX-F309TND.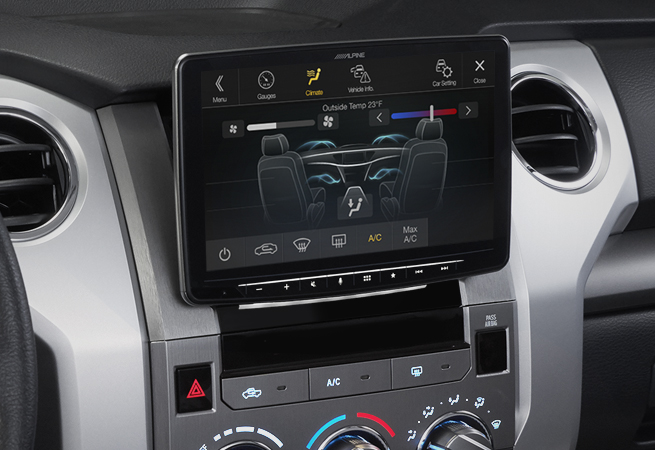 RETAINS VEHICLE INFO
The iLX-F309TND comes with an iDatalink Maestro Module to retain Tundra features like the vehicle cluster sub-display and steering wheel controls. Further vehicle information such as tire pressure readings, open door alerts, and vehicle vitals are viewable on the large screen. Overall the iDatalink Maestro Module is already pre-programmed for the Tundra, so you don't need to configure the module to your truck before
installing it
.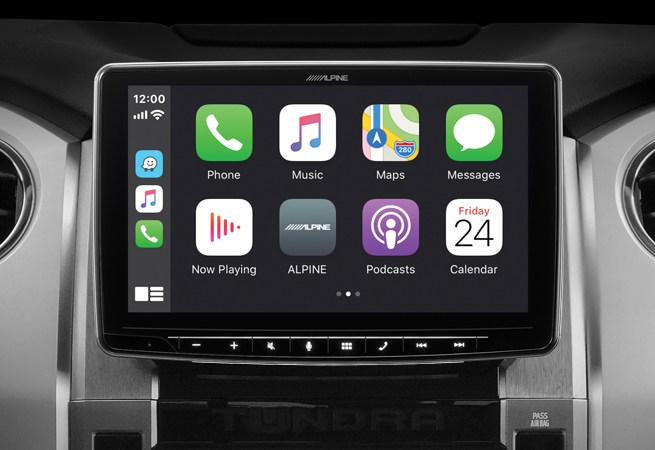 Alpine Halo9 iLX-F309TND APPLE CARPLAY
The iLX-F309TND "Works with Apple CarPlay" and lets iPhone users make and receive calls, access text messages, play music, and get directions in a way that allows them to stay focused on the road. Apple CarPlay is accessed through the capacitive touch screen and or the mic button. To activate Siri voice control is also compatible with iPhone 5 and later (iPhone must be connected via Apple lightning cable).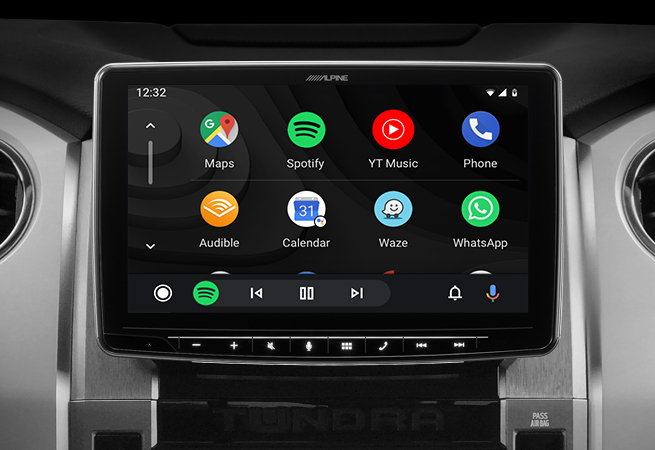 ANDROID AUTO
The iLX-F309TND includes Android Auto and works with Google Assistant. (requires both a USB cable and Bluetooth® connection; requires an Android™ phone running 5.0 [Lollipop] or higher and the Android Auto app). To access the Google Assistant on Android Auto, say "OK Google" or select the mic button. Together with Google Assistant, and Android Auto, it allows users to play their favorite music. Get driving directions to their destination, interact with smart home devices. Finally, reply to text messages – hands-free.