Bumper Repair Calgary
Premium Bumper Repair with Approved Systems
Bumper scraped? Don't let bumper crack repair cost detour you from restoring your car back to its original condition. The Car Salon provides superior restoration at a fraction of the price of a complete replacement for scuffed, scratched, cracked, dented, scraped and torn bumpers. By repairing only the damaged region, we can keep most of the factory finish of your vehicle and preserve the value of your vehicle.
Our qualified experts use only the best quality automotive paint, repair instruments, and technology including computerized color matching technologies to create an ideal color match.
All our bumper repairs use a high-end Dupont paint and clear coat to seamlessly mix the new paint into current car paint for flawless uniformity using an authorized, precise method.
Bumper Repair That's Better than Replacement
Bumper replacements can take days or even weeks for removal, ordering, waiting, and installation. Add to that the substantial cost of total replacement, along with your insurance deductible and/or the increase in your premium, and you can see how the Car Salon's like-new spot restoration saves time and money.
Our established methods of reconditioning enable our specialists to repair scuffed, scratched and dented bumpers without many of the concealed expenses of replacing the bumper.
We give repair service for the bumper on the same day, and we ensure full fulfillment. Call for a quote free of charge.
All our products comply with industry standards or exceed them. Our state-of-the-art equipment and methods. We repair all collisions, auto body repair, paintless dent removal or (PDR) short, frame straightening and car painting. Everything can be done as good or better than the results of the factory.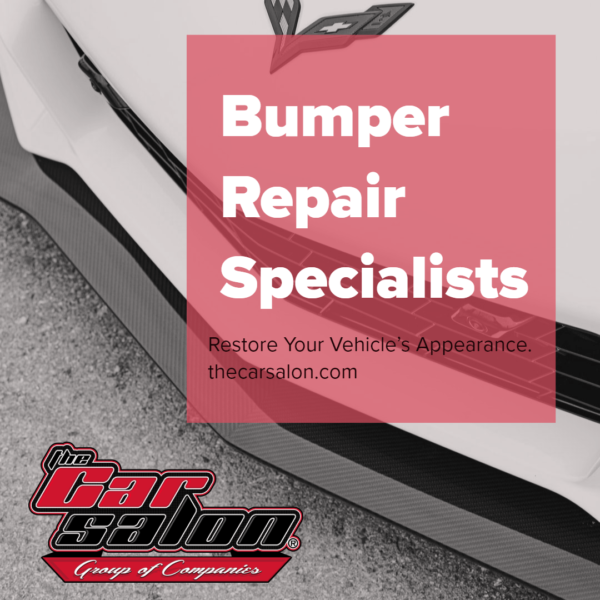 This makes our customers feel comfortable and confident that your satisfaction will be achieved by the auto body and the collision repair we perform. The Autobody Staff of the Car Salon is there for you to answer any questions that may arise. We have solutions for any problems that may arise with our policies and procedures that have been demonstrated to work in today's auto repair industry.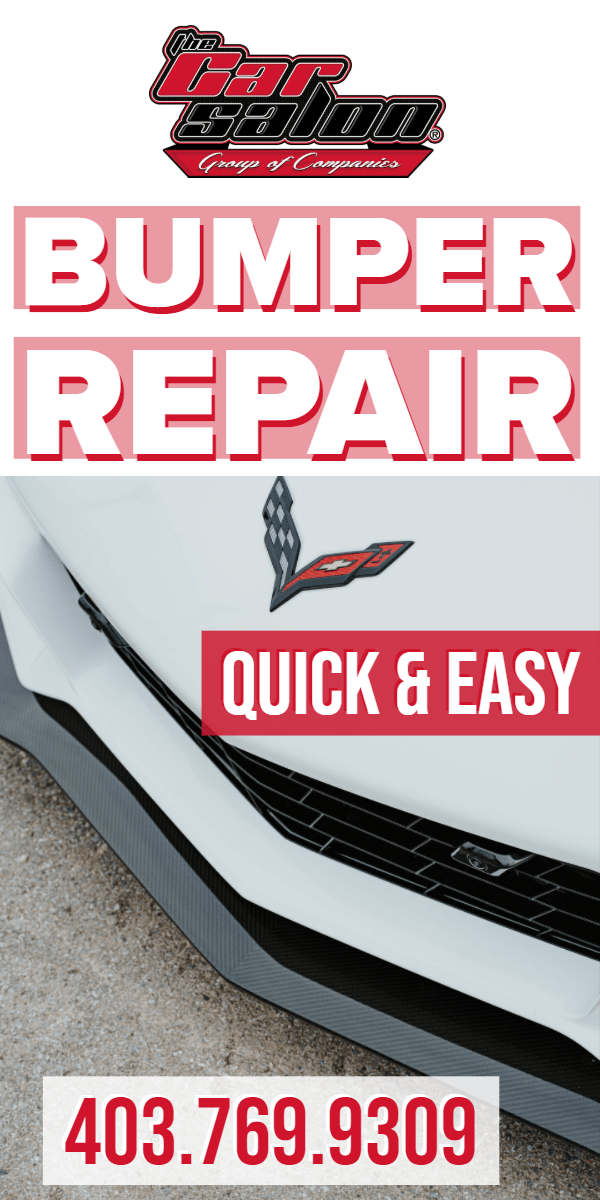 Where to get a Collision Repair Estimate in Calgary?
If you are involved in a Collision and are in need of a collision repair estimate. Phone us to make an appointment today!
The TCS Autobody repair services will include the following.
Dent Removal

Frame Straightening

Paint Repair

Bumper Repair

Scratch Removal
Who hasn't had an unfortunate bumper dent blemish a perfectly good looking car?
Our car body technicians at the Car Salon are experienced in bumper repair work that will transform your bumper like a new condition. We are experts in fixing and finishing damaged bumpers and we use computer to match the colour to restore the original look of your car bumper. Whether it's a scratch, ding, or dent let us fix your bumper at an affordable price to quality standard.
Fast, Affordable and Convenient Bumper Repair Services
Our bumper repair services are fast, affordable and convenient and we can typically repair, paint and restore your bumper in just a day or two with no noticeable difference from your cars pre-accident condition. If you have a plastic bumper that is damaged it may not need to be replaced. Often with plastic bumpers we can use materials and quality paints to return your bumper to its original condition at a fraction of the cost of a new bumper.
We specialize in the following calgary bumper repair services:
Bumper paint scratches
Bumper dent damage
Scuffs, holes, and cracks
You can rest easy knowing that The Car Salon Auto Body shop will restore your vehicle's appearance and performance to pre-accident condition.
Complete Bumper Repair and Replacement Services
We're here to help you, whether you want to repair or replace your bumper. We are committed to finding alternatives at the Car Salon to save you time and money without compromising the completed project. You're going to enjoy the communication and the choices that we offer.
Contact our technicians certified by ASE today.
Plastic Bumper Repair
Vehicle Owners waste thousands of dollars every year on bumper repairs in calgary.
Our skilled engineers can repair scratched, dented, scuffed, torn and torn bumpers using the methods of Car Salon restoration. We save time and money for our customers and the most plastic bumper repairs are conveniently finished in hours and not days.
Convenience
It's simple to repair your damaged bumper with the Car Salon. With our free estimation service, life can be easily maintained and interruption minimized. Do not use other ody shops to inform you that your damaged bumper must be substituted. In hours, we can repair most of your bumper on site.
Save Time & Money
We save 40 percent in bumper repairs on average for our customers. By using innovative methods, low cost savings and low overhead strategies, we save you cash and time while offering coherent professional solutions.
Environmentally Friendly
Reconditioning helps the environment rather than replacement, and wherever we can, the Car Salon helps. Repair of bumpers enables to avoid waste disposals by using fewer materials than production and transportation of fresh automotive components in Canada, which reduces the effect on our natural assets. Remember to employ your next scraped, dented or damaged plastic bumper at a Green Bumper Repair store such as the Car Salon in Calgary, AB.
You can rest easy knowing that The Car Salon Auto Body shop will restore your vehicle's appearance and performance to pre-accident condition.