Power Polishing Calgary
Power Polishing / Paint Correction will restore your vehicle's new car shine and luster. Our certified paint restoration techs are good at what they do. We feel one of the most important factors in keeping your car's paint in great condition is to always touch and feel your paint.
Just run your hand across your freshly washed car. Smooth paint means your car is ready for power polishing. If it feels like there is little specs or bumps all over the paint then you probably have some kind of contaminate on the paint. It is very important to have this professionally cleaned off and your paint sealed. If you do not get this attended to as soon as possible, it could lead to a more costly procedure.
This one customer of mine came into our shop with a brand new Volkswagen Jetta. The customer was concerned about his paint. I went out to have a look at his car. Sure enough, it had tree sap all over it. I asked how long it was on there and he said about a month. I told him it looks like it has eaten into the paint. So to make a long story short, It was too late for the removal of the tree sap. The car looked like it had a disease. I know I felt bad for him that I could not clean it off. This meant for him to ever sell his brand new car it was going to cost him a whole complete paint job.
So if you notice that your paint has a problem, please attend to it as soon as possible and get yourself a power polishing job completed by the Car Salon. Save your Time….. Save your money…. Power polishing will help keep your paint in great condition. If you are looking for a power polisher, and if you like to do this yourself.
We also carry a full line of Meguiar's product.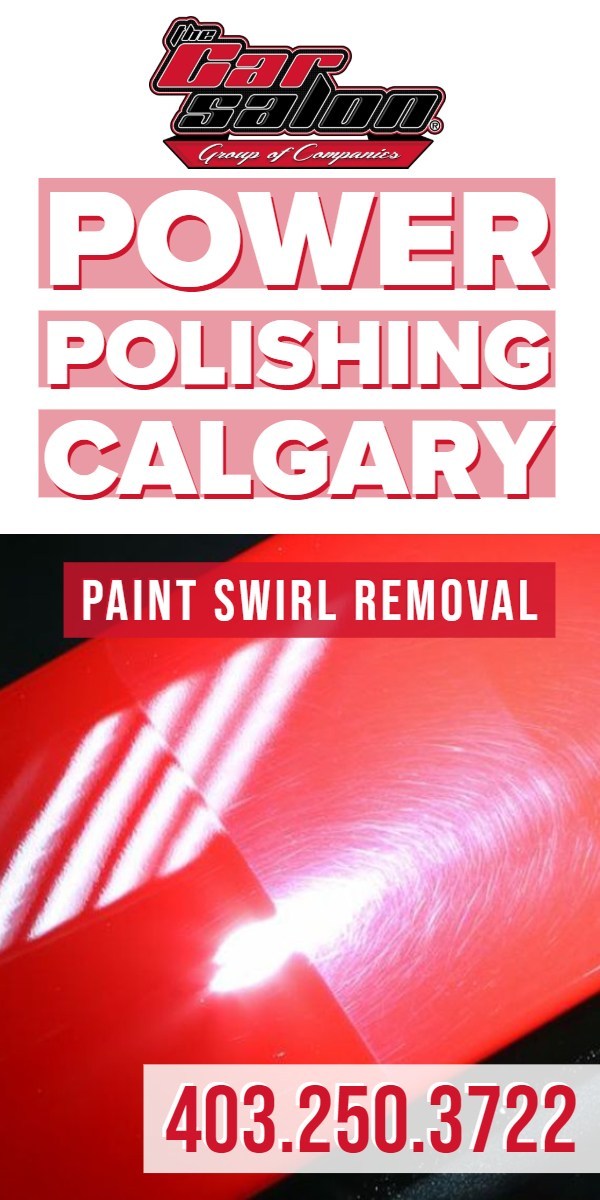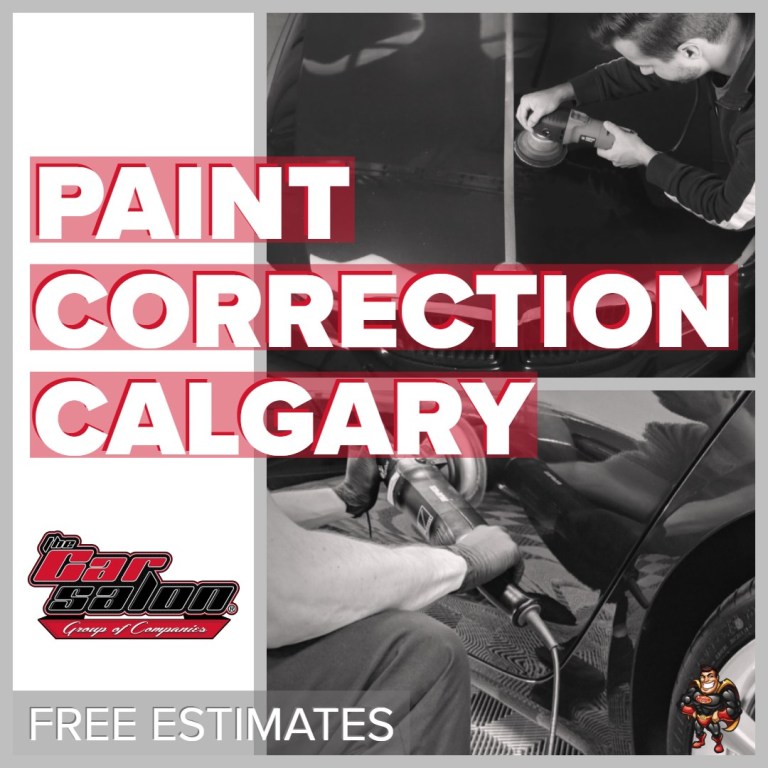 Paint Correction Calgary
What is Paint Correction?
Paint Correction is the removal of defects in your paint to return it to a fresh state, or even better than a new one. This involves swirling marks, surface scratches, RIDS, holograms, oxidation, marring, water spots, and bird droppings. Most frequently, these defects are caused by automated car washes or inappropriate washing methods, but can range from finger nails to key scratches or many other causes.
It is very prevalent to see detail shops using products known as "fillers," which fill the scratch momentarily but do not remove them properly. If you've ever wondered why after a few washes the car looked in bad shape, you'll understand it's been a fast task of cover-up. The only real, true way of eliminating these flaws is through the paint correction method.
We can clean & power polish your painted surfaces to an almost like-new shine that brings back the luster in your paint. For vehicles with paint in a little worse condition, a three-step polish will greatly improve the finish by removing minor imperfections and scratches (light) by performing our high developed paint correction techniques.
Hand Wax / Orbital Wax
Give your vehicle's surface a little protection with a powered polishing. We use Meguiar's, an exterior wash is included with this service. This is a process to continue to protect your surface from the contaminants. This can only be done when the paint surface is clean from all contaminates. The finish is new or a vehicle that the painted surface is in great condition.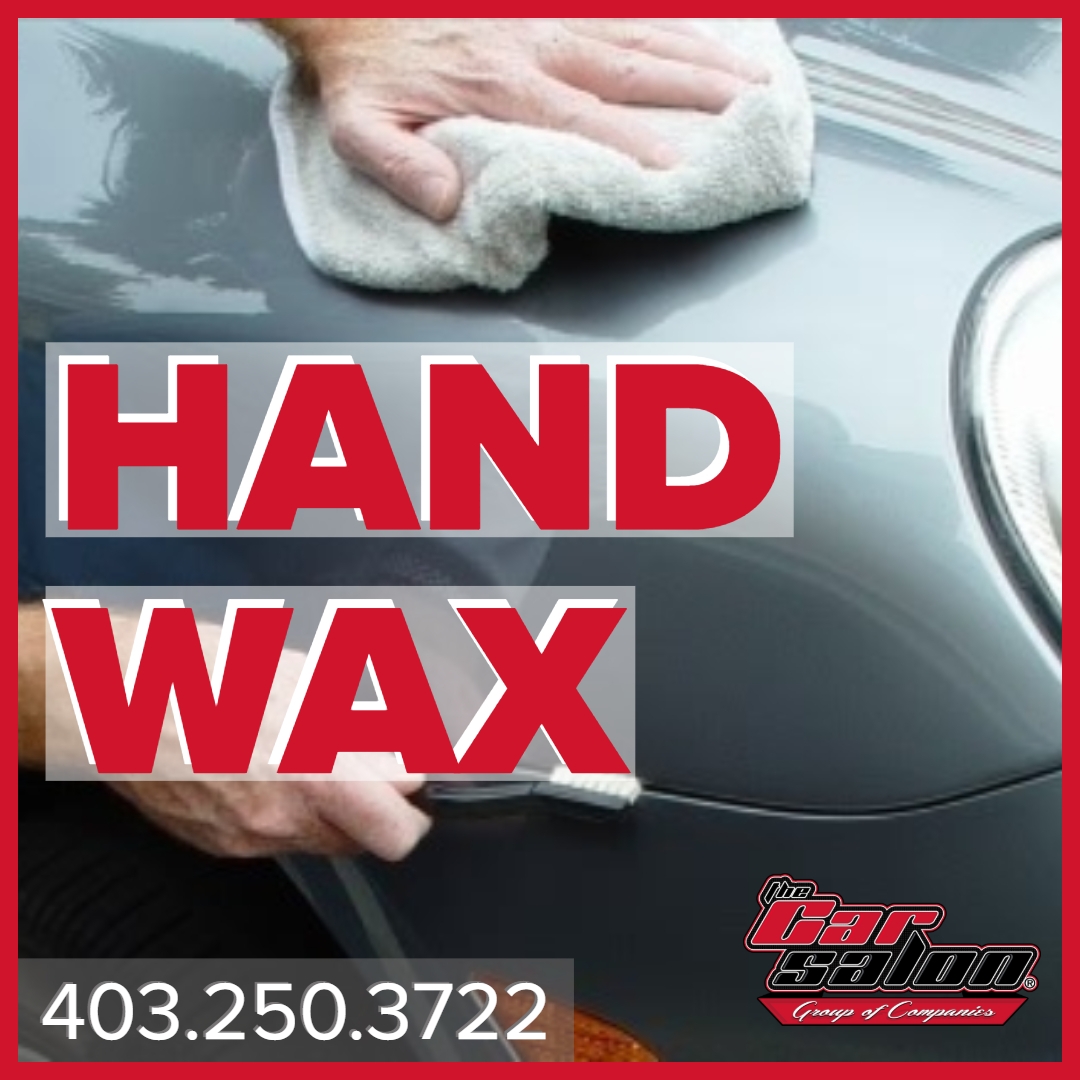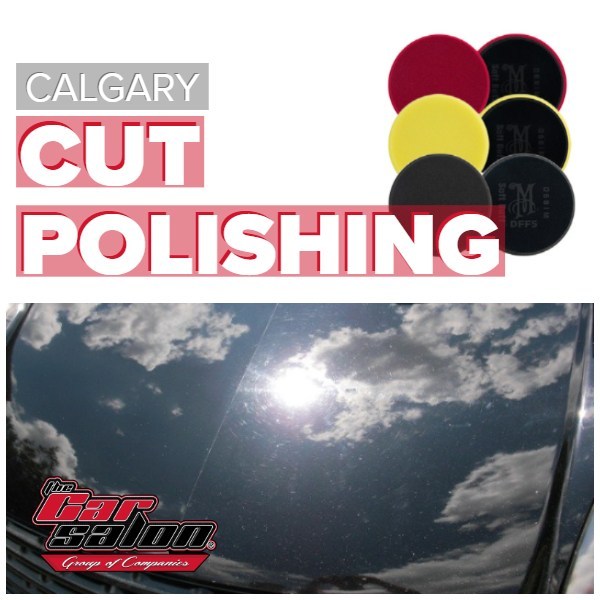 Cut Polishing
The power polishing process uses advanced compounds to buff away light scratches on the clear coat of the paint job. First, a micro-abrasive is used to polish or cut the surface. Second, a less abrasive polish is used and after that, a wax sealant is applied to help with protection. The power polishing process gives makes a new shine and a clear improvement to the finish. The results will be more evident on vehicles that have never had a power polishing job done. Power polishing brings back that luster shine! Power Polishing is required when you have contaminants on your vehicle such as:
Tar
Tree Sap
Over Spray
Road Paint
Rock Chip Touch Ups
Bird Droppings
Rail Dust
Cement Removal
Stain ( Clouding )
Headlight Restoration
Let the Car Salon restore your headlights for true clarity & safety.
In the past, carmakers intended glass-based headlight lenses to limit their size and shape. Car companies have since started designing vehicles with headlights of plastic or polycarbonate. This shift was primarily due to the shift in car design — vehicles became lighter and more aerodynamic, and plastic was far less costly to manufacture than glass. Today this plastic material is the chosen material because it is very light and can be transformed into unlimited sizes and shapes to satisfy new car designs.
Headlight covers can cloud, oxidize & become yellow over time. This will significantly reduce the headlight beam reducing visibility in the dusk, dawn and evening hours. This makes it unsafe to drive at night and reduces the visibility of your vehicle. The Car Salon experts will rejuvenate your headlights, repair paint scratches, repair bumper scuffs at prices you can afford using processes and products from DuPont – A Name You Can Trust.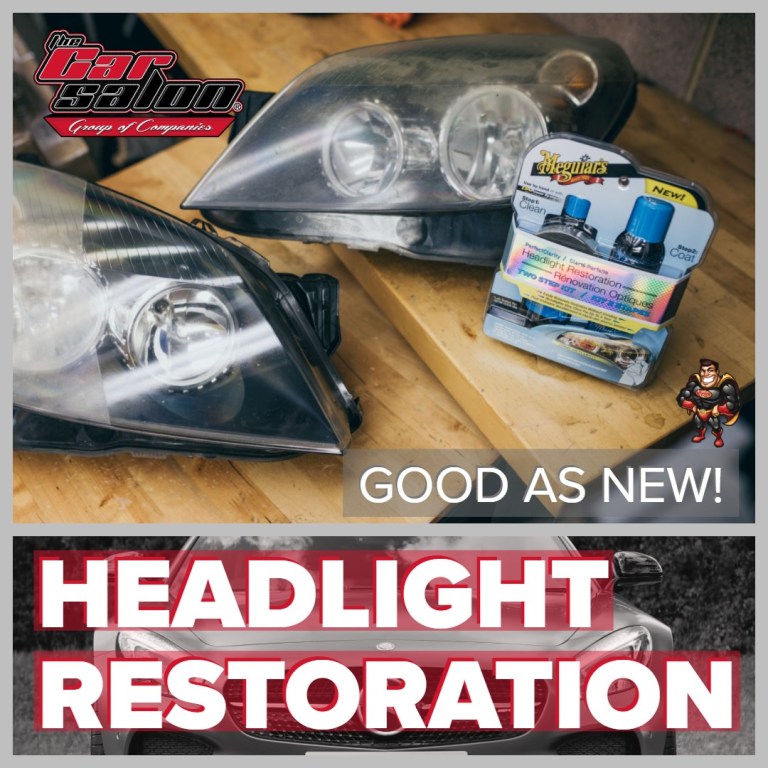 Power Polishing
Professional polishing and waxing on a regular basis will keep your car's finish protected, clean and shiny even after 10 or 15 years from new