Car Decals
Car Decals are a Branding Opportunity For Your Business.
We beat the Dealer Prices on Tint, PPF, Wraps & Decals!
Your company's cars are just as branded as your storefront or website. What's more, for your company, they are free advertising space. It's time to take advantage of the vacant room and use it to attract clients.
Company decals on your cube van, stickers on your car, and lettering on your vehicles, it's time to speak to us and find out what's best for your company.
We specialize in decals at the Car Salon, and we would like to assist you to find out what's best for your company. 
Talk to us today about vehicle advertising for your cars, trucks, and vans.
We operate with all sorts of companies, and we can find you the correct sign, truck wrap, and design. Some of the alternatives that we give include:
Van Wraps
Food Cart Decals
Window Decals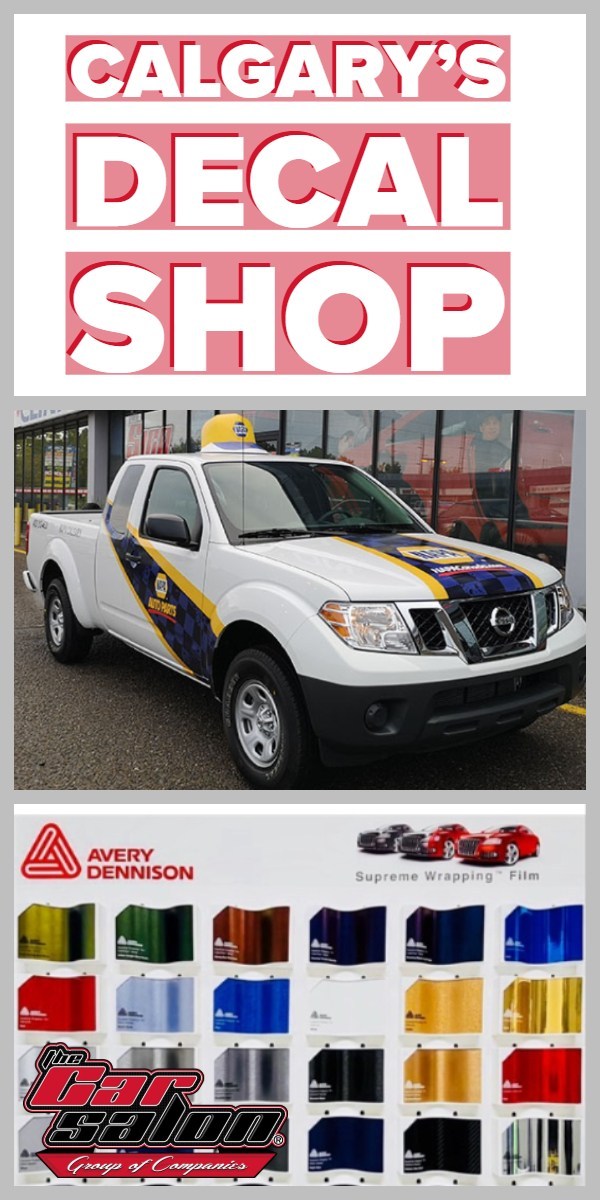 Decal Shop
What distinguishes our decals from the competition is that we are here to advise you in every way possible. We provide quick, effective installation and maintenance service. We deliver the following outstanding additions together with our outstanding client service:
Quality Materials: As we use the finest materials, our vehicle & truck decals last longer than most. Our installation services, together with our outstanding equipment and client service, guarantee the greatest quality service from start to finish.
Great Design and Printing: Would you like to see your company decals noticed? Would you like more clients? Just what you're looking for is the service we can provide you, which involves the quality design and printing with the finest products. With your sharp, professional wraps, we will make you stand out with bright, lively colors and talk volumes to your clients.
Excellent Customer Service: Our service to our customers is unique. Every step of the process from design to production and then maintenance will be worked with you. We want to make sure that our vehicle graphics services satisfy you 100 percent.
Each of our services and quality assurance implies it spreads a message about you and keeps potential customers interested in your company whenever your truck is on the streets. Our lettering of vehicles implies you're a professional. With your fresh truck decals, it's time to reach new clients.
What store sells car decals?
If you're looking to add a unique look to your car or truck, Car Salon has all the decals and wraps services you need. From complete Graphic Design to Supply & Install with premium quality vinyl & top-notch installers.
What is the difference between a sticker and a decal?
Stickers and labels are typically smaller in size and are used on items like tablets, water bottles, and others like food packaging. Decals, on the other hand, are typically larger and are applied to surfaces such as walls, windows, floors, and automobiles.
Do decals ruin car paint?
No, it's not true. In reality, it acts as a sunscreen for your vehicle's paint, which is why we recommend only using decals on painted surfaces if they are permanent. However, the exposed paint around the decal will fade and oxidize.
What vinyl is best for car decals?
We find the best vinyl for car decals is 3M 2080 Wrap Film or for printed decals & wraps we use 3M 180MC10.
How much do vehicle decals cost?
$75 plus tax for vehicle lettering on the driver and passenger doors, measuring about 22′′ by 18′′ each. Partially wrapped vehicle; includes design based on your specifications and installation costs between $1,100 and $2200.
Do you need special vinyl for car decals?
Cast 2 Mil Vinyl is the preferred film be used for car decals. Car Salon uses premium 2 mil cut vinyl & wrap vinyl for most of our jobs. Other shops will cheap out & use inferior vinyl such as a Calendered or 3 Mil Film. These jobs will usually look great on initial install but will quickly begin to shrink, crack & peel over time.
Are car decals removable?
Decals are permanent, but they can also be removed. The majority of decals have a strong adhesive that allows them to stick to surfaces for extended periods of time. But, in the end, if you want to take your decal off, you can. Use of a heat gun is definitely advised.
How much does it cost to install decals?
Depending on the media and complexity, custom decals can cost anywhere from $10 to $16 per square foot. trip The average cost of installing a vehicle decal or wrap is $4 per square foot, and skilled vehicle wrap installers may expect to be paid at least $1000 a day or ride. We usually charge an hourly rate of $85 in most cases.
Car Decals & Stickers
Decorate Car Windows, Walls & More With Vinyl Stickers & Decals!
Apply car decals to your car or truck windows, bumper stickers, cars, trucks, horse trailers, kayaks, boats, vans, motorcycles, ATVs, Yeti Tumblers, snowboards, corn hole boards, snowmobiles, surfboards, RVs, helmets, glass doors, gun cabinets, mirrors, walls, mailboxes, picture frames, toolboxes, painted wood, aluminum, plastics, fiberglass and more!… Order custom personalized stickers & decals cut to your specifications.
Window Decals & Vinyl Stickers In Lots Of Colors & Etched Glass!
Car Stickers – Drive your car & drive traffic to your website or retail storefront!
Custom Stickers – Personalize your stickers & decals when you order.
Etched Glass Decals – Add beauty & charm to glass and mirrors around the house in an instant!
Logo Stickers – Advertise your retail business or online storefront with a custom-designed decal.
Vehicle Stickers – Personalize one from our huge selection or design your own when you order.
Wall Stickers – Decorate your walls! Easy to apply, just peel & stick!
Window Decals – Display your hobby or sport on your car window with a personalized window decal.