Vehicle Undercoating
The underside of your vehicle is the area most exposed to the elements of the road. Where gravel, road salts, and other contaminants accumulate. Although seldom seen, is the most exposed gravel, sand, road salts and other contaminants accumulate in nooks, crannies and on the metal surfaces. These abrasions expose bare metal where the salt and moisture starts to rust. This protection is a rubber and petroleum-based product that seals the undercarriage. This makes it less susceptible.
The Undercoating is also sprayed in the fender wells. and the undercarriage that is exposed. Protecting the exposed metal. It is not sprayed on moving parts or areas that mechanics need access too.
An added benefit of this layer is it reduces road noises transmitted into the interior of the vehicle. The insulation it provides helps deaden some of the tire noise and cling and clangs of the road making for a quieter driving experience. The Car Salon has technicians trained and experienced at your service.
Why Undercoat Your Vehicle?
Rust Proof the Under Carriage and exposed metal in fender wells
Help Reduce Road Noise
Prolong the Life of Your Vehicle
Most dealerships sell packages to customers that cost up to 3 times more.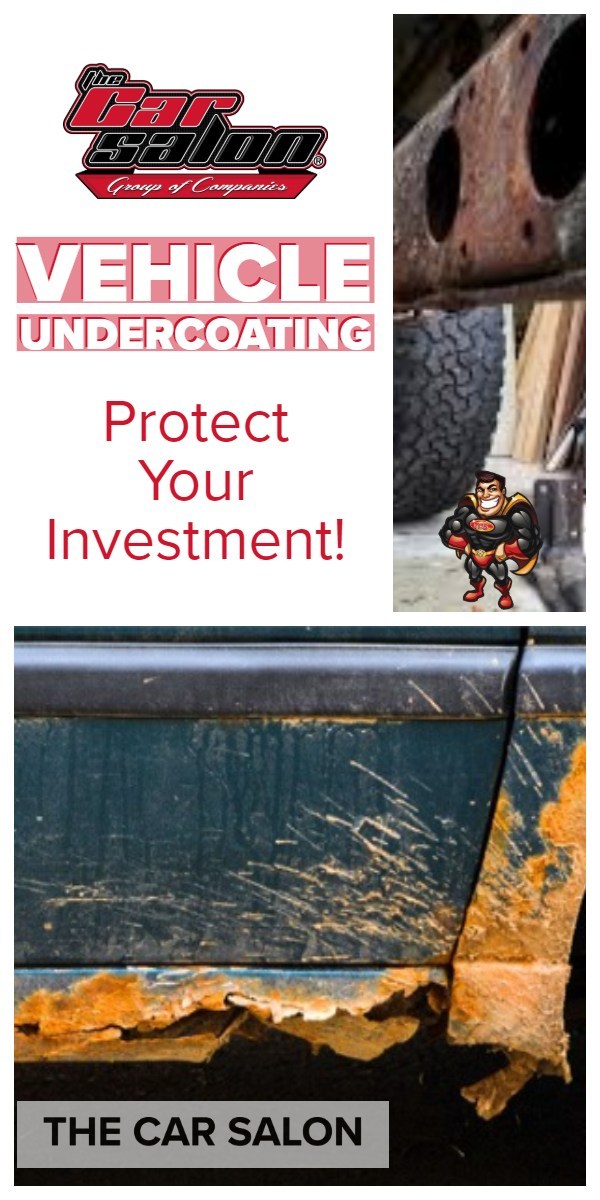 Calgary Vehicle Undercoat Pricelist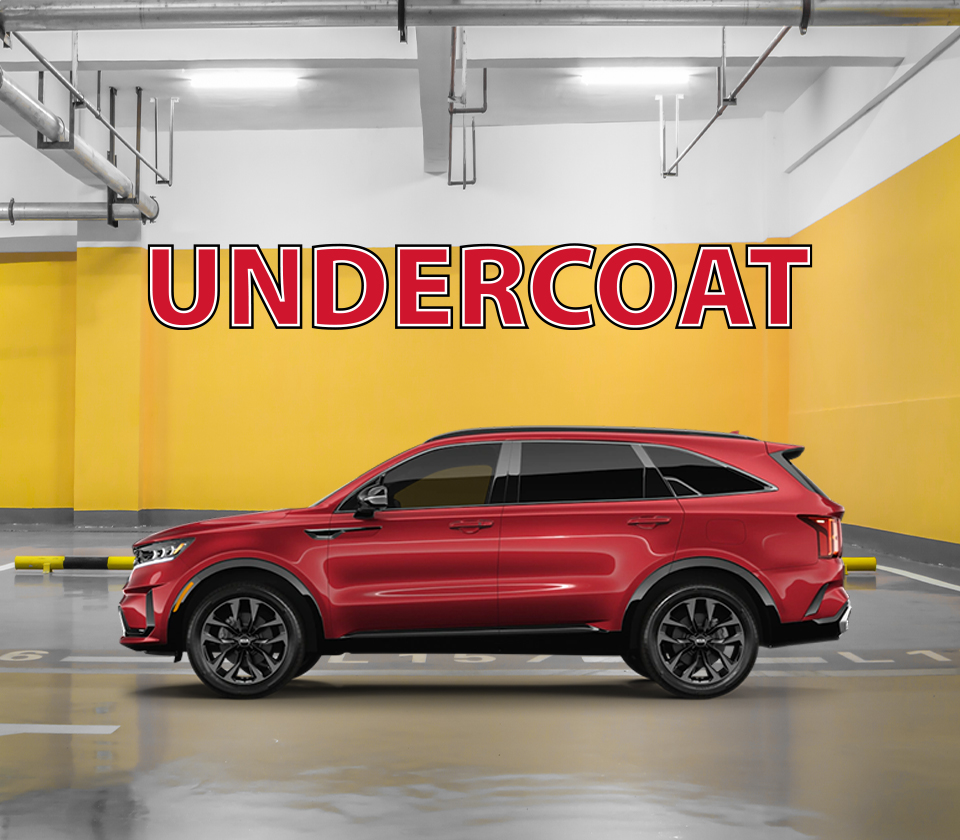 Undercoating is sprayed in the fender wells and the undercarriage that is exposed. Protecting the exposed metal from rust.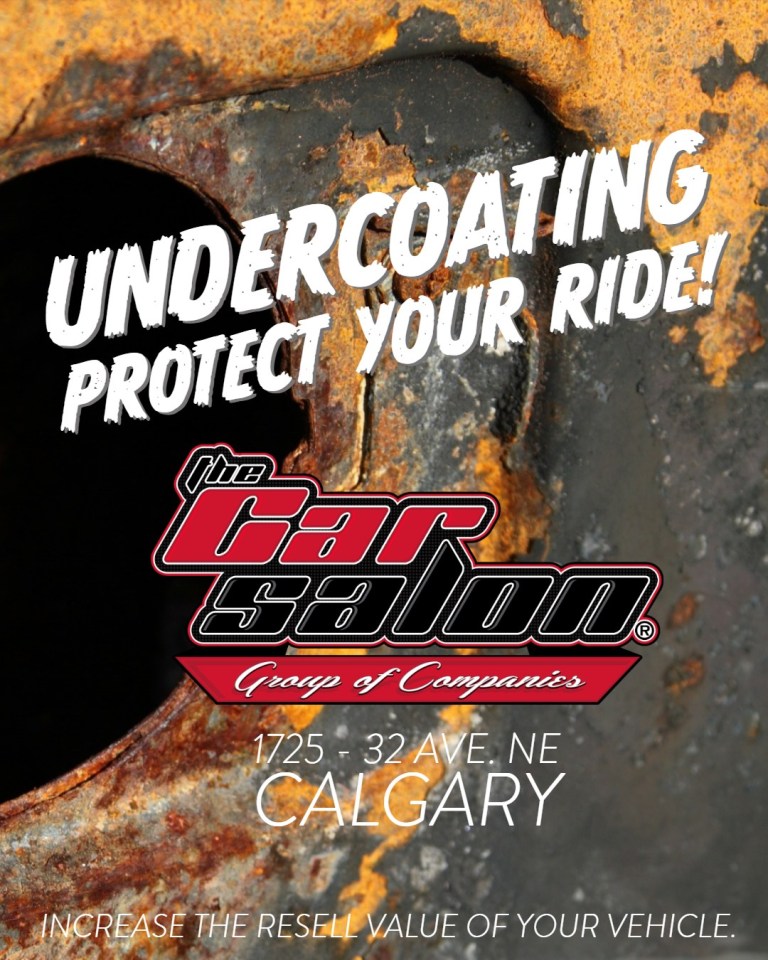 Protect Your Vehicle with Undercoating in Calgary
The Car Salon in Calgary has been delivering rust-proof vehicles from compact cars to big 5th wheel trailers since 1994, gaining each year more faithful clients.
Our rust-proofing and undercoating services in Calgary help our clients to control the rust on their vehicles. An annual visit to the Car Salon will help your vehicle look better, last longer, and maintain a higher resale value. It will also make your car safer to drive with less rust. The undercoating products we use are effective and are capable of creeping into your vehicle's seams and other hard-to-reach regions. When you select the Car Salon, you choose to remove present rust and eliminate the future danger of rust.
Rust-Proofing for Small to Large Vehicles
From compact cars to heavy-duty trucks, the Car Salon provides superior rust protection products and services regarding:
Cars
Trucks
Vans
SUVs
Trailers
Heavy Duty Trucks
You name it, we protect it!
Heavy-Duty Rust Protection Products
The good news for you is that we use all Rust Check products, which offer a heavier grade of rust-proofing – perfect for your undercarriage during those winter days when roads are thick with corrosive salt! The quality of Rust Check's products has made us Calgary's #1 Rust Protection Company.
Efficient, Eco-Friendly Rust-Proofing
You'll love our commitment to customer service! Each appointment lasts about 30 minutes and is conducted while you wait. We operate efficiently and we're always on time. Best of all, our rust-proofing products are eco-friendly and safe for the environment. For more details about the Car Salon give us a call. 403.250.3722
Get multiple automotive services performed on the same appointment.
Undercoating
Since the 1950's, our Undercoating has been the world leader in preventing moisture and compounds from damaging the vulnerable areas underneath your car or truck.