Calgary Collision Repair
Restore Your Car To Pre-Collision Condition
Collision Repair at CSN Car Salon Auto Body Shop could not be easier. This includes a complete frame, unibody repair and fiberglass, and other materials. We work on any age, make, or model of cars. In more than 20 years of providing Calgary with quality collision repair, we have earned our reputation as a leading car body shop in Alberta.
Our dedicated technicians are chosen for their expertise and skills in the automotive services we proudly provide.
We will replace body panels and parts with approved OEM or aftermarket parts. Body panels and parts not being replaced are repaired with the best quality materials and workmanship.
All our products comply with industry standards or exceed them. Our state-of-the-art equipment and methods. We repair all collisions, auto body repair, paintless dent removal, or (PDR) short, frame straightening, and car painting. Everything can be done as good or better than the results of the factory.
This makes our customers feel comfortable and confident that your satisfaction will be achieved by the auto body and the collision repair we perform. The Autobody Staff of CSN Car Salon is there for you to answer any questions that may arise. We have solutions for any problems that may arise with our policies and procedures that have been demonstrated to work in today's auto repair industry.
CSN Car Salon Auto Body
1725 32 Ave NE #138, Calgary, AB T2E 7C8
Phone:  +14037699309
Mon – Fri: 8a.m.–5p.m.
Sat:  9a.m.–1p.m.
3XJM+38 Calgary, Alberta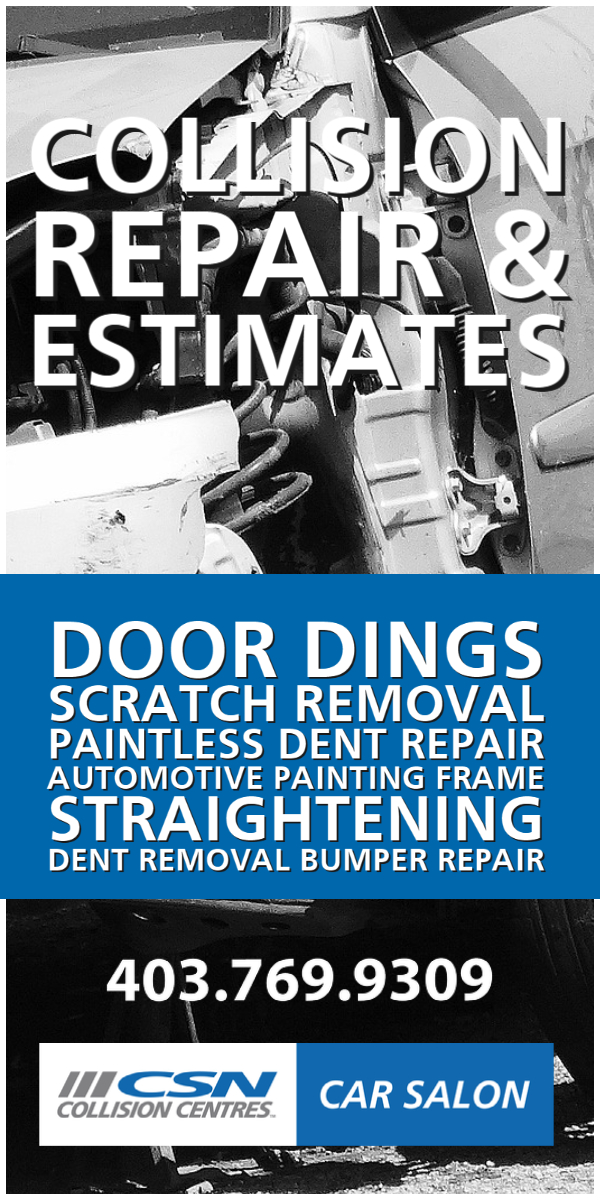 Collision Center Calgary
CSN Car Salon Collision Center owes its outstanding reputation to its expert staff, state-of-the-art facility, and lifetime guarantees.
We've Got You Covered
At CSN Car Salon, we pride ourselves on our collision repair shop from start to finish. From car body damage, bumper repairs, and fender fixes to minor dents or scratches, if it can be repaired, we can do it.
Our number one priority is our customers.
We owe our outstanding reputation to our expertly trained staff, state-of-the-art facility, and dedication to customer service. Our team of experienced technicians has been trained and certified to meet and exceed industry standards, and our experienced management team is here to assist you in understanding repair procedures and the insurance process.
Fast, Precise & Hassle-Free
You can expect the repairs to be trouble-free, quick, and accurate when you take your vehicle to the Car Salon. We designed our process to save time by rapidly resolving any problems, making your repairs more affordable. And, we always guarantee all of our jobs.
We are a locally family-owned collision repair facility in Calgary, Alberta. Over the past 15 years, we have provided all types of auto body services for family cars, local law enforcement agencies, fleet management companies, and dealerships. We provide auto body collision repair and paint for all makes and models done by trained I-CAR and ASE professionals.
At CSN Car Salon Collision Center, we are committed to putting you first – the customer. We are full claims processing collision repair center in Calgary and will handle your insurance claim, provide towing, arrange for your rental car and restore your vehicle to factory specifications. 100% satisfaction is guaranteed and backed with a lifetime warranty.
We pride ourselves on free mobile and in-person estimates, fast turn-around times, courteous staff, competitive rates, and oftentimes free pick up and delivery.
If you have any questions or comments please feel free to contact our collision repair experts in Calgary, AB. We look forward to serving you.
Where to get a Collision Repair Estimate in Calgary?
If you are involved in a Collision and are in need of a collision repair estimate. Phone us to make an appointment today!
The CSN Car Salon Autobody collision repair services will include the following.
Dent Removal

Frame Straightening

Paint Repair

Bumper Repair

Scratch Removal
You can rest easy knowing that The Car Salon Auto Body shop will restore your vehicle's appearance and performance to pre-accident condition.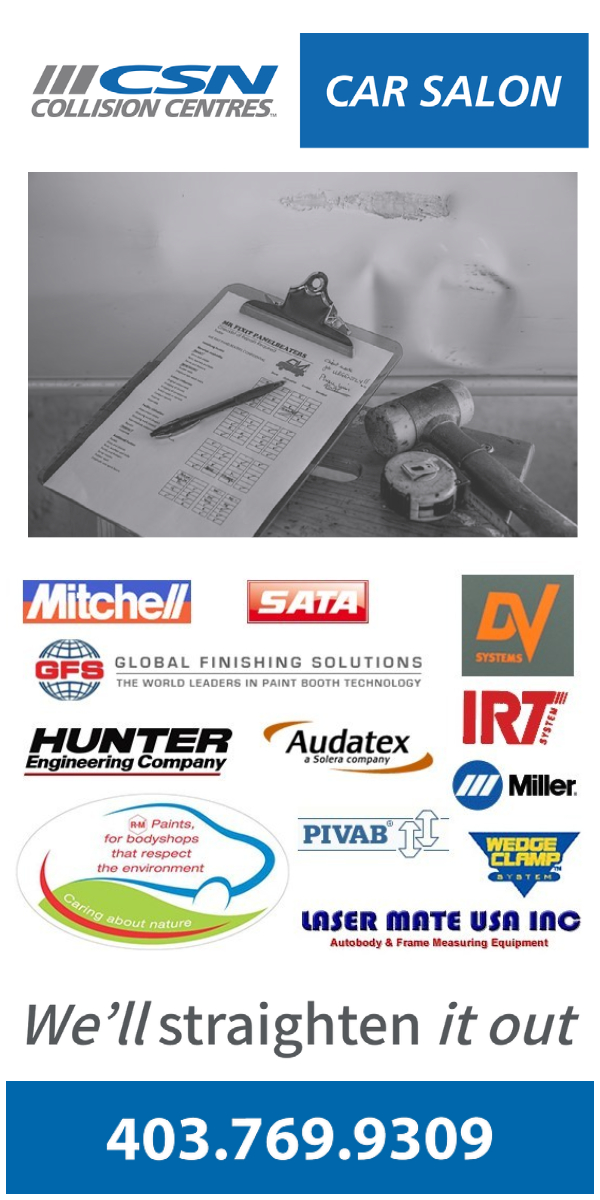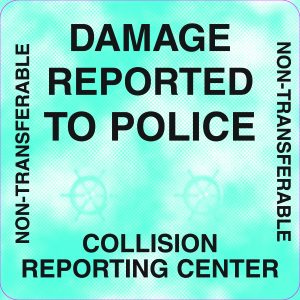 Do I need a Collision Repair Sticker?
If the damage is greater than $2,000.00 for your car. The law requires a sticker. Damage stickers inform the police that the collision has been reported and allow car shops to repair the vehicle damaged.
Auto Repairs cannot be started until a collision sticker has been achieved. The sticker is available free of charge from any local police station.
Collision
Recently involved in an Auto Collision?
Many collision repair centers pretend to be the best, but they trust us when individuals need car repair because we really mean it. The Car Salon strives to become Calgary's  # 1 repair center. Here is why:
We are a top-notch collision repair center in Alberta. Our 20,000-square-foot service center is among the largest, cleanest, most cutting-edge facilities in Alberta.
We honor all insurance estimates. Your insurance company's word is our bond.
We offer repairs for any make and model. From Ford F-150 trucks to BMW cars, we've seen it all, and we'll fix it all. We'll even work on your motorcycle or RV.
We fix any and all types of damage. From car body damage to minor dents, if it can be repaired, we can do it. Whether you need bumper repairs, fender fixes, or scratches buffed, we've got you covered.
You don't have to pay an arm and a leg. We have worked hard to make our repair process efficient and fast, which means you pay less. Get your free estimate today at our Calgary, AB, collision center.
Don't settle for the second-best. Schedule a service appointment with CSN Car Salon by calling 403.769.9309 today.