Car Detailing
Car Cleaning is our specialty it's how we started. Today truck detailing for commercial fleets is just as popular.
We offer convenience and a full range of car cleaning services. We're equipped to handle any automotive service, whether you are looking for just an exterior detail, interior detail, engine bay steam clean, or one of our high-quality complete packages, our rates are affordable and the results speak for themselves, at The Car Salon Group of Companies our goal is to make sure to do our best to make your detail experience a pleasure.
We use the latest tools and detail products to provide high-quality interior and exterior service in a timely manner.
We haven't met any situation we can't solve, we know every trick in the industry to make your car, truck, or SUV as new as possible.
Looking for a car detailing near me?
Come and experience top-quality detail services, from our wash and wax to our complete detail packages. Our employees are highly skilled and have years of experience. Most of all: they love cars and care about yours, at The Car Salon we know it's more than just a car; it's a companion for your lifestyle, and we'll help you make sure your car, truck, or SUV always looks its best.
Our technology and cleaning systems are the most advanced, safe, and efficient on the market today, providing always the maximum results at an affordable price.
We also save companies time & money by providing Fleet Discounts and combined services that most other detailing shops in Calgary can't.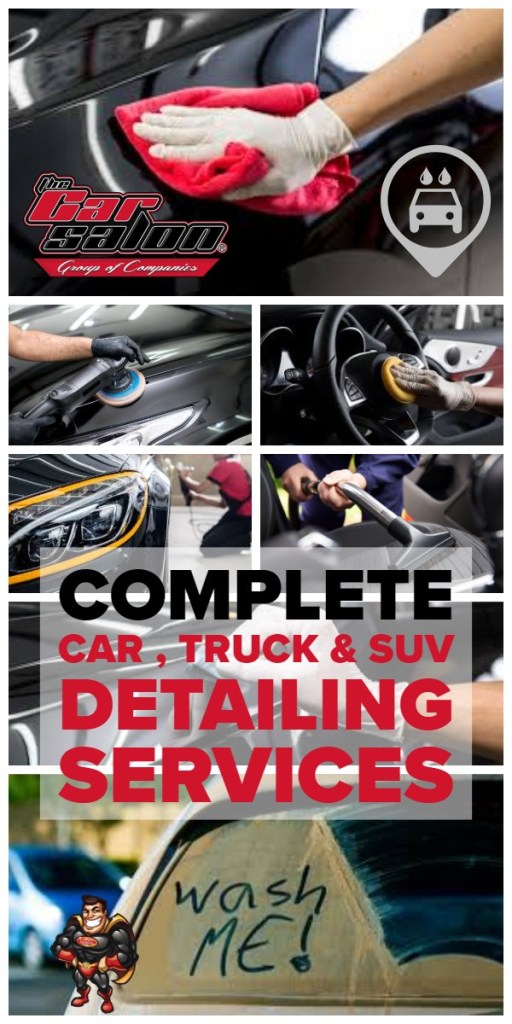 Get multiple automotive services performed on the same appointment.
The Car Salon Detail in Calgary, Alta. is renowned for delivering the highest automotive service, as we thoroughly clean your car, truck or SUV.
Please read below in order to find out more car services.
Removal of Decals, & Equipment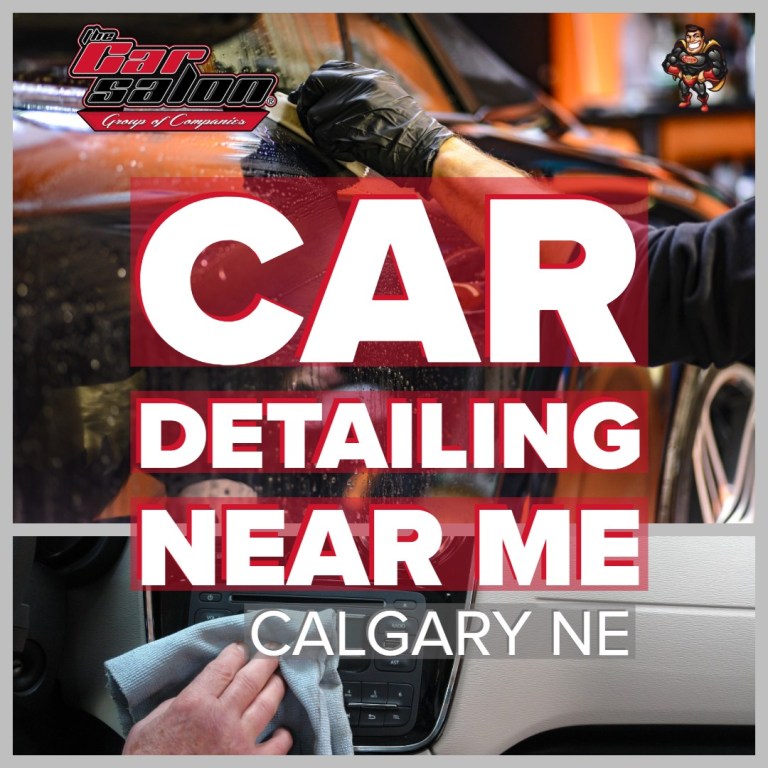 Car Detailing Near Me
Calgary N.E.
To make a vehicle look immaculately clean, inside and out, our auto detailing extends far beyond a typical car wash service. For car lovers that love riding in a spotless, sparkling vehicle, it is the preferred choice. It may also boost the resale value of an automobile.
For expert car wash detailing that you can rely on, come to the Car Salon and see for yourself why so many vehicle owners in the province have been visiting us for years. Not only can we provide first-rate services, but our car detailing prices are also among the most affordable in Calgary.
Our interior detail service can remove contaminants from the surface of the paint, clean the engine, and add a wax finish to protect your vehicle for up to six months. We also detail the car interiors.
We also clean cars, boats, motorcycles, and other kinds of cars that require top-notch detailing service (call us for a quote!).
Fleet Detailing Services
Save Money On your Fleet Needs!
Because of our competitive rates, quality service supported by our warranties, local companies earn important savings and much more. The Car Salon Fleet Account Program provides strong and convenient company alternatives to assist fleets to decrease costs per kilometer and downtime.
Members have access to every automotive service we provide and support for our entire line of the vehicle, truck, commercial and off-road products.
Fleet Account Members Enjoy the Following Program Benefits:
Centralized Billing
Business Solutions
Customized Tire Programs
No "out of Pocket" Expense to the Driver
Invoicing to Meet Requirements
Join our Fleet Program! 403.250.3722
Car Salon works with Fleets of any size.
Car Salon understands how essential it is to keep drivers moving when it comes to your company that's why we're proud to give customized Preferred Fleet Care to your requirements. Car Salon offers our skilled technicians with a broad range of automotive services to maintain your cars running with fast, worry-free services.
The Car Salon Calgary offers your fleet vehicles a Team You Can Trust. When your drivers come in for styling, maintenance, or repair services, we will get your vehicles back on the road in pit stop speed to keep your fleet operation running safely with limited downtime.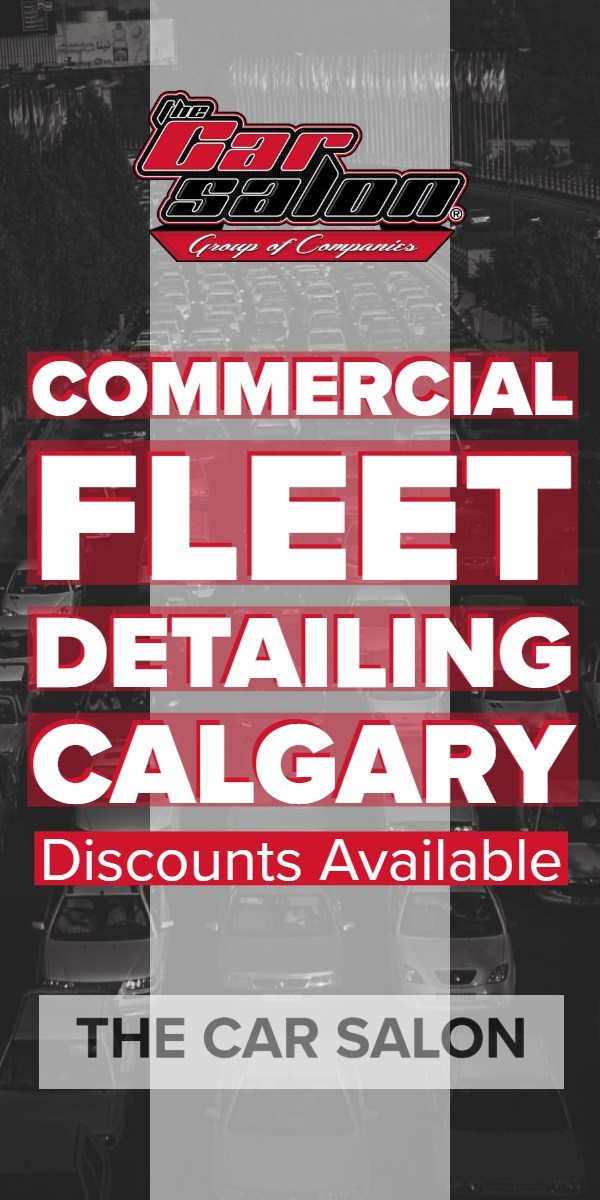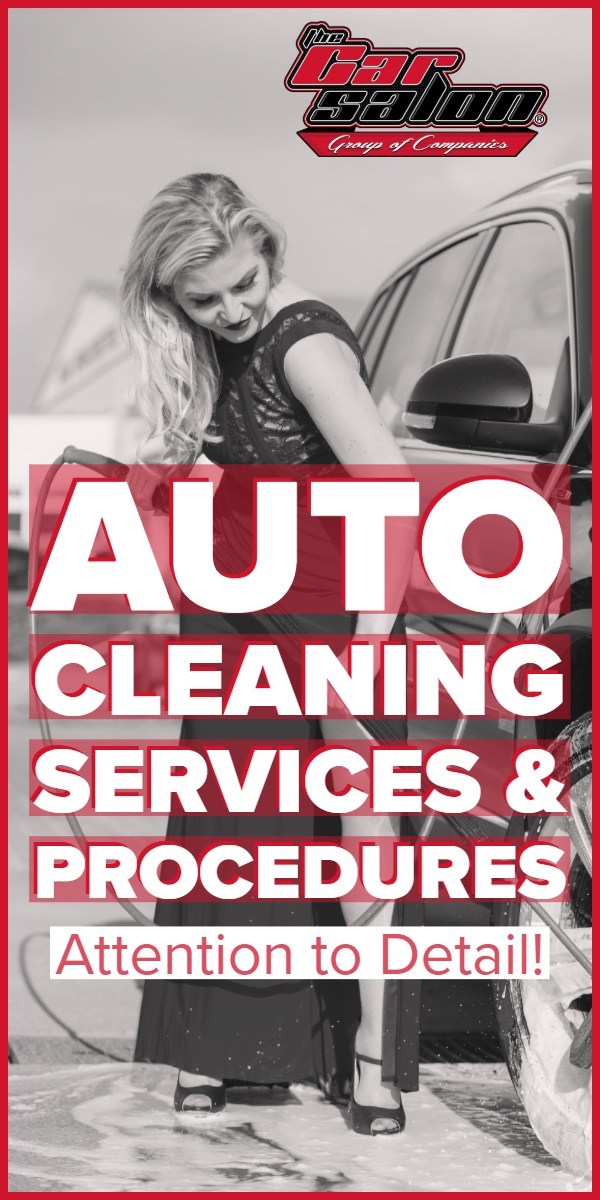 Benefits or Detailing

Clean Image
Restores Value
Improved Safety
Comfort
Preserve Paint
Detailing Car
Procedures & Services
Often, our customers who have been to other auto detail stores and feel you need to purchase a complete service package in order to get the best. That's the best approach, we don't agree. Each vehicle has its own unique area which requires different levels of attention, be it the interior, the exterior, the engine bay work, it doesn't matter what we like to inform all our customers to use the packages as recommended beginning with our signature detailing service. Any car can benefit from this package, its great for any car that has most probably been kept at night in decent to good shape and has not been neglected severely.
If it's been a while since your last service, or if it's your first time to have your vehicle or boat detailed, and you need a little more here or a little less, there's no issue, to be frank, we're all busy and children, animals, and hobbies are taking a toll on our free time.
We are always pleased to tailor our services according to your request so that you get the most value and service for your cash. We are a modest volume-high-quality detailing facility, so you can rest assured that your car will receive the utmost care from the experts at Car Salon
Anyone can wash the dirt off a vehicle, but it's just as essential as the next steps to do this safely and correctly that make the difference. You end up with something better than anticipated when all these steps are conducted correctly. We understand that at the end of the day you have a lot of detailed business decisions and we want to exceed your expectations.
We know without you, we cant do what we love and support our families so your satisfaction is our only goal.
Exterior Car Detailing
Every exterior service begins from the beltline down with a non-caustic degreasing presoak. Followed by a PH neutral foam cannon bath to loosen from the vehicle's surface any and every bit of street grime. Heavy pressure washing follows panel by panel, piece by piece, and seam by seam. We begin the real wash part of the service after the car is almost as clean as it can be.
A Gentle two bucket hand wash of the car outside, wheel faces and wheel inner barrel, brake calipers and discs, wheel wells, exposed suspension, and door jams. On to drying with Clean compressed air and Microfiber drying towels are used on every surface of the vehicle.
A single-stage color enhancement polish and high-grade paint sealant for intense protection finish off the paintwork to ensure that your vehicle gets a bit of a facelift and a heavy dose of protection.
Interior Car Detailing
Our interior services are equally as meticulous. The interior portion of our signature detailing starts with an extensive interior vacuum, the use use of compressed air and specialty compressed air cleaning guns help remove far more than just surface dirt and pine needles from your carpeting and floor mats, using boars hair brushes, compressed air, and having proper lighting assist greatly in the cleaning of all cracks and crevices in the dashboard, center console, front and rear seats, all door panels, seat rails, vanity mirrors and complete interior, and exterior glass cleaning.
It's not what you're driving, It's what is driving you!
Auto Details Matter.
Whether you're driving a luxury sedan, a tiny economy car, a rough truck, or a beloved classic – detailing protects that investment so you're driving and riding in new, clean luxury every day, while ensuring more cash in your pocket when you're prepared to sell or trade.
A brand new vehicle will shine under the showroom lights, but in the clear coat, there may be paint flaws to the specialist eye that stop the finish from being as spectacular as it might be, although very subtle.
This is where we come into our own with our extremely qualified detail professionals. Our capacity to detect and remove these almost unseen defects is what allows our technicians to shine like never before in gorgeous vehicles.
The Car Salon provides a wide variety of professional auto detail treatments for paint, glass, engine bay, and interior restoration and protection.
Out Detail Gift Cards are a great idea for loved ones on the go!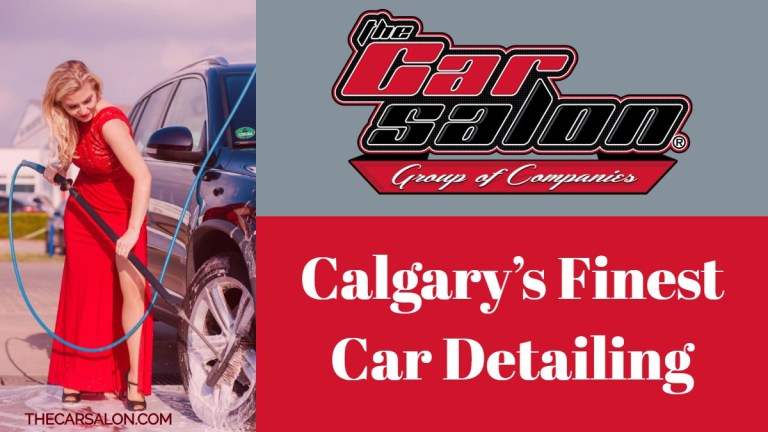 Detailing Service
Our auto detail services range from basics such as interior shampooing and cleaning to auto restoration procedures such as swirl removal and car clay treatment. Our reputation as a detailing shop that truly cares about the smallest details has made The Car Salon Detail a trusted destination for owners of both specialty and non-specialty cars throughout the Calgary Metro area and beyond since 1994.