Brake Services in Calgary, AB
Car Brake Repair Near Me
Car Salon Tirecraft
Our brake shop provides exceptional brake repair and service for all vehicles. Our team of ASE-certified technicians only uses cutting-edge diagnostic equipment to ensure that your vehicle's brake system is serviced and cared for properly. We invite you to our auto repair shop for brake fluid and brake system inspection so that you can be confident in the condition of your vehicle if you decide to take a long trip across the country.
BRAKE SHOP CALGARY
Exceptional Brake Repairs & Services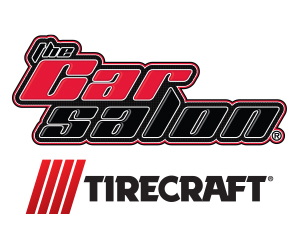 Trust our brake shop to help you keep your vehicle safe, secure, and efficient.
Brake Check & Service in Calgary, AB
Don't let your bad brakes stop you short. With the Car Salon Tirecraft, brake maintenance and repairs can be within your budget. Visit our location near you today!
Disc Brake Pad Replacement
Drum Brake Shoe Replacement
Resurfacing of Brake Rotors
Cleaning Calipers Slides
Checking Fluid Levels
Replace Worn Parts
Put a Stop to Brake Problems in Calgary, AB
Do screeching brakes, a spongy pedal, or weak stopping power have you searching for brake service near me in Calgary?
The Car Salon Tirecraft hooks you up with brakes for less than many other shops.
Thanks to our easy-to-download brake coupons, you can save on the brake repairs and services you need to keep you safe on the road.
Watch out for signs! Smells, sounds, and vibrations in your steering wheel can all mean that you have problems with braking.
Grinding or squealing can mean that your pads and shoes are too worn. The burning smell near your tires isn't normal, and it's a sign that you need a brake repair.
Whatever the case may be, your best bet is to get a brake check before things get worse, as the damage could spread throughout your brake system. Stop by Car Salon Brake Shop!
Stop by for a Brake Check
Warranty Approved Brake Services
Car Salon Tirecraft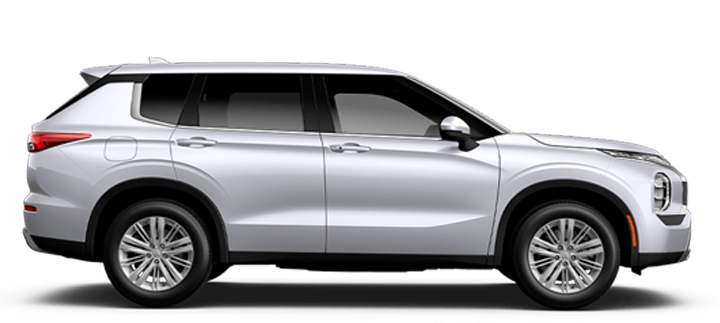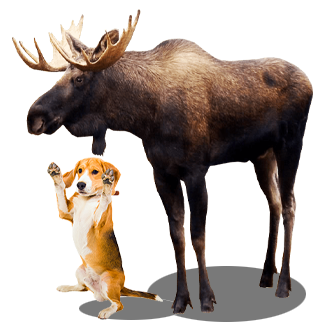 Stop by for a Brake Check
Warranty Approved Brake Services
Car Salon Tirecraft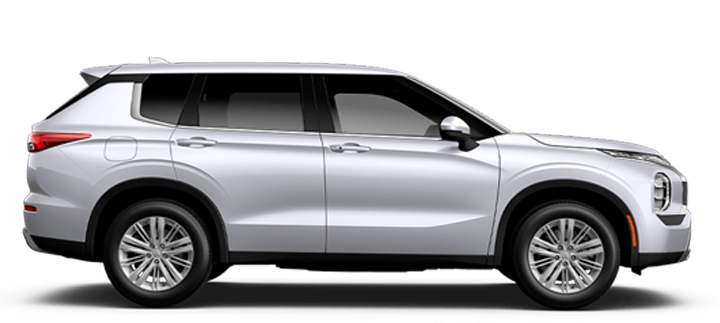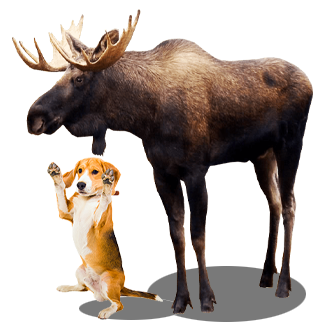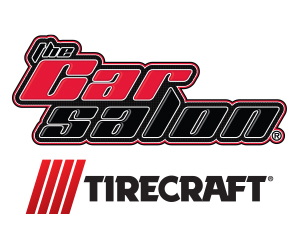 1725 32 Ave NE #130, Calgary, AB
Email: tcsauto@carsalon.ca
Give us a call or drop by anytime, we endeavour to answer all enquiries within 24 hours on business days.
Brake Pads
Brake pads are the most important component in producing the friction required for your vehicle to come to a safe stop.
Brake pads, on the other hand, can become ineffective if they are worn down. Car Salon TIRECRAFT can examine the condition of your brake pads and, if necessary, replace them.
Noise/Squeal/Grinding
Something is likely amiss if your brakes are producing a lot of noise. Brake noise is frequently characterized by a high-pitched metallic screech. This type of noise is concerning since it indicates that your brakes need to be fine-tuned.
If your brakes grind rather than screech, you should have them serviced as soon as possible. Contact between the rotor disc and the caliper is the most common cause of grinding.
Sometimes it is just a foreign object becoming lodged somewhere in the caliper that might also cause grinding.
Rotors
The rotors (or disc brakes) on your car are the primary mechanism for bringing your vehicle to a halt.
Your calipers and brake pads are useless without working rotors, which is why we inspect and service your rotors with extreme caution.
Brake Lines
The brake lines are responsible for delivering braking fluid and transferring pressure to the brakes.
If your brake lines fail, your hydraulic brakes will fail as well, putting you in significant danger. You might find that your brake fluid levels are declining, it could be a sign that your disc brakes are wearing out. Top-ups on a regular basis could indicate a leak in your hydraulic system.
Brake Flush
If you find that your brake fluid is contaminated or you're not sure when it was last inspected, you should have it checked by TIRECRAFT. A brake flush is required on a regular basis to maintain proper brake fluid levels and, as a result, efficient and safe brakes.
Drums
A drum brake is a form of brake in which the shoes press on the drum's inner surface. Regular maintenance is essential for all brakes to guarantee safety.
ABS
Anti-lock braking systems (ABS) are one of the most important safety features in modern vehicles. Your ABS keeps your wheels from locking up (thus the name "anti-lock") and stopping rotating, reducing skidding.
Having your ABS inspected on a regular basis, especially in the autumn, is a good idea. Your anti-lock brakes may be the only thing keeping you from losing control of your vehicle once the roads become slippery in the winter.
Calipers
The calipers squeeze the brake pads against the disc to create the friction needed to slow your car down.
Pulsation
When your brakes pulsate, it means they aren't operating properly. Pulsation is caused by your brakes failing to transfer heat and friction efficiently, and it can be harmful. Pulsation on a regular basis is a sign that your TIRECRAFT needs to be serviced.
Brakes in Calgary
Car Salon Tirecraft
Your vehicle's brakes are the most crucial safety element. It is critical that you keep your brakes in top functioning order at all times. TIRECRAFT will service your brakes in a quick, professional, and thorough manner. Our professionals are well-versed in dealing with a wide range of braking problems.
Call for an Appointment
In a Hurry?
Contact us by Email
Auto Repair & Maintenance Coupons, Discounts & Rebates available at Car Salon Tirecraft in Calgary
Check back often for more great deals & discounts on car repair & more.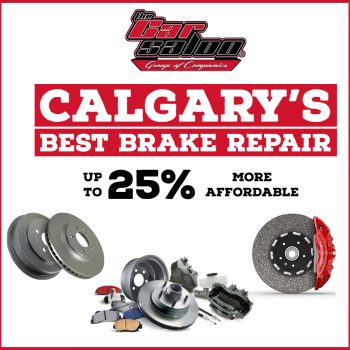 Need New Brakes?
Signs Your ABS System Needs Service
Repair or replacement costs for an anti-lock braking system, or ABS, can be costly.
The first thing you need to do is bring your vehicle to the specialists at the Car Salon Tirecraft in Calgary, AB.
More effort may be needed to press down the brake pedal, or the pedal may actually be unresponsive. If your ABS brakes require service, you will still have the control and use of your regular braking system. This is no reason to ignore the ABS brake service.
You may need only a new brake fluid or just a small part. Maybe new brake pads are needed.
Affordable Brake Services
In Calgary, AB
Visit Calgary's Car Salon Tirecraft for a free brake check at a time that's convenient for you.
In addition to checking the health of your brakes and brake fluid, a technician will measure pads, rotors, and drum wear.
We will then consult you about the service your car or truck may need, such as a brake fluid change, a brake line replacement, a rotor, and a drum resurfacing, or a brake pad replacement.
Whether you need new pads or lines, you'll find that we're the right choice for affordable brake repair in Calgary.
Our technicians perform hundreds of brake repairs every year!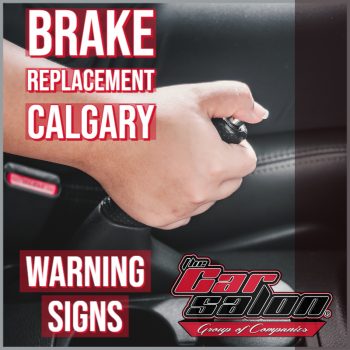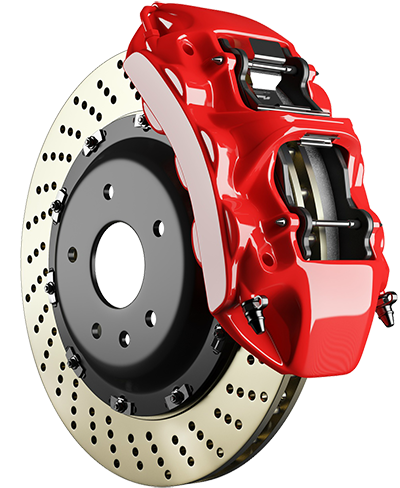 Car Salon Tirecraft Brake Shop
1725 32 Ave NE #130, Calgary, AB T2E 7C8
Brake Repairs
Do you have faith in your car's brakes?
If you have any concerns about the current state of your brakes, contact Car Salon Tirecraft or visit our Calgary, AB auto repair shop. A faulty brake system can cause a feeling of brake pull when you push the pedal, a pulsing sensation in the brake pedal, a grinding sound, or wheels coated with brake dust. Car Salon is a brake repair and service business. Our team can efficiently and quickly diagnose and repair a wide range of brake problems.
Brake Inspections
Car Salon Tirecrafts' certified mechanics will inspect all major components of your vehicle's brake system, including the drums, pads, rotors, shoes, and linings, and provide you with an assessment of the system's current condition.
Based on this inspection, our technicians will recommend replacements or repairs to maintain and improve the performance of your vehicles.
Brake Fluid Checks
To ensure your safety, our experienced and skilled technicians inspect your vehicle's brake fluid before you hit the road. We will assess the current condition of your brake fluid and, if necessary, replace it with a new product that will not only meet but, in some cases, exceed the manufacturer's recommendations. So, if your car requires brake service in Calgary, AB, there is only one place to go: Car Salon. Because it could mean the difference between life and death!
FAQ'S about Brake Repair Calgary
We now have an FAQ list that we hope will help you answer some of the more common ones.
How much should it cost to replace brakes?
A total brake repair, which includes the replacement of pads, rotors, and calipers, costs between $400 and $800. A complete brake job, on the other hand, can easily cost more than $1,000 depending on the make and model of your vehicle.
Should you replace all 4 brake pads at once?
Both the front and rear brake pads should be replaced at the same time. Unless something is seriously wrong, they should be wearing out at roughly the same rate.
How often should brake calipers be serviced?
Brake calipers should be serviced every two years or 24,000 miles on your vehicle. Brake caliper maintenance is necessary and distinct from standard brake maintenance.
What does a brake service include?
Flushing old brake fluid, adding new, replacing pads, resurfacing rotors, and adjusting braking mechanisms are all part of a good brake service.
How do I know if my front or back brakes are bad?
Never Ignore These 8 Warning Signs of Brake Problems
Brake Light On. …
Squealing, Squeaking or Grinding Noises. …
Wobbling, Vibration or Scraping When Braking. …
Leaking Fluid. …
Spongy or Soft Brake Pedal. …
Car Pulling to One Side When Braking. …
Burning Smell While Driving. …
Bouncing Up and Down When You Stop Short.
How long should a brake job last?
Brake pads typically last between 40,000 and 100,000 kilometers, while some people's brake pads can last up to 130,000 km. While an exact figure is impossible to give, the 65,000-km range is a good place to start when planning car maintenance.
Can I drive with a bad caliper?
If your calliper is stuck, the brake pad will not fully disengage from the surface of the brake rotor. This means you'll be driving with your brakes slightly applied all of the time. Driving with a stuck caliper can put a strain on the transmission and cause it to fail sooner.
When should you clean your brakes?
Brakes need to be inspected in regular mileage or time intervals; typically every 5,000-7,000 miles or every 4-6 months, whichever comes first.
What do bad calipers sound like?
Noises such as squealing or metallic rubbing. Noises from the area of the damaged part may be heard if a brake caliper sticks or freezes up. In contrast to noises associated with worn brake pads (which occur when the brake pedal is pressed), this symptom is more likely to be heard when the brakes are not being used.
What causes calipers to go bad?
A leading cause for damaged calipers, however, stems from driving a vehicle on worn-out pads or warped rotors. … If the pads fail to insulate the caliper from excessive heat, the piston can be damaged or the heat can be passed through the piston to the brake fluid, which can cause it to degrade.