Description
Alpine Halo9 iLX-F309
Digital Alpine Halo9 iLX-F309 Calgary multimedia receiver — a 9″ touchscreen that fits in a DIN dash opening (does not play CDs)
PRODUCT OVERVIEW
The iLX-F309 is the perfect solution with a 9-inch touch screen that hovers over the dash but uses a standard 1-DIN chassis for installation.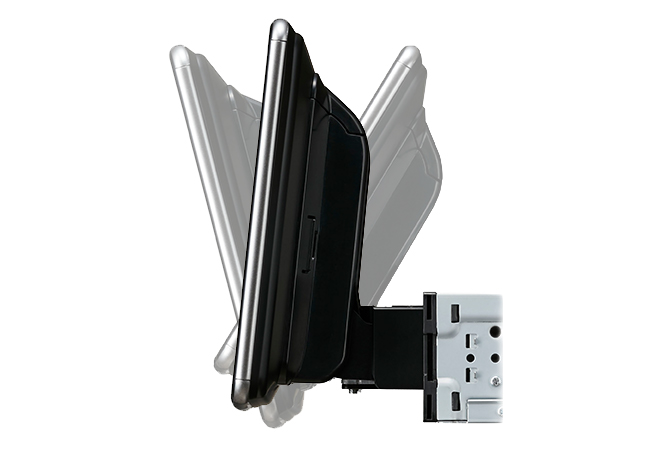 INNOVATIVE Alpine Halo9 iLX-F309 Calgary INSTALLATION
The ILX-F309's 9-inch screen is attached to an adjustable mount connected to a 1-DIN chassis. The screen hovers over or in front of the dash while its rear housing tapers off cleanly at the edges for a thin and modern silhouette. Various mounting positions allow for the screen to be positioned to avoid features on the dash such as air vents and buttons around the radio.
There are four pre-set angle points (45°, 20°, 0°, -20°) to allow for better viewing of the screen. The screen can also be positioned 20mm deep from the default position to be closer to the dash, and higher or lower up to 30mm from the default position to adjust for height in the dash. Once the desired screen position is determined, the screen and mount get fixed to the chassis for a sturdy fit and finish.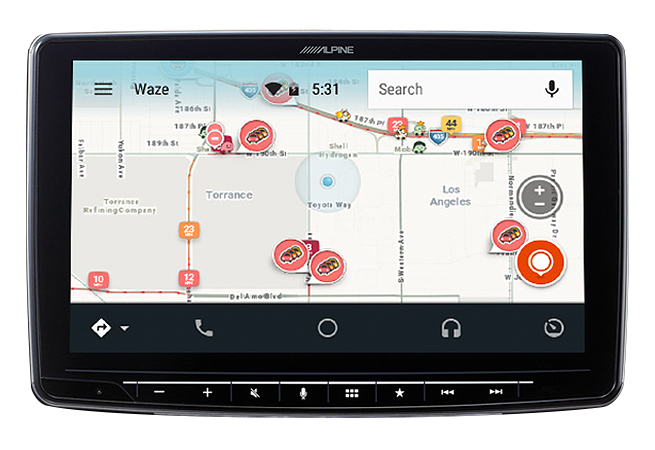 Alpine Halo9 iLX-F309 Calgary APPS
Apple CarPlay and Android Auto give you access to popular apps such as:
Waze: The world's largest community-based traffic and navigation app
Spotify: A digital music service that gives you access to millions of songs
Amazon Music, and more
For information on third-party apps, please visit the Apple CarPlay and Android Auto websites. Android, Android Auto and Google Play are trademarks of Google, Inc.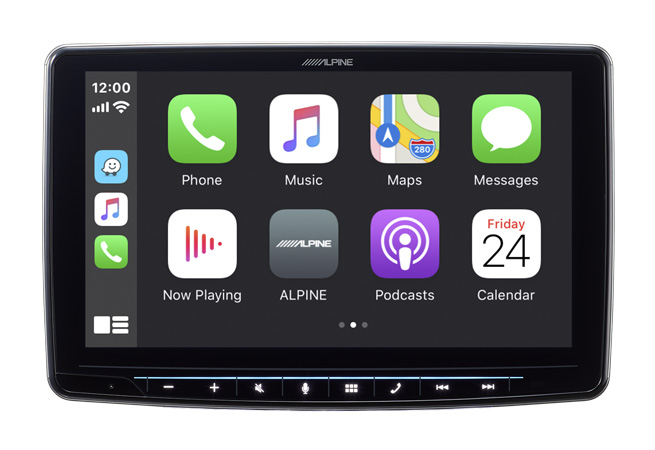 Alpine Halo9 iLX-F309 APPLE CARPLAY
The iLX-F309 "Works with Apple CarPlay" and lets iPhone users make and receive calls, access text messages, play music, and get directions in a way that allows them to stay focused on the road. Apple CarPlay is accessed through the capacitive touch screen or the mic button to activate Siri voice control and is compatible with iPhone 5 and later (iPhone must be connected via Apple lightning cable).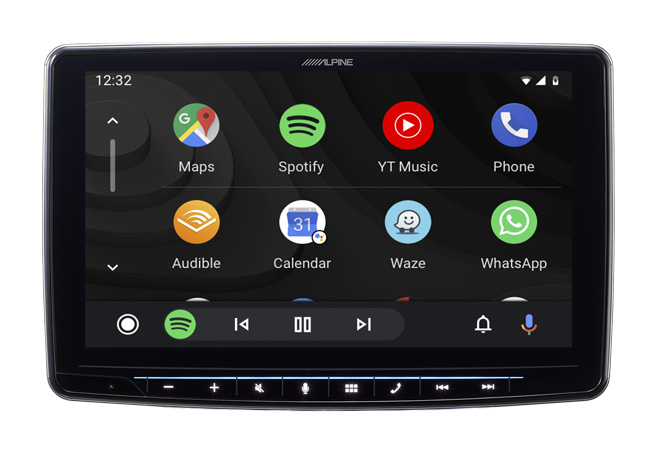 ANDROID AUTO
The Alpine Halo9 iLX-F309 includes Android Auto and works with the Google Assistant (requires both a USB cable and Bluetooth® connection; requires an Android™ phone running 5.0 [Lollipop] or higher and the Android Auto app). To access the Google Assistant on Android Auto, say "OK Google" or select the mic button. Google Assistant in Android Auto allows users to play their favorite music, get driving directions to their destination, interact with smart home devices and reply to text messages – hands-free.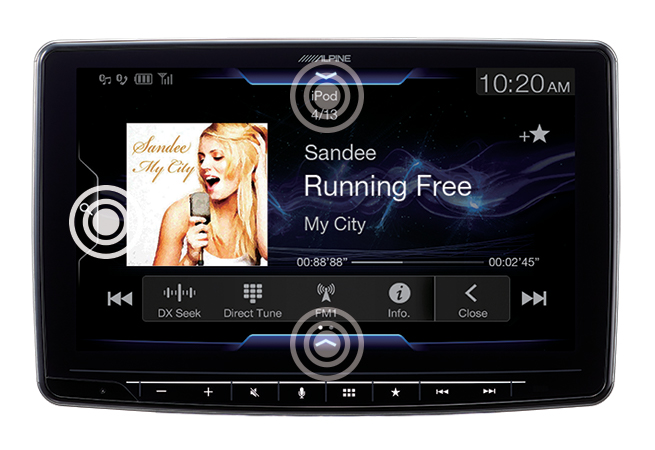 9-INCH TOUCHSCREEN USER INTERFACE AND ANTI-GLARE SCREEN
The Alpine Halo9 iLX-F309's intuitive interface allows for touch action control. You are just one touch away from the most commonly accessed features:
Left to access the Audio
Down to access the adjustment settings to the Audio system or Rear Seat Entertainment system (sold separately)
Up to access Source Selection options to access all your entertainment sources (such as HD Radio, Pandora, SiriusXM, Bluetooth audio streaming, etc.)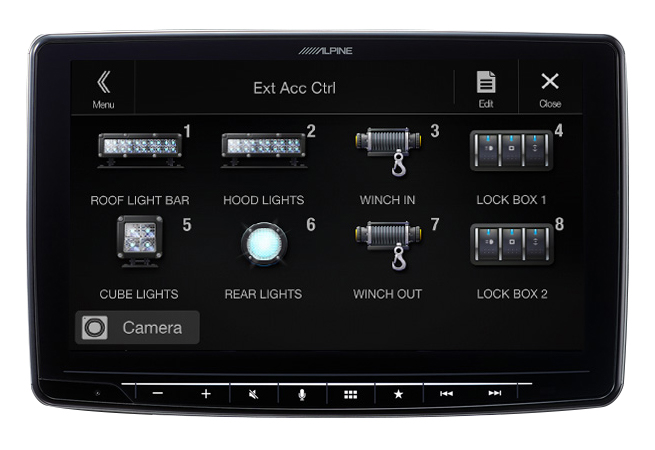 TAKE THE COMMAND CENTER BEYOND THE DASH
Surely you upgraded your vehicle with accessories like a motorized tonneau cover, light bar, and tire air compressor? No need to add switches that can clutter your dash. You can conveniently control these accessories directly from the iLX-F309's touchscreen. The KAC-001 Accessory Controller (sold separately) turns the iLX-F309 into a hub to connect and control these accessories. Eight individual outputs are available to control eight relay-connected accessories, and the accessories can be configured as Pulsed, Latched, or Momentary Outputs. Preloaded graphical icons can be assigned to each accessory together with quick identification on the screen.
If you already have sPod switches, don't fret. The Alpine accessory controller now seamlessly integrates with the sPod ofcourse. You can control the sPod switches from either the sPod switches or the Alpine onscreen interface while keeping them in sync.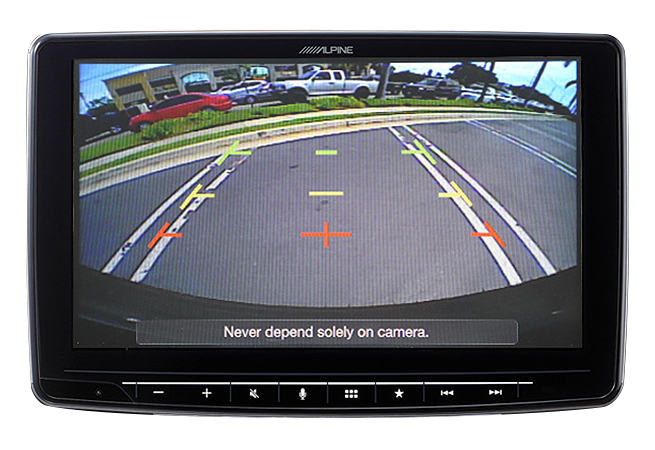 ADD A REAR CAMERA, OR MORE, IF NEEDED
Surprisingly make blind spots a distant memory. The Alpine Halo9 iLX-F309 has a rear camera input and overlays guidelines onto the camera image on the 9-inch screen to aid with distance judging (camera sold separately). Multiple cameras (for the rear and side) indeed can be added when used through the KCX-C2600B Multi-Camera Selector.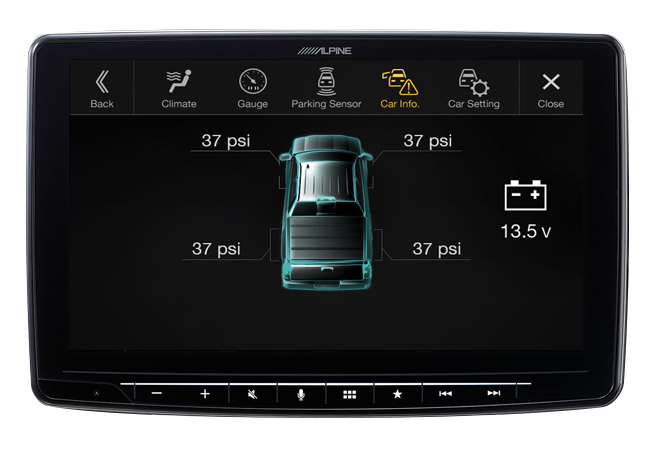 KEEP SELECT FACTORY CONTROLS
The iLX-F309 is compatible with the iDatalink Maestro® Module (sold separately) to retain and display vehicle information on the 9-inch screen. However, info such as steering wheel controls, tire pressure, engine codes, and HVAC control may be accessible from the iLX-F309 (information will vary by vehicle).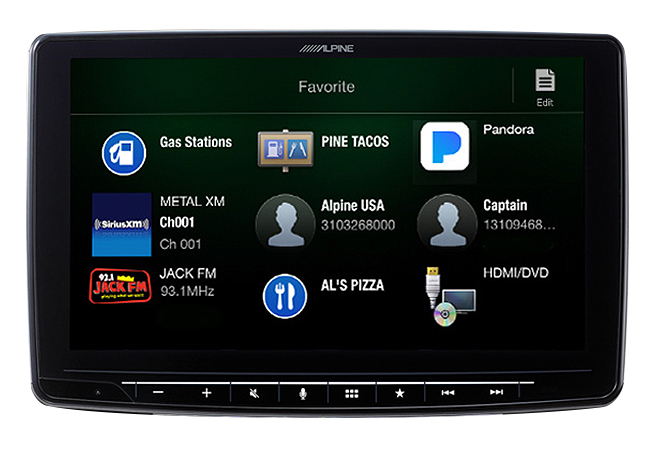 CUSTOMIZABLE SHORTCUTS AT YOUR FINGERTIPS
My Favorites feature significantly offers convenient shortcuts instead of the functions that you use the most, such as:
Audio Sources (HD Radio™, Pandora®, iPod®, SiriusXM, HDMI/DVD, AUX)
Phone Settings (Most-dialed Contacts)
A shortcut soft key on the touch screen within all audio and phone sources makes it even easier to add sources than before. Easily add, delete, and re-arrange your shortcut icons by dragging the icon(s) to a new location on the screen. Your settings are kept as a personal profile linked to your smartphone via Bluetooth.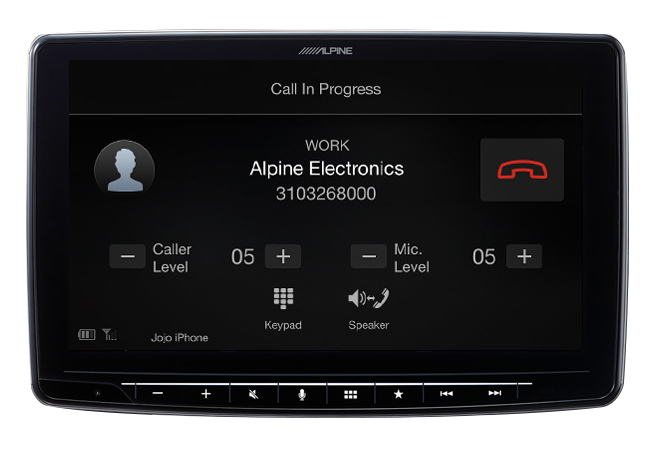 BLUETOOTH HANDS-FREE CALLING AND AUDIO STREAMING WITH Alpine Halo9 iLX-F309
Without a doubt be smart when using your phone on the road. The built-in Bluetooth® wireless technology allows for hands-free calling, secure simple pairing (SSP), and call waiting. Icons depicting phone battery level and cellular signal level are shown on the 9-inch screen. Expand your entertainment options with attention to audio streaming from your smartphone.
NOW ENJOY MORE CONTENT
By offering endless audio and video options, the iLX-F309 knows how to keep you entertained especially on the road.


Made for iPod® / Works with iPhone®
Undoubtedly it is convenient to control your iPod or iPhone in the car. Enjoy seamless operation of your iPod in addition to full control of all your favorite media sources. Control all search options of your iPod directly from the iLX-F309 via Playlist, Artist, Album, Song, Genre, Podcast, or Composer. Basically, the USB connection allows for high-quality iPod. iPhone playback and delivers an even faster access speed so you'll find songs as quickly as you expect to find them on your iPod / iPhone.


Satellite Radio Ready
Upgrade your sound experience and expand your entertainment choices by adding SiriusXM satellite radio to your ILX-F309. The Alpine Halo9 iLX-F309 is SiriusXM-Ready™ and connects to the SiriusXM SXV300 Connect Vehicle Tuner Kit (sold separately, subscription required). SiriusXM features include album art; display of channel logos. Coupled with Pause, rewind, and replay up to 60 minutes of content while listening to satellite radio. Start songs from the beginning when tuned to any favorite music channel using TuneStart™. Scan and select songs on favorite music channels with TuneScan™.


HDMI: More Entertainment With Just One Cable
Otherwise, it's possible to enjoy even more content than ever before through your iLX-F309. The iLX-F309 has HDMI compatibility for an all-digital audio and video connection via a single cable.