Description
Hertz ECX 165.5
2-Way Coaxial Car Speakers
The Hertz ECX 165.5 car audio coaxial is the solution for those who want to reproduce a wide frequency range without the need for separate components: the coax tweeter adds to the woofer response optimizing the installation-friendliness.
Neodymium tweeter with built-in crossover, pressed-paper cone with deep ribbings for maximum rigidity, and accurate optimization of the motor assembly contribute to enhance sound linearity, off-axis response, and timbre quality. Thanks to the RHFC technology, the tweeter can be oriented, being 10° angled, to control dispersion and get close to the ideal frequency response.
Features
1. Water-repellent treated paper cone, butyl rubber surround.
2. Pure copper voice coil wound on aluminum former, for very good thermal
and mechanical capacity.
3. Large motor assembly for excellent mobile voice coil control.
4. Low carbon content plates for maximum magnetic permeability and high
heat dissipation.
5. Rubber magnet cover provides damping to the basket and motor structure
and protects from abrasions and damages.
6. DIN size basket coated with scratch-proof, corrosive-resistant material.
7. Tin-plated, high current terminals.
8. Silver-plated lead wires, for maximum reliability and conductivity.
9. Epoxy glue for basket and motor system provides perfect coupling.
10. Curve memory Nomex spider for consistent, reliable performance.
11. High energy neodymium magnet tweeter.
12. RHFC, Rotary High-Frequency Contour; adjustable for perfect off-axis
dispersion and frequency response, according to the listening position.
Technologies
ROTARY HIGH-FREQUENCY CONTOUR

The tweeter group is adjustable and can be oriented towards the listening point. This means no limits to the installation: with the RHFC system you can tune the response for any listening point. For perfect off-axis dispersion and frequency response.
The Hertz View
In fact, to understand the love of sound is to understand Hertz's philosophies. Hertz understands that a great speaker should draw out the emotional energy of the music you cherish, as a result- partnered with their commitment to using deluxe components and boundary-pushing engineering; they produce premium quality. Besides, music requires no compromise. Incorporated music lovers, Hertz is obliged to optimizing your vehicle sound system for complete audio delight.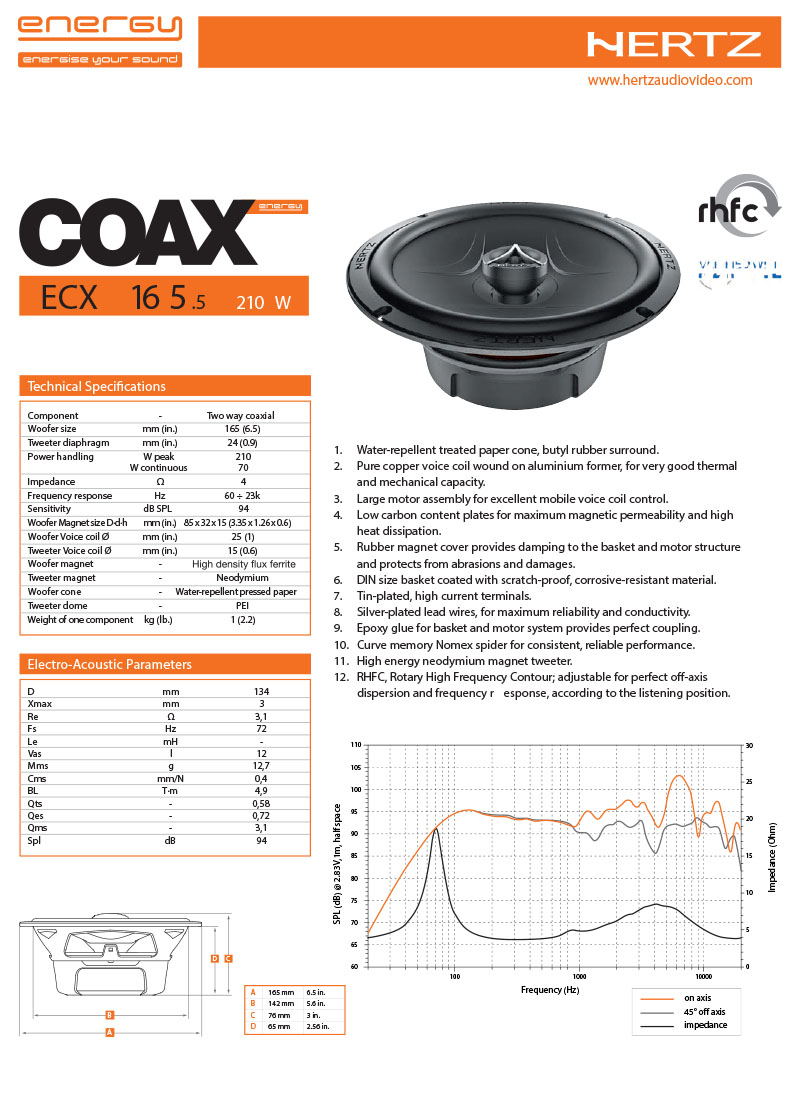 Data table
| | |
| --- | --- |
| Power Handling – Peak W | 210 |
| Power Handling – Continuous W | 70 |
| Impedance Ω | 4 |
| Frequency response Hz | 60 ÷ 23k |
| Sensitivity dB SPL | 94 |
| Woofer size mm (in.) | 165 (6.5) |
| Tweeter size mm (in.) | 24 (0.9) |
| Woofer Voice Coil Ø mm (in.) | 25 (1) |
| Tweeter voice coil Ø mm (in.) | 15 (0.6) |
| Woofer magnet | High-density flux ferrite |
| Tweeter magnet | Neodymium |
| Woofer Cone | Water-repellent pressed paper |
| Tweeter dome | PEI |