Description
Alpine X409-WRA-JK
Custom-fit digital multimedia receiver with 9″ screen for select 2011-18 Jeep Wrangler JK models (does not play CDs)
The Alpine X409-WRA-JK digital multimedia receiver is an all-weather, feature-packed receiver that adds awesome smartphone connectivity to your Jeep Wrangler JK.
Alpine designed this weather-resistant receiver to be a great fit for your Wrangler's dash and your lifestyle, with a 9″ diagonal display, built-in Bluetooth®, Apple CarPlayTM and Android AutoTM capability, HD RadioTM, and plenty of inputs.
PRODUCT OVERVIEW
The Alpine X409-WRA-JK Navigation system with a 9-inch Weather-Resistant. Is to be sure to enhance the adventures of the active weekender with Apple CarPlay™, Android Auto™, and built-in Off-Road Mode.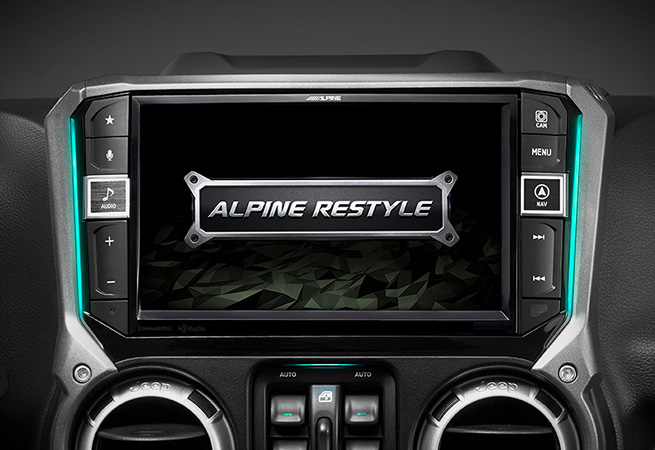 Alpine X409-WRA-JK DESIGNED FOR JEEP®
No one understands the active lifestyle of the Jeep® driver quite like Alpine, and the X409-WRA-JK is proof! Introducing a new direct-fit solution for the 2011 – 2018 Jeep® Wrangler.
The stunning, rugged dash bezel houses the large, 9-inch screen and takes direct style cues from the Jeep® Wrangler that results in an OEM-quality fit and finish.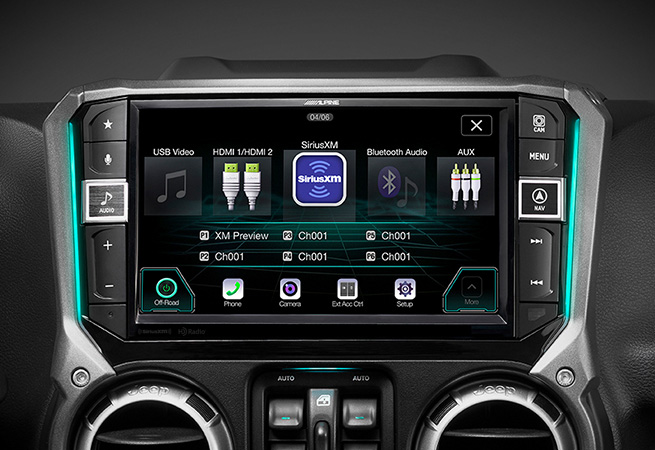 LARGER THAN LIFE SCREEN SIZE
The large, 9-inch screen has Capacitive Touch and a Swipe Graphical User Interface is optimized for in-vehicle smartphone use. The next-generation design makes screen performance even faster.
The X409-WRA-JK has an IP53 rating against dust and water. Certainly for a weather-resistant dash system that's built to handle the toughest outdoor elements. The high-visibility screen has been engineered to adjust to low or high sunlight for maximum clarity when driving.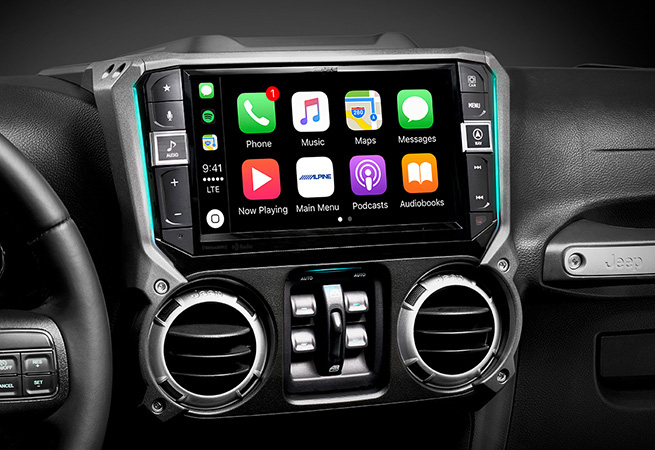 Alpine X409-WRA-JK with APPLE CARPLAY™
The X409-WRA-JK "Works with Apple CarPlay™" and lets iPhone users make and receive calls, access text messages, play music, and get directions in a way that allows them to stay focused on the road. Apple CarPlay™ is accessed through the capacitive touch screen or the mic button to activate Siri voice control and is compatible with iPhone 5 and later.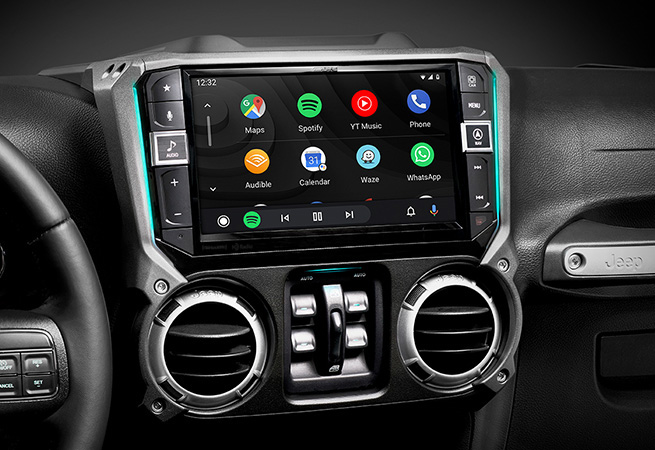 Alpine X409-WRA-JK with ANDROID AUTO™
The Alpine X409-WRA-JK includes Android Auto™ and works with the Google Assistant (requires both a USB cable and Bluetooth® connection; requires an Android™ phone running 5.0 [Lollipop] or higher and the Android Auto™ app). To access the Google Assistant on Android Auto, say "OK Google" or select the mic button. Google Assistant in Android Auto™ allows users to play their favorite music, get driving directions to their destination, interact with smart home devices and reply to text messages – hands-free.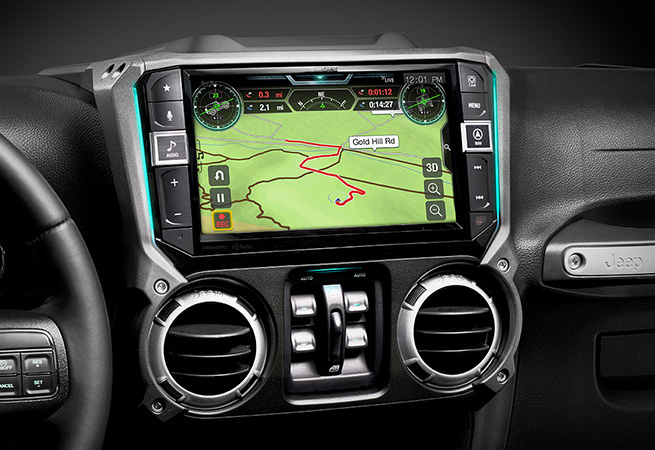 TAKE THE ROAD LESS TRAVELED
We know Jeep® drivers don't follow the status quo. Alpine has included Off-Road Mode. To be sure to deliver the information you need to go off the beaten path like vehicle tilt, tire pressure, optimized camera view, and FunTreks tailhead POI database displayed clearly on the large, 9-inch screen.
When the Off-Road Mode is activated. An off-road-centric user interface takes over the navigation or camera screen so you can monitor pitch and roll when you're climbing rocks or view the built-in clinometer. See your Jeep® vehicle's front-to-back and side-to-side angles. Revisit your favorite trails through Off-Road Mode trip recording.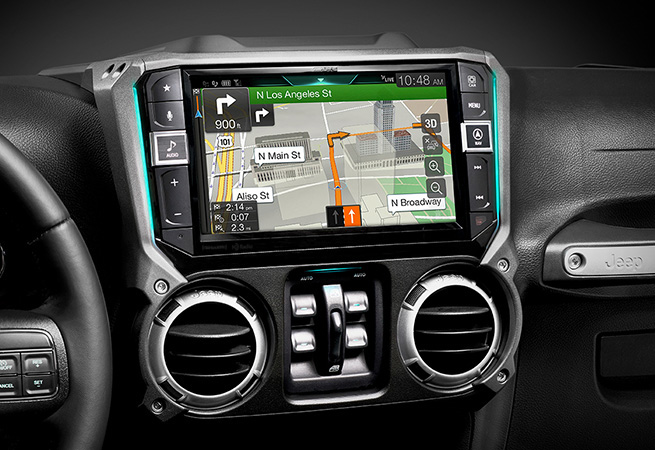 RELIABLE NAVIGATION ANYWHERE
Use your smartphone for third-party navigation apps like Google Maps or Waze. In some areas that don't have strong cellphone service. Preloaded HERE® map data of the United States (included Alaska and Hawaii), Canada, and Puerto Rico are included.
The built-in navigation has Turn-by-Turn voice-guided driving directions, with Pinch-to-Zoom mapping for a detailed view of your map.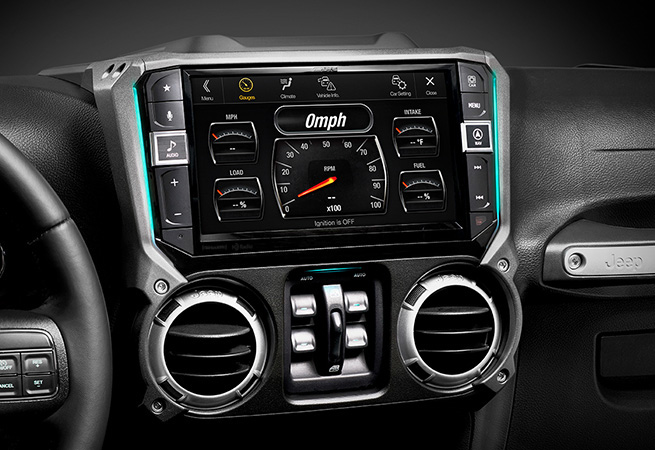 Alpine X409-WRA-JK RETAIN YOUR FACTORY CONTROLS
Now you don't have to choose between retaining your original Jeep® controls. Certainly upgrading to the latest in-vehicle technology. The Alpine X409-WRA-JK includes an iDataLink Maestro® Module® to retain features. Such as voice-activated media player, Bluetooth® technology, and steering wheel controls.
Selectable vehicle information can be displayed on the large, 9-inch screen so drivers can monitor tire pressure,
battery voltage
, door status, engine codes, and user-customizable gauges.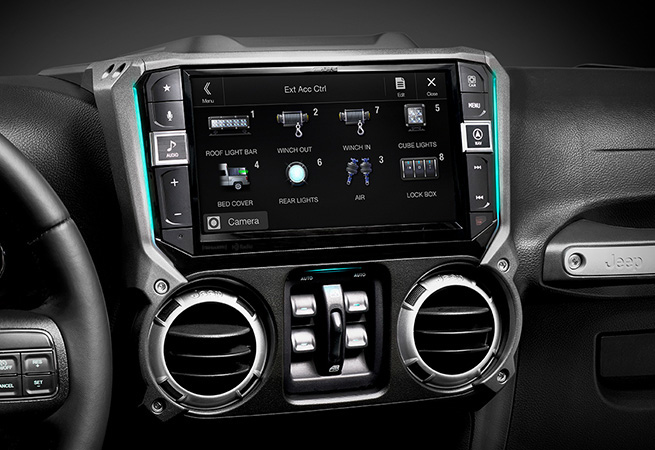 ORGANIZE YOUR ACCESSORIES
For the Jeep® driver who loves customization, adding a winch, light bar,
air suspension
, and more can surprisingly clutter your dash with switches and confuse your controls.
The Alpine X409-WRA-JK can host up to eight accessories and monitor directly from the touchscreen. Assign graphical icons to the accessories for quick identification and control them through a pulsed or momentary output without a doubt.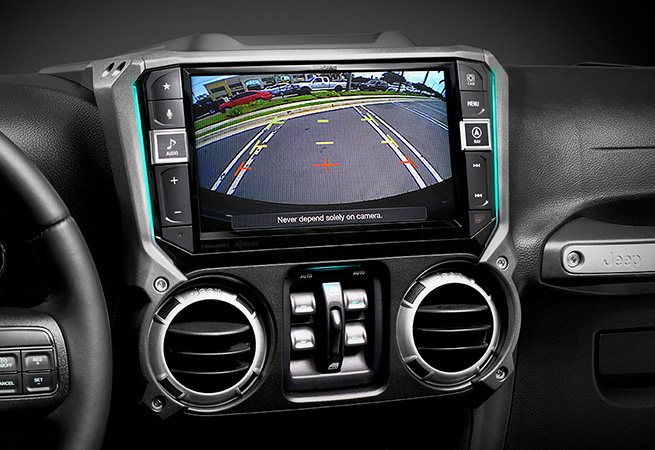 ADD MULTIPLE CAMERA SYSTEMS WITH Alpine X409-WRA-JK
The X409-WRA-JK includes one camera input for a front or rear camera regardless. In addition, add a front and side camera with various views like ground view and wide-angle view. Significantly improves your ability to see past your vehicle.
An optional Multi-Camera Selector (sold separately) is available for the driver with multiple camera systems. Control your cameras right from the large, 9-inch touchscreen and choose the viewing option to be displayed on the screen.


Made for iPhone® / iPod®
It's convenient to control your iPod or iPhone in the car. Enjoy seamless operation of your iPod in addition to full control of all your favorite media sources. Control all search options of your iPod directly from the X409-WRA-JK via Playlist. The USB connection allows for high-quality iPod / iPhone playback and delivers an even faster. Access speed so you'll find songs markedly quicker as you expect to find them on your iPod / iPhone.


SiriusXM Ready
Upgrade your sound experience and expand your entertainment choices by adding SiriusXM satellite radio to your X409-WRA-JK. Using the SiriusXM Connect Vehicle Tuner coupled with a SiriusXM subscription (both required and sold separately). You get access to an extensive channel lineup of new and exclusive commercial-free music, sports and comedy, and SiriusXM Latino.


Built-In HD Radio®
Alpine does HD Radio. Get all the local music and programming you want to hear in a crystal-clear digital format. For example  FM stations with CD-quality sound and AM stations with FM-quality sound. Extend your overall music choices further with multi-casting capability and you'll hear more talk and music content.
Alpine's exclusive Smart Reception Management keeps you undoubtedly tuned in to your favorite HD digital sub-channels. Unquestionably when you're in an area with limited digital reception. To find stations near you, visit HD Radio.