Description
Alpine X308U
Digital multimedia navigation receiver with 8″ screen (does not play CDs)
Alpine X308U PRODUCT OVERVIEW
The Alpine X308U
 Mech-Less Navigation Receiver allows you to 
access
the latest smartphone integration technology. Gain the benefit of a secure and dependable
built-in
 navigation system.
RELIABLE NAVIGATION ANYWHERE
Whether you're driving in the city or taking your vehicle off-roading. You can choose between smartphone navigation, or when you lose service, the X308U's embedded navigation on your adventures.
Choose from different intuitive map view options, such as 3D mapping, split map, and turn-by-turn arrow view. During navigation, use multi-touch, pinch-to-zoom motions on your screen for a detailed view of your map. Now there are more ways than ever to get you to your next adventure.
Get quick and easy direction from start to finish with turn-by-turn instructions delivers by Text-to-Speech (TTS) technology, street names, freeway numbers, and freeway exit names announced clearly through your vehicle's audio system.  You can also see traffic congestion ahead of time with the included free lifetime traffic service so you can choose an alternate route.
Alpine X308U PINCH-TO-ZOOM FOR FASTER PERFORMANCE
The Alpine X308U has been redesigned to work faster than ever, making the user interface much more responsive. No matter the feature you're looking for, you're just one swipe away with faster scrolling and screen transitions all on an 8-inch, anti-glare touchscreen.
Use the Alpine X308U's intuitive interface to swipe left, right, up, or down for navigation, entertainment sources, settings, or Bluetooth, respectively. While using the navigation feature, use pinch-to-zoom motions to zoom in on the view of your map for improved navigation.
Access the functions that you use the most in a fast and easy way with the My Favorites feature. Using a shortcut soft key on the touch screen, add, delete, or re-arrange your shortcut icons by dragging the icons to a new location on the screen. Your settings are kept as a personal profile linked to your smartphone via
Bluetooth
.
Alpine X308U Calgary
You can also use the hard keys for direct access to features like built-in navigation and Apple CarPlay or Android Auto's navigation screen. Access the music on your AM/FM radio or one of your favorite apps on your smartphone with just one touch of the
Audio
hard key.
Control your vehicle's accessories conveniently from the Alpine X308U's touchscreen. If you upgraded your vehicle with a winch, lights, air suspension, or a motorized tonneau cover, add a KAC-001 (sold separately) to connect and control up to eight relay-connected accessories.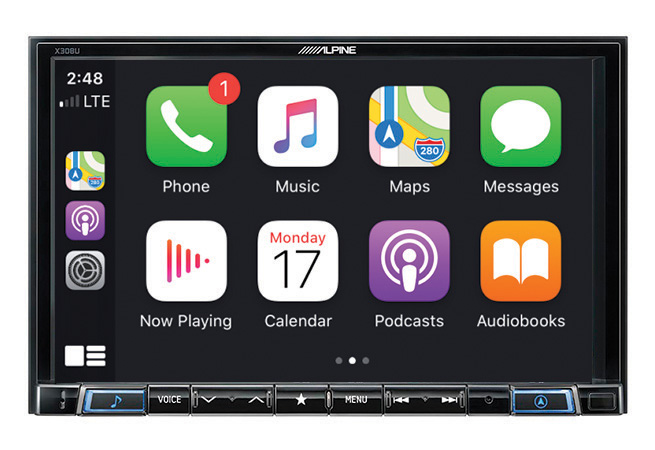 The Alpine X308U "Works with Apple CarPlay" and lets iPhone users make and receive calls, access text messages, play music, and get directions in a way that allows them to stay focused on the road. Apple CarPlay is accessed through the capacitive touch screen or the mic button to activate Siri voice control and is compatible with iPhone 5 and later (iPhone must be connected via Apple lightning cable).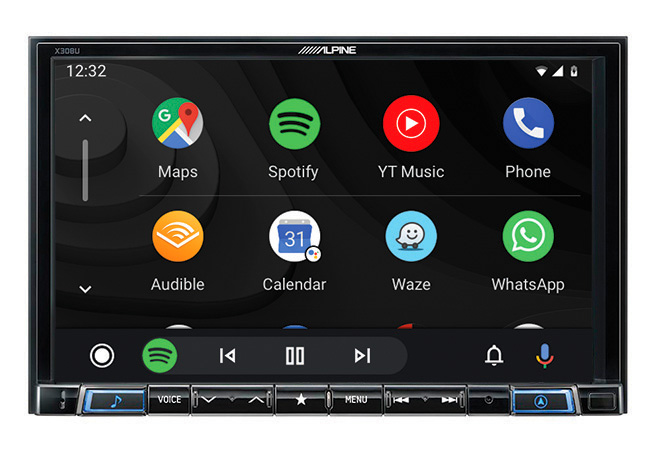 The X308U includes Android Auto and works with the Google Assistant (requires both a USB cable and Bluetooth® connection; requires an Android™ phone running 5.0 [Lollipop] or higher and the Android Auto app). To access the Google Assistant on Android Auto, say "OK Google" or select the mic button. Google Assistant in Android Auto allows users to play their favorite music, get driving directions to their destination. Interact with smart home devices and reply to text messages – hands-free.

Accuracy with OnPoint™ Advanced GPS Positioning
The X308U uses Alpine's OnPoint Plus Advanced GPS Positioning. This ensures that your vehicle stays accurately positioned on the map even in areas where it's difficult to receive GPS reception. Such as in a tunnel or around tall buildings. OnPoint Plus simultaneously uses three technologies — satellite-linked positioning data, gyro sensor technology. Accelerometer technology (to gauge the vehicle's speed) — resulting in continuous coverage of the location of your vehicle. As an additional assurance for accuracy, an optional connection to the vehicle's speed pulse signal is available.
See things more clearly on an 8″ touchscreen
A normal touchscreen receiver has no place in your prized possession. The Alpine X308U navigation receiver has an 8-inch monitor, allowing you to see a large picture of your maps and album artwork while driving. Apple CarPlay® and Android AutoTM compatibility allow you to listen to music from a USB device or your smartphone. You'll be able to find your destination even if you're out of cell range. Thanks to built-in navigation, and you'll also get Alpine's usual sonic enhancements and other goodies.