Description
Alpine INE-W970HD
Alpine INE-W970HD Navigation receiver
PRODUCT OVERVIEW
Entertainment from the start of the engine to the destination, the INE-W970HD Navigation Receiver 
comes loaded with features to make every drive exciting.
RELIABLE NAVIGATION ANYWHERE
Enjoy the convenience of smartphone navigation, or when you lose service, use the INE-W970HD's built-in navigation system. Getting to your next adventure has never been so easy!
You can rely on Alpine INE-W970HD's navigation system for access to the most up-to-date maps of the United States and Canada. Choose 3D mapping for a realistic viewing option that allows you to see your map in vivid detail or get fast and easy directions from start to finish with turn-by-turn instructions delivered by Text-to-Speech (TTS) technology.
MORE FEATURES, MORE FUN!
More than just a way to get to your next adventure, the INE-W970HD Navigation Receiver comes loaded with features to make every drive exciting.
Listen to your music, answer calls, respond to texts, and get directions hands-free with Apple CarPlay™ and Android Auto™.  Connect your smartphone via a USB input (additional Bluetooth® connection required for Android Auto™).
Keep your eyes on the road and hands on the wheel with the INE-W970HD's built-in Bluetooth® hands-free calling and streaming. The external pre-tuned microphone reduces noise interference and feedback for the best sound quality possible, so you can stay focused on your drive.
Now there are even more ways to listen to your favorite music with the INE-W970HD's built-in HD Radio™ and SiriusXM™ capable (tuner and subscription required). The Alpine INE-W970HD also comes with a built-in DVD and CD mechanism and included HDMI input for non-stop entertainment (HDMI cable sold separately).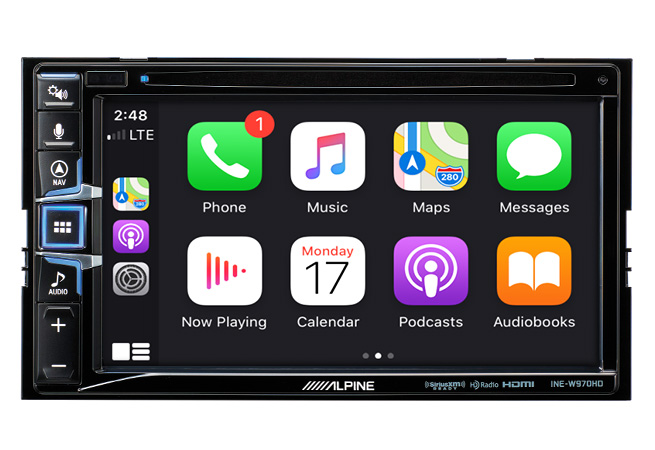 Alpine INE-W970HD APPLE CARPLAY®
The Alpine INE-W970HD "Works with Apple CarPlay®". Suprisingly lets iPhone users make and receive calls, access text messages, play music, and get directions in a way that allows them to stay focused on the road. Apple CarPlay® is accessed through the WVGA touchscreen and is compatible with iPhone 5 and later (iPhone must be connected via USB input).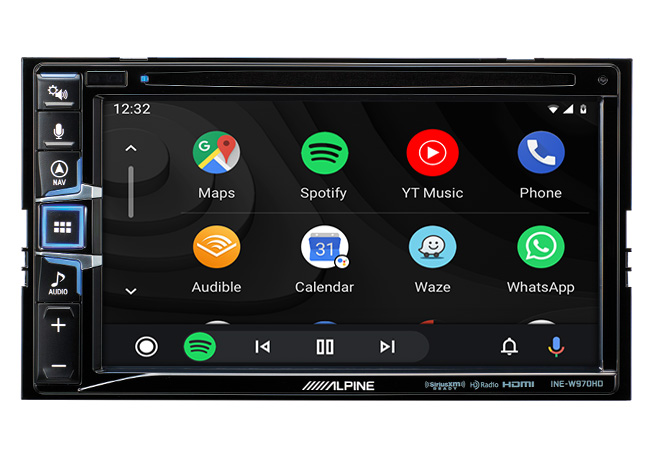 Alpine INE-W970HD ANDROID AUTO™
The Alpine INE-W970HD includes Android Auto™ and works with the Google Assistant (requires both a USB cable and Bluetooth® connection; requires an Android™ phone running 5.0 [Lollipop] or higher and the Android Auto™ app). Google Assistant in Android Auto™ allows users to play their favorite music. Get driving directions to their destination, interact with smart home devices, and reply to text messages – hands-free.
Alpine INE-W970HD QUICK SOUND TUNING
Adjust your music without skipping a beat or taking your eyes off the road. Coupled with the convenient sound hard key located on the INE-W970HD. Control the bass, mid, and treble levels of your music. Balance and fader choices further displayed on the touchscreen.
Alpine INE-W970HD BOOST YOUR POWER
Need a power boost without compromising vehicle space? The Alpine INE-W970HD is Power Pack ready with the KTP-445A Head Unit Power Pack. Also comes with 45W x RMS power for up to 150 percent power increase from the head units. Short on space? The KTP-445A is compact enough to install behind the INE-W970HD or any other tight space.