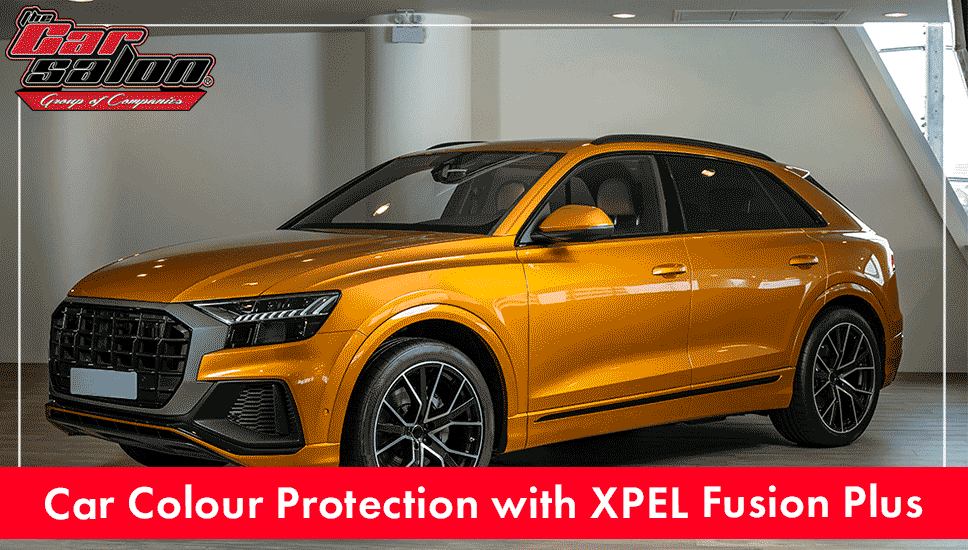 We're constantly worried about our car paint. I know many of you take such pains to wax your cars every weekend. Wax although a viable option to protect your car paint is not sustainable over the long run. There is a new better solution – ceramic coating. We at The Car Salon are always on the lookout for the newest innovations that can help our customers prolong the life of their car paint without having to break the bank, and we have found the best thing yet, XPEL Fusion Plus ceramic coating to protect your car paint.
What Is Ceramic Coating and why choose XPEL Fusion Plus?
A ceramic coat is basically a polymer that sticks to your car's paint protecting it longer. How does it do this? Polymers have an adhesive property that is enhanced when it comes into contact with the paint. This means the ceramic coating sticks to your car longer and protects it much better than wax alternatives.
Fusion Plus is the state of the art upgraded ceramic coating by XPEL. Its unsurpassed adhesive and protective performances are quickly garnering it a lot of fans amongst the car lover and enthusiasts. XPEL Fusion plus was designed to be used along with paint protection films and when you have expert professionals working for you, you are sure to get the most out of your car color protection.
Advantages Of Using XPEL Fusion Plus Car Colour Protection
1. Chemical Resistant
Pollutants and Environmental chemicals can bond with your car paint and cause discoloration and pigmentation over time. XPEL Fusion Plus ceramic coating ensures that any unwanted chemicals that may come into contact with your vehicle have to first go through the ceramic coating which is very tough, then deal with layers of paint protection film and then finally reach the car.
2. Easier Cleaning
XPEL Fusion Plus makes it easier for you to clean your car. It is hydrophobic which means that water, sludge, dust, mud and other contaminants find it very difficult to stick to the car surface. An easy rinse with a water hose will get most, if not all of the grime off your vehicle. You can always get your car into The Car Salon for some expert Tender Love and Care for your car.
3. Brand New Feeling
XPEL Fusion Plus is one of the brightest ceramic coating finishes in the market. Once you've applied it your car will have that brand new shiny feeling for a long time. It will make your exteriors feel like you've just bought a new car. If you're looking for something to give you a mirror-like finish then the XPEL Fusion plus is the car color protection ceramic coating for you.
4. Long-Lasting
The Car Salon highly recommends the user of the ceramic coating from XPEL because of the long-lasting effects of its car color protection. Like we've mentioned before Wax is also a good alternative, however, you have to very diligent with its application. You have to keep using it regularly to ensure that your car paint is protected. With XPEL Fusion Plus, you can put it and forget it.
5. Affordable
Considering the number of wonderful properties that the XPEL Fusion Plus has you would think that the ceramic coating will be unbelievably priced, and it is, but not one that would shock you, only excite you. XPEL Fusion Plus is one of the most affordable solutions of the kind available on the market. To know more about the pricing please get in touch with The Car Salon experts today!
Conclusion
The only advantage that car wax has as a car color protection method is that it is relatively easier to apply and you could probably do it at home. The same can be said about the XPEL Fusion Plus ceramic coating however, as with most premium products, to get the best out of the car color protection you should have it applied by experts. Get in touch with the professionals at The Car Salon if you want to use the best products and avail the best services at the most affordable prices for your car paint protection.