Description
Thinkware MOTOSPORTS CAM FRONT & REAR 1080p, WIFI, 32GB, DUAL SONY STARVIS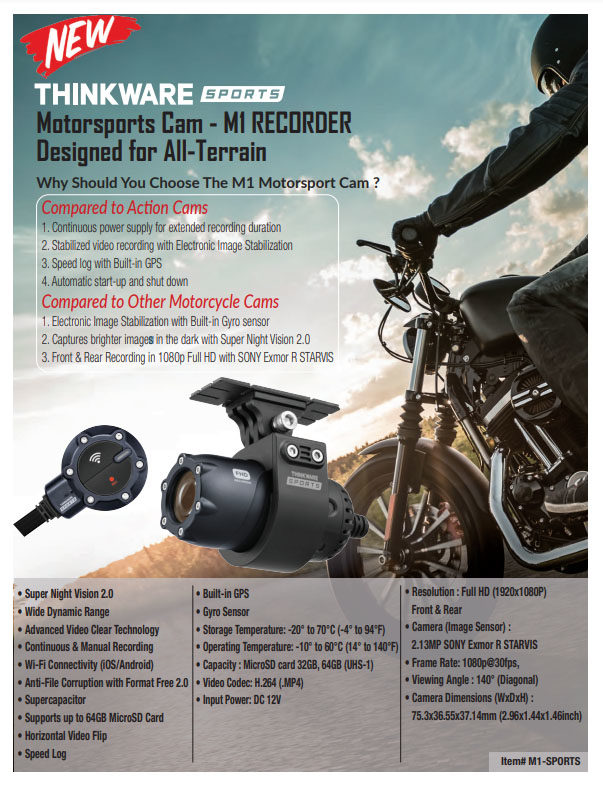 Model: M1-SPORTS
2-Channel Motosports Cam includes Front & Rear 1080P cameras with 2.13MP Sony Exmor R Starvis CMOS sensors. Includes 32GB Micro SD card and card reader included. Compatible up to 64GB. Anti file corruption 2.0. Video codec v.264. The angle of View – 140 degrees, with Smart Focus System. The resolution, FPS – 1920x1080P, Max 30fps Improved Wifi performance allows streaming while recording. Electronic Image Stabilization with built-in Gyro Sensor. 2-Button remote controller. Super Night Vision 2.0 – increases exposure at low-light settings. Built-in power management supercapacitor. Built-in GPS with Speed Log. Weatherproof IP65 rated. Android & iOS app, PC & Apple Mac software
Front and rear Full HD

Advanced Electronic Image Stabilization (EIS)

Record cinematic Full HD 1080p video coverage for the front and rear of your vehicle
Reduces vibrations and minimizes motion blurring, to ensure smooth and steady video recordings no matter what terrain you're riding on.

Weatherproof: IP66

GPS for Speed Log

Designed for durability and water resistance, the IP66-rated M1 can withstand and record in the harshest conditions.
Get evidence of your fastest speeds alongside the video footage with the built-in GPS antenna.

Start & Go

Remote Control

Forget the hassle of checking whether or not your camera is recording. The M1 will automatically start recording when you start the ignition, and power down when you turn it off.
Save memorable moments of your journey and store them in a dedicated folder with just one push of the manual recording button.
* This Product is only compatible with vehicles that have a battery with a fuse box.

Super Night Vision 2.0 with SONY STARVIS

Super Night Vision technology reduces noise and enhances image quality in low-light conditions.

[OFF]

[ON]

Review Recorded Videos &
Update Firmware Using Your Smartphone

Video Quality

THINKWARE Dash Cams capture everything from the ordinary to the spectacular.

Wide Viewing Angle

THINKWARE Dashcams come with wide viewing angles to provide the best coverage of the roads.

Reliability Features​

Integrated Thermal Protection

The integrated Super Capacitors and Thermal Sensor provide added safety and reliability in extreme temperatures.

Anti-File Corruption

THINKWARE's proprietary Anti-File Corruption Technology improves your Dash Cam's reliability by protecting your memory card from data corruption and lost footage.