Description
Thinkware 2-CH 1440p DASHCAM
WIFI, 32GB, REAR CAM BUNDLE, HW CABLE, CPL FILTER (QA100ELITED32HF)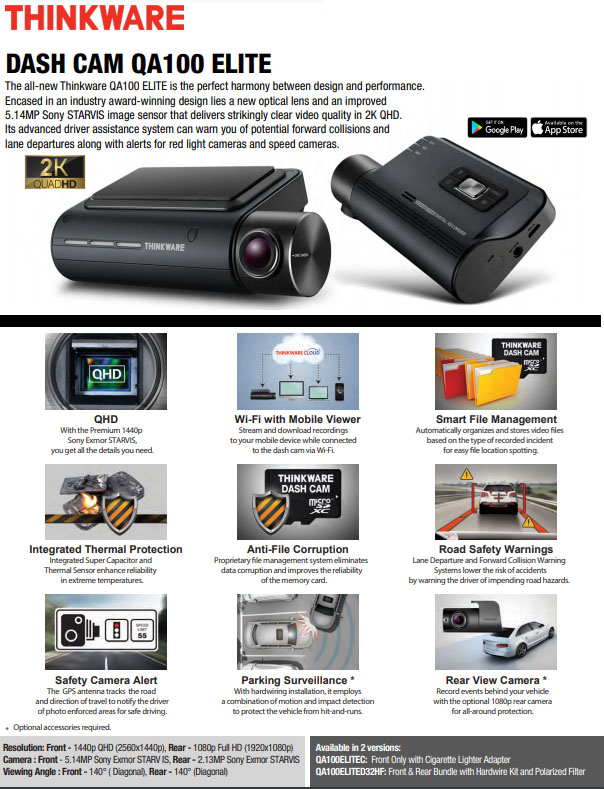 • 2-Channel Quad HD Dashcam Bundle includes Front 1440P & Rear 1080P cameras with Sony Starvis CMOS sensor, 2.4MP, powered by an Ambarella A12 CPU. Memory – 32GB Micro SD card and card reader included. Compatible up to 128GB.
• Angle of View – 140 degrees, with Smart Focus
• System. Memory storage overwrite On/0ff
• Resolution, FPS – 1440x2880P, Max 30fps Improved Wifi performance allows streaming while recording.
• Sensor-3 – Axis Acceleration Sensor Speed & Red Light Camera Alert. Buttons – Power, Still capture, REC, Voice guidance, Voice record, Reset. Features Lane Departure & Collision avoidance alerts.
• Super Night Vision 2.0 – increases exposure at low-light settings.
• LED's: Recording status, GPS Signal,
• Operation, Front security chasing LED
• New Energy-Saving Parking Surveillance Mode
• Thermal Self Protection shuts unit down under extreme temperatures
• 4 Recording Modes: Continuous, Incident, Parking Surveillance, Manual
• Speaker / Microphone – Built-In
• Wi-Fi- Built-In
• Built-in power management super capacitor with included hardwire kit
• GPS – Built-in
• Android & iOS app, PC & Apple Mac software
• Intelligent Auto Exposure, Noise Reduction, & Adaptive Color & Contrast Enhancement
• Includes: Hardwire cable, CPL Filter, Mount, cable holder, Microfiber cloth, User guide, USB adaptor
THINKWARE Rear View Camera offers protection for you and your vehicle from insurance fraud. The Full HD recording provides crystal clear, detailed footage. For best results, install it on your rear window.
1080p Full HD video quality will ensures every minute detail is captured.
The footage from the Rear View Camera can be viewed simultaneously with front view videos on THINKWARE PC Viewer.
Cable included
Lengths: Regular: 7.5m (24.5ft) / Long: 9.5m (31ft)
Compatible with Q800PRO, QA100 ELITE, F800PRO and F800
Cables for connecting the Rear View Camera to the THINKWARE Dash Cam.
Available in two lengths:
Regular: 7.5m (24.5ft)
Long: 9.5m (31ft)
Compatible with:
Q800PRO / QA100 ELITE
F800PRO / F800
What is the difference between 1080P and 2K resolution? 
2K resolution is 2560 pixels horizontally and 1440 pixels vertically, compared to the 1920 x 1080 pixels from Full-HD Resolution.  It is referred to as QHD because it has 4 times the pixels as 720p. These added pixels allow for a wider image and more detailed recording. When you zoom in on a 2K video, it will retain more clarity compared to a 1080p video.
2K is great for reading license plates or street signs as you will have less noise and artifacts when you zoom in.
Our Q800PRO and QA100 Elite are the two 2K Resolution Thinkware Dash Cams.