Description
Hertz CG 165
Cento Woofer Grille
The optional CG 165 Cento woofer grille is made of high resistance ABS metal finish grille and removable metallic mesh supplied. They offer a high degree of protection within a compact size, ideal for in-car installation.
About the Hertz CG 165
A custom look
If you need replacement grilles for Hertz's Cento Series 6-1/2″ car speakers, pick up these speaker grilles. The steel mesh design with the Hertz logo will protect your speakers and make your custom installation look great.
Product highlights:
black mesh grilles for Hertz Cento Series 6-1/2″ car speakers
warranty: 1 year
MFR # CG 165.4
What's in the Hertz CG 165 box:
2 Grilles
Eight 3/4″ Screws
8 Speed clips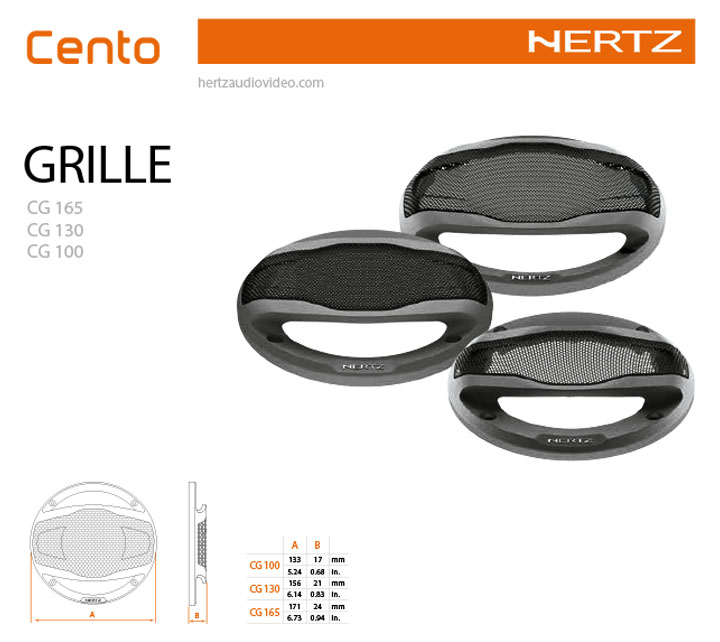 The Hertz View
In fact, to understand the love of sound is to understand Hertz's philosophies. Hertz understands that a great speaker should draw out the emotional energy of the music you cherish, as a result- partnered with their commitment to using deluxe components and boundary-pushing engineering; they produce premium quality. Besides, music requires no compromise. Incorporated music lovers, Hertz is obliged to optimizing your vehicle sound system for complete audio delight.
Hertz CG 165 Product highlights:
black mesh grilles for Hertz Cento Series 6-1/2″ car speakers
warranty: 1 year
MFR # CG 165
Data table