Paintless Dent Repair
Providing Paintless Dent Repair to Calgary and the surrounding areas.
Dents happen. The good news is that many dent repairs can be repaired without painting by implementing a process called Paintless Dent Repair ( PDR for short). This is an ideal solution because it keeps the original factory paint intact and the value of your vehicle higher.
The good news: The Car Salon Auto Body Centre was a pioneer in paintless dent repair and innovation methods. Instead of hammers and dollies or pulling welded pins, the Car Salon uses special long-range tools to get behind teeth and massage damage, sometimes there is an alternative to repainting or filling the body.
In many cases, the dent removal process is equivalent to art and science, requiring a craftsman's skilled hands and patience. The result is a panel restored to its perfect original condition.
CSN Car Salon Auto Body
1725 32 Ave NE #138, Calgary, AB T2E 7C8
Phone:  +14037699309
Mon – Fri: 8a.m.–5p.m.
Sat:  9a.m.–1p.m.
3XJM+38 Calgary, Alberta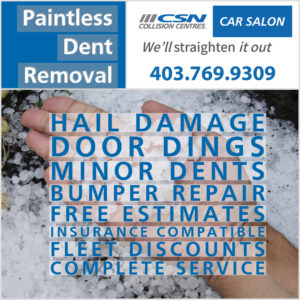 Advantages of  Paintless Dent Removal
A vehicle with original paint always has a higher resell value than a repainted vehicle. By removing dents without breaking the paint, Our dent removal technicians can also save you money by eliminating the paint supply costs. In addition, since no auto painting, body fillers or sanding is required, Paintless Dent Removal is one of the most environmentally friendly options in the automotive repair sector.
Even the most extensive minor dent damage can usually be completed in a matter of hours, not days, and The Car Salon's Auto Body service saves you even more time. Call The Car Salon to painlessly remove dents from your vehicle—and help maintain its value.
PDR techniques utilize metal rods and specialized tooling to push out the dents from the backside of the body panel. This can be used on all metal panels, both steel, and aluminum.

With the proper tools and technique damaged and dented panels are returned back to its original pre-dented state.

PDR retains the cars original paint finish so the final repair is an exact match.
Hail Damage Repair
Hail season is from June to September in Calgary, Alberta. The Car Salon Auto Body Centre is ready to perform all your Paintless Dent Removal (P.D.R) needs with years of expertise on our side. The Car Salon has a large team ready to handle large fleets, automotive dealerships, and rental agencies. When you have a problem no matter how small or big…. We have the TEAM!
Unlike other Paintless Dent Repair companies we also staff experts in scratch removal with our car detailing division. If the damage is too excessive for paintless dent removal we also have a conventional body shop on site.  That way you do not have to take your vehicle from shop to shop. We do all of our own work in house.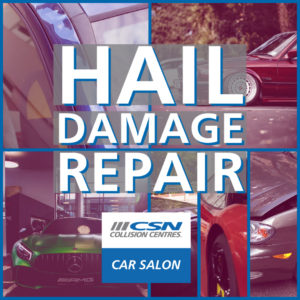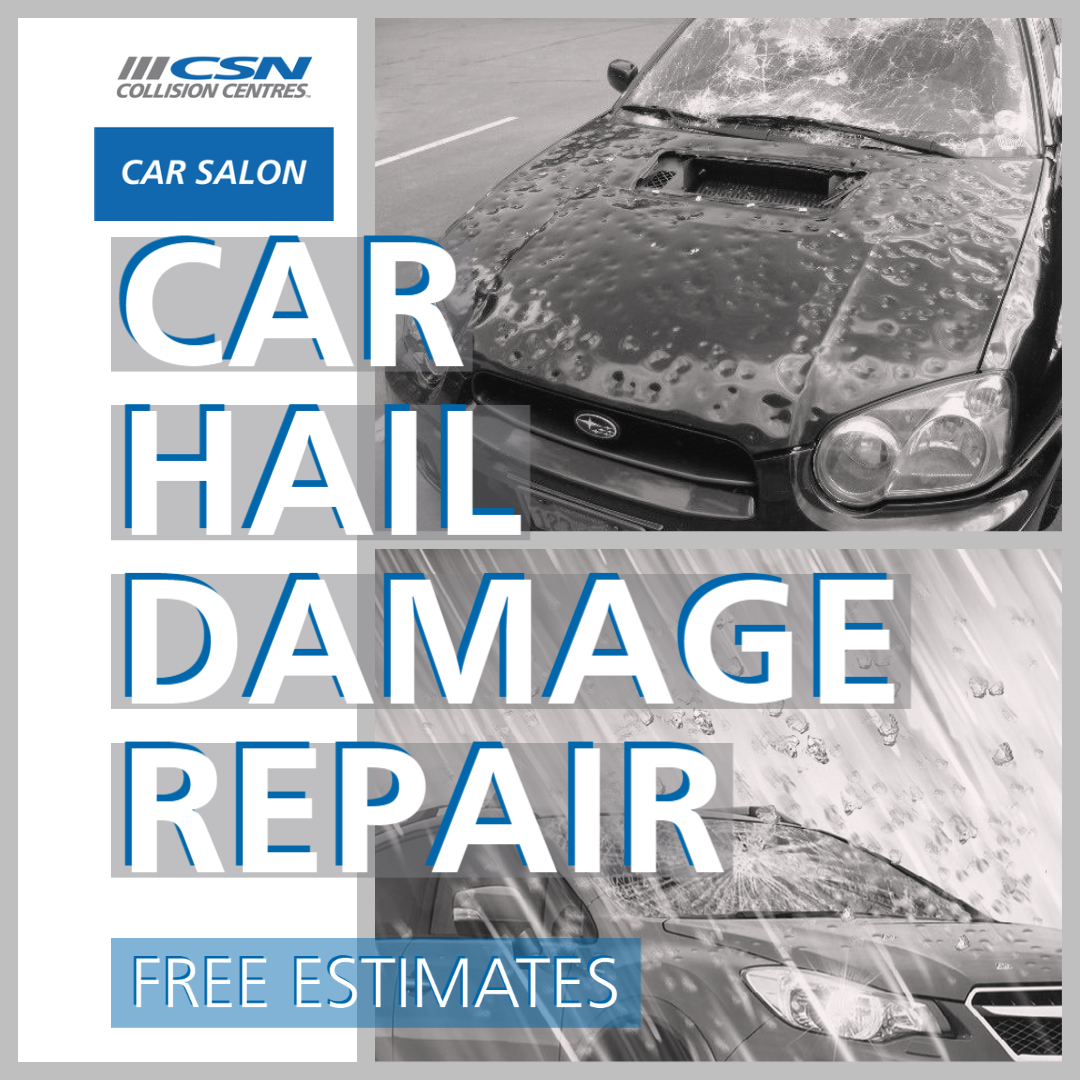 Paintless Dent Removal
New Paintless Dent Removal PDR Techniques
Fixing a dent in the past would imply bringing your car to a bodyshop, leaving it for at least a couple of weeks, and then charging a significant amount to cover overheads for the job and the shop owners. New methods and innovations have eliminated all the stress and troubles. Replacing it with a faster and more affordable alternative. New methods and innovations have eliminated all the stress and troubles. Replacing it with a faster and more affordable alternative.
What could be a better way to deal with your vehicles dents and dings, than an affordable dent repair service?
Servicing Calgary, Okotoks, Airdrie, Cochrane, High River  & the surrounding areas.
Our dent repair engineers are serving Calgary and the entire larger region of Alberta. We can be very fast with you and your vehicle or truck to assist in removing hail damage, unsightly dings and dents. Call us today to know more about our services and how we can assist you!
Trained Local PDR Specialists
While the dent removal idea is incredibly easy, it can still be very difficult to do the job itself. That's why it's vital to hire a top-quality business with years of dent removal expertise and experience. Our trained specialists can usually have a dent repaired and your car or truck looking like new in a day or two.
It is essential to recognize that while we can handle most dents and dings, some kinds of vehicle damage may NOT be possible to PDR. If the dent has crinkly wrinkles or creases, if two or more boards overlap with the damage, or if the frame is damaged, then these are jobs for our traditional car body shop.
Get multiple automotive services performed on the same appointment.