Uniroyal tires are chosen by so many different people, for so many different reasons, and for so many different vehicles, that we have become a trusted part of the lives of millions of Americans.
Uniroyal® Tire Tiger Uniroyal Tire Brand mascot – the Uniroyal Tiger The Uniroyal Tire tiger has been our well-known and well-loved mascot since 1961. Over the years, the Uniroyal Tire tiger has come to symbolize the tradition, perseverance, and pride that have been a part of the Uniroyal® Tire brand long before the tiger's first day on the job.
Americans have been driving with confidence on Uniroyal® tires since 1892, although back then we were known as the U.S. Rubber Company.
Our Tire Innovations Today, the Uniroyal Tire brand continues to go the extra mile for you by putting all of our efforts into making high-quality, durable car and truck tires that today's drivers can afford.
Uniroyal Tires brand history Our tires provide all the features and benefits you consider important in a high-quality, dependable tire. Just take a look at our latest innovations — the Laredo® Cross Country, an SUV and pick-up tire built to conquer everyday adventures, and the Tiger Paw® Touring, a comprehensive line of tires for sedans and mini-vans that helps deliver outstanding wear and handling at an affordable price.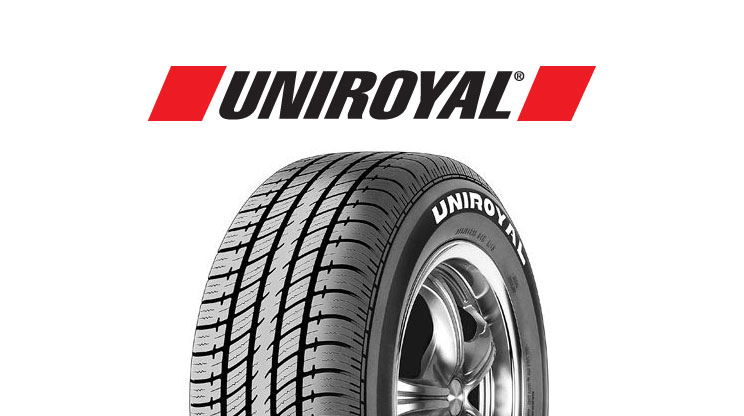 There's an eight- story tire in Detroit, Michigan with our name on it!
Not surprisingly, the Uniroyal® Giant Tire has been turning heads for more than 40 years as one of the nation's most recognizable roadside icons.
The Uniroyal Giant Tire was originally a ferris wheel at the 1964 World's Fair The Uniroyal® Giant Tire was originally created as a Ferris wheel attraction at the 1964/1965 New York World's Fair. The wheel held 96 fairgoers and was powered by a 100-horsepower motor. More than two million people rode the Giant Tire Ferris wheel during the fair, including Jacqueline Kennedy and her children, John Jr. and Caroline.
uniroyal-tire-giant-tire-ferris-wheel
After the 1965 World's Fair festivities ended, the Giant Tire was relocated to a Uniroyal Tire sales office in Allen Park, Michigan, and has towered alongside I-94 near the Metro Airport ever since. Over the decades it has become an important symbol of Uniroyal's 117-year heritage and a cultural icon for the city of Detroit known the world over.
In 1994, the Uniroyal Giant Tire was given a sleeker, modern look In 1994, the Giant Tire received a facelift to give it a sleeker, more modern look. Neon lighting and a new hubcap were added to the tire's body.
The current Uniroyal Giant Tire was completed in 1998In August of 1998, the Giant Tire was modified again — this time to resemble a NailGard® tire. A giant nail was placed in the tire's tread to demonstrate the product's ability to seal 90% of tread punctures up to 3/16″ in diameter.
In 2003, Uniroyal invested close to $1 million to renovate the Giant Tire as its contribution to Detroit's I-94 corridor revitalization effort. The renovation, which included structural repairs and an update to the exterior, will ensure that the Giant Tire is enjoyed for many years to come.
Manufacturing Facilities
Demand is growing for GT Radial tires in the U.S. and across the globe due to the brand's unbeatable combination of performance and value. GITI Tire, global producer of GT Radial products, is working hard to meet this demand with seven manufacturing facilities located across China that, in total, produce 137,000 tires each day.
Each plant shares a commitment to continuous quality improvement and has obtained ISO/TS16949:2002 accreditation, the highest international standard for quality. And each plant is located in strategic, historically significant areas of China:
GITI Tire Anhui – It is appropriate that the company's first and largest facility in China (founded in 1993) is located in one of the most important cradles of China's pre-historical civilization. It has been discovered that humans inhabited the Anhui site of the Inverted V Cave (the shape of the Chinese character for "man") as far back to 2.5 million years ago.
GITI Tire Fujian – Established in 1995, this plant manufactures tires for cars, heavy trucks and buses. Fujian, located in the southeast region of China facing Taiwan, has a monsoonal climate and contains an abundance of plants and animals with many rare species.
GITI Tire Chongqing – Acquired in 2002, this plant in southwestern China manufactures truck and bus tires. Chongqing is China's third largest center for motor vehicle production.
GITI Tire Yinchuan – This plant, acquired by GITI Tire in 2002, manufactures truck and bus tires (both radial and bias). Yinchuan, first built in the early part of the Tang dynasty, dates back 1,300 years and has been an important frontier defensive city in the northwestern part of China.
GITI Tire Hualin – Acquired in 2003, this facility located in northeast China manufactures tires for cars, trucks and buses (radial and bias). Hualin is famous for the Hualin Temple, which has more than 1,000 years of history and represents the oldest wooden architecture in south China.
The historical and economical significance of the plant hometowns is indeed amazing; the 23,000 GITI team members at the seven plants are working hard to write their own history for manufacturing a tire brand that drivers across the world can depend on.
Winter Tires
Tiger Paw® Ice & Snow™ II
The versatile Tiger Paw® Ice & Snow IITM is the affordable winter tire that will provide durability and reliability for driving in severe winter conditions.Le Tiger Paw(MD) Ice & Snow II(MC) est le pneu d'hiver qui s'adapte à toutes les situations et qui, à un coût abordable, procurera durabilité et fiabilité pour affronter les conditions difficiles de la conduite hivernale.
Benefits of this Tire:
Dependable traction on ice, snow, slush and wet road conditions
Improves cold-weather grip
Offers durability and reliability on wintery roads
Quiet winter drive
CHOOSING THE RIGHT TIRE
To help assist you in making the proper tire choice by seasonality, this bulletin provides information regarding intended use and application guidelines for various types of tires.
All Uniroyal® tires meet or exceed federal regulations. Different types of tires provide unique performances that are delivered by specific technical solutions including mold design, construction and materials. We therefore recommend the following:
Summer tires are designed to perform best in warm weather conditions. Summer tires should be removed when ambient temperatures are consistently below 7°C.
All Season tires are designed to provide optimized performance in warm weather conditions as well as a reliable performance in moderate winter conditions. All Season tires should be replaced by winter tires on all wheel positions during severe winter conditions (when temperatures are consistently below the freezing point and/or there are regular winter precipitations such as snow or freezing rain).
Winter tires are designed to perform best in cold weather during severe winter conditions. Winter tires should be removed when ambient temperature is consistently above 7°C.

Tire Type
One of the first questions your dealer will probably ask you is, "What type of tires are you looking for? The answer to this question will depend on your vehicle and driving conditions.
If you seek comfort and handling…
Touring tires help provide excellent dependability on wet and dry pavement. They offer a balance of smooth and quiet ride with performance handling.
If you drive a sports car, or look for handling and performance…High-performance tires are designed for use at higher speeds in dry and wet weather. They have a softer rubber compound for improved grip, especially on high-speed cornering.*
If you drive a pick-up truck or an SUV…Light truck tires help provide durability and traction in adverse off-road conditions. On the flip side, SUV tires are ideal for on-road, comfort-tuned SUV applications.
If you own a commercial vehicle…Commercial light truck tires are designed to handle driving through dirt, mud and everyday wear and tear from commercial applications.
Ensure that your new tires meet your needs. Think about not only the typical conditions, but also the worst conditions you foresee driving in. What performance criteria are you looking for? For example, is wet traction more important to you than cornering capability on dry roads? The more you can tell your dealer, the easier it will be to find the right tire for your needs:
Winter tires are designed to perform in cold, icy, wet and snowy weather. They are optimized for handling and traction under wet conditions, but can be used in dry conditions as well.
Most automobile tires are all-season tires. These tires satisfy the needs of most road conditions. They have the deep water channels for wet traction, but also harder rubber compound for greater tire life in warm weather.
Off-road tires are ideal for drivers who take their vehicle off the road and do limited on-road driving. These tires have stiffer sidewalls for greater resistance against puncture when traveling off-road. The tread pattern offers wider spacing than an all-season tire to help remove mud from the tread.
* Exceeding the safe, legal speed limit is neither recommended nor endorsed.
Tire Size
Knowing your tire size can save you time and help you to make an informed purchase. Your vehicle's original tire size can be found in your owner's manual or on the tire label located on the driver's doorjamb, glove box lid, or inside the fuel hatch. If in doubt, consult your local Uniroyal ½ tire retailer or check your sidewall (see diagram below):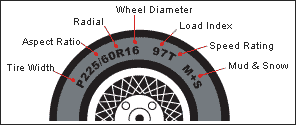 Tire Width: The three-digit number refers to the overall width of the tire in millimeters.
Aspect Ratio: The relationship between the tire height and width. In this example, the tire height is approximately 60% of the tire width.
Radial: The letter "R" indicates a radial construction of the carcass plies. The carcass plies run across the tire from lip to lip, helping to provide strength, stability, flexibility, and ride comfort.
Wheel Diameter: The number indicates that this tire fits on a wheel with a 16-inch diameter.
Load Index: The load index can range from 0 to 279 and indicates how much weight the tire is certified to carry at maximum inflation pressure. Never buy a tire with a lower load index than your vehicle's original tire. To determine your tire's load capacity, refer to the load index chart (see below):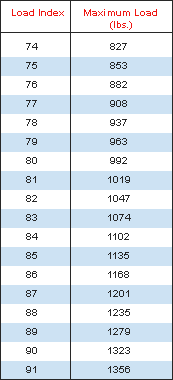 Speed Rating*: The speed rating tells you the top speed at which the tire can operate. Speed ratings range from Q (lowest) to Z (highest) with one exception: the H rating falls between U and V.
To maintain the speed capabililty of a vehicle, use replacement tires with ratings equal or greater than those of the original tires.
Mud & Snow: The letters M and S indicate that this tire meets the Rubber Manufacturer's Association's standards for a mud and snow tire. The letters can be found in the following combinations: M+S, M/S, and M&S. All-season tires carry this mark.
Severe snow tire marking for winter tiresNote that a separate, severe snow marking appears on winter tires that are designated for severe snow applications.
Tips: Never choose a tire that is smaller than the tire that came with the car. If you are interested in a size other than your vehicle's original equipment, or are upgrading, consult your local Uniroyal tire retailer.
Tire Mixing
For front or rear wheel drive vehicles, we recommend mounting the new tires on the rear axle to prevent an unstable oversteer condition. When purchasing a single new tire, it should be paired on the rear axle with the tire having the greatest remaining tread depth.
If you must use radial tires with bias-ply tires on the same vehicle (not recommended), the radial tires must always be placed on the rear axle. Never mix radial and bias-ply tires on the same axle.
For 4-wheel drive vehicles, if no instructions for tire mixing appear in the vehicle owner's manual, adhere to the following guidelines:
Do not mix sizes — all four tires must be branded with the same tire size
Do not mix radial and bias-ply tires.
Outside circumference of all four tires should be within one and one-half (1-1/2) inches of each other.
Do not mix tread patterns such as off-road and all-season.
Exceeding the safe, legal speed limit is neither recommended nor endorsed.
Uniroyal Tires
Getting into an accident can be a painful experience. Every year millions of dollars in damage is done by hailstorms in the Calgary area. We want to make the rest of the process to getting back to normal as easy as possible for you.