Hyundai Velostar Turbo Tint Install Calgary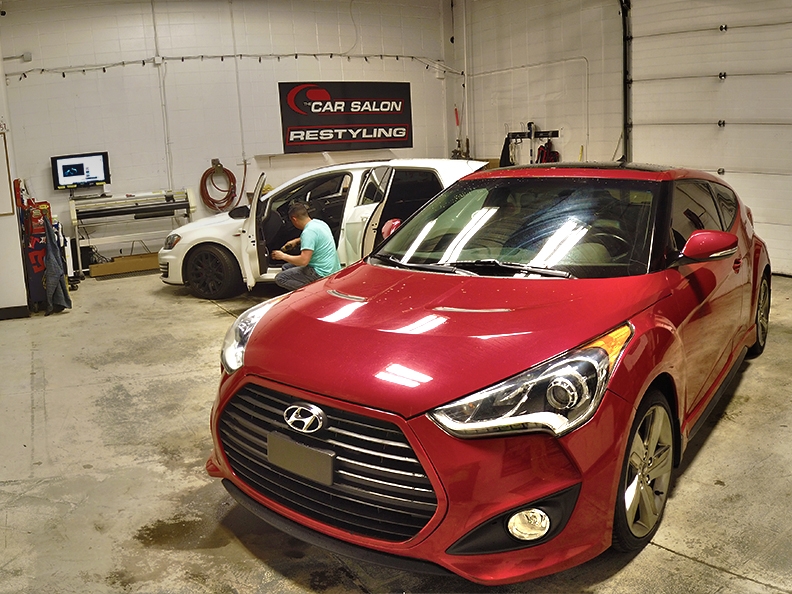 Window Tinting Calgary
Automotive Window Glass tinting (darkening film application) at The Car Salon Films & Graphics division in Calgary.
We beat the Dealer Prices on Tint, PPF, Decals & Wraps!
We specialize in installing Xpel & Suntek solar control window tinting films and paint protection for cars, trucks, boats, and RVs. Our goal is to provide a resource for those individuals seeking the highest quality products, the most skillful, experienced installers, and the most advanced application methods in Calgary. Come in and experience our commitment to quality for yourself at The Car Salon.
Throughout our careers as window tint film professionals, we have worked with products from every major film manufacturer. At The Car Salon Tinting, we use the finest Suntek car tint films, as well as state-of-the-art computer cutting equipment to provide the best possible installation.
All the products we carry feature a lifetime manufacturer's warranty and a durable, scratch-resistant coating. With several different shades to choose from, it is easy to find the right match for your needs. Feel free to visit our store in Calgary to see our film samples.
Finding the right company to apply your window film in Calgary is critical to have the best window tint around. At The Car Salon, doing the job right the first time is important as we strive for repeat customers.
With many Window Tinting shops in the Calgary area, it can sometimes be hard to know who you should go with. The Car Salon has 20+ years of experience applying automotive window tint.
In Alberta, windows can only block a limited amount of UV rays. This is because of the law regulating the visible light that is let in by the film. For information on limits of tint, please call 403.250.3722, as these limits vary per window and location on your car, truck, or SUV.
Need paint protection,  decal, or car tint removal? You have found the right place. Give us a call.