Established in 1942 under the name, Heung-A Tire Company, Nexen Tire Co. is proud to have served the industry for the past 71 years. We were recognized in 1956 as the first Korean tire company. In 1985, we dedicated our facility in Yangsan, Korea, to the production of radial tires. 6 years afterwards, in alliance with OHTSU Tire & Rubber in Japan, we sharpened and honed our development and manufacturing capabilities. In an effort  to reflect our dedication to quality and continued leadership, we  changed the company name in 2000 from Woosung Tire to Nexen Tire  Corporation. The name Nexen is a combination of two future-oriented  words; next and century. That same year also saw Nexen Tire listed on  the KOSPI 200 Index future market. Nexen Tire  practices constant improvement and restructuring to sustain growth and  anticipate market demand.  For example, we closed our BIAS tire plant in  2003 due to low revenues and invested instead in the opening and  operation of a second manufacturing plant. By 2004, we were introducing  Ultra High Performance tires and developing High Performance SUV tires. In 2005, Nexen  Tire was awarded a patent for the technology to manufacture  rubber/stratified silicate nano-composite tires. By 2006, we had  completed development on the new UHP and Winter LTR/SUV pattern. To  accommodate increased global demand for the Nexen brand, we opened yet  another tire manufacturing plant in Qingdao, China in 2007. Due to our  commitment to quality products, friendly service and exceptional value,  Nexen's domestic market share has increased from 8% to 20%, with annual  sales now exceeding $600 million dollars. We employ over 2,000  employees, each dedicated to building a superior and safe product. Nexen  Tire currently exports to 120 countries. We are truly proud of our  products and stand confidently behind each and every tire. – See more at: https://www.nexentireusa.com/about#sthash.BWoGYOFh.dpuf
History
Established in 1942 under the name, Heung-A Tire Company, Nexen Tire Co. is proud to have served the industry for the past 71 years. We were recognized in 1956 as the first Korean tire company.
In 1985, we dedicated our facility in Yangsan, Korea, to the production of radial tires. 6 years afterwards, in alliance with OHTSU Tire & Rubber in Japan, we sharpened and honed our development and manufacturing capabilities.
In an effort to reflect our dedication to quality and continued leadership, we changed the company name in 2000 from Woosung Tire to Nexen Tire Corporation. The name Nexen is a combination of two future-oriented words; next and century. That same year also saw Nexen Tire listed on the KOSPI 200 Index future market.
Nexen Tire practices constant improvement and restructuring to sustain growth and anticipate market demand.  For example, we closed our BIAS tire plant in 2003 due to low revenues and invested instead in the opening and operation of a second manufacturing plant. By 2004, we were introducing Ultra High Performance tires and developing High Performance SUV tires.
In 2005, Nexen Tire was awarded a patent for the technology to manufacture rubber/stratified silicate nano-composite tires. By 2006, we had completed development on the new UHP and Winter LTR/SUV pattern. To accommodate increased global demand for the Nexen brand, we opened yet another tire manufacturing plant in Qingdao, China in 2007.
Due to our commitment to quality products, friendly service and exceptional value, Nexen's domestic market share has increased from 8% to 20%, with annual sales now exceeding $600 million dollars. We employ over 2,000 employees, each dedicated to building a superior and safe product. Nexen Tire currently exports to 120 countries. We are truly proud of our products and stand confidently behind each and every tire.
– See more at: https://www.nexentireusa.com/about/history#sthash.V1ApU2c8.dpuf
 Technology
Tire shopping may not seem that exciting, but once you're driving on new tires, you'll notice a difference. Here are some tips for how to prepare and what to expect while shopping for new tires.
First, find the make and model of your vehicle. Your version/option might also be required, which is sometimes called your package level. Version/option can affect your tire size. It should be located on an information placard in your vehicle. In vehicles made after 2005, this placard will be located in the driver's side door. In older vehicles, the placard may be located instead in the rear passenger doorjamb, fuel filler, glove box or center console, or engine compartment. For example, the version/option of a Honda Accord EX V6 is EX V6.
You can also use your tire size. Your tire size should be on your tire's sidewall. It could also be listed on the placard inside your driver's side door, or in your owner's manual.
Factors like whether you drive around town, take frequent long trips, or drive on- or off-road should influence your decision, as tires are designed to serve a variety of functions, like street performance, long, comfortable rides, enduring treadwear, and enhanced grip.
Ask what's included in the tire price, such as balancing, valve stem replacement, installation, Tire Pressure Monitor System service, and wheel alignment, which could be necessary if the previous tires wore unevenly.
Selecting optional Road Hazard Coverage will protect your tires from scrap metal or other items that could puncture them.
If you end up with more than one choice, our sales professionals can discuss the features and benefits of each tire with you, so you can make a confident decision.
Do the research and you will find that NEXEN has the industry's best warranty. Our unmatched warranty is designed for our customers – to protect the value of their purchase, provide assurance when hazards occur and reduce stress.
Tread Wear
Mileage Warranty*
2-year Limited
Road Hazard Warranty*
36-Month Roadside
Assistance
* Most, but not all Nexen Tire patterns come with a
Tread Wear Mileage Warranty and/or Road Hazard Warranty.
Check each pattern for coverage.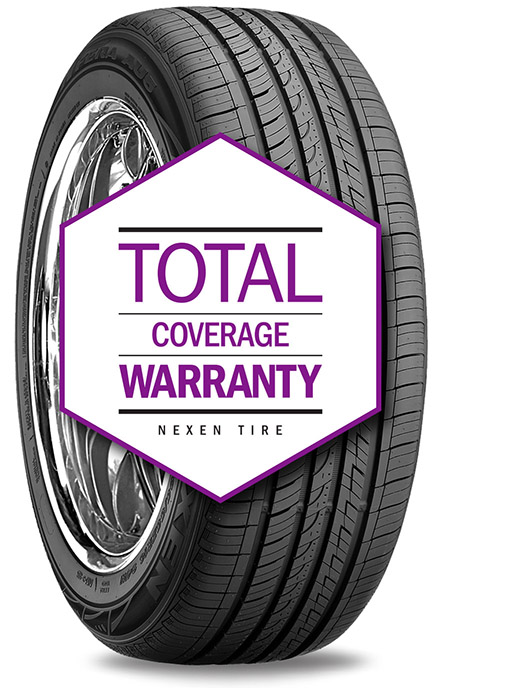 NEXEN Advantages
NEXEN is no longer an industry secret.
The word is out on us and here are just a few reasons why.
World Class Nexen Tires for World-Class Cars
NEXEN's rigorous quality and performance testing have earned the trust of automakers who understand that if a driver is satisfied with their tires they are also likely to be satisfied with their vehicle. Nexen Tires is proud to be approved for Original Equipment fitments by leading automakers.
NEXEN's High Performance Tires
provide outstanding handling
designed for UHP vehicles
and high speed stability.
Nfera SU1



Nfera SU4



Nfera AU5



N7000 Plu



Tread Wear Mileage Warranty*
2-year Limited Road Hazard Warranty*
36-Month Roadside Assistance