Michelin Tires
Authorized Michelin Tire Dealer Calgary
Finding Michelin tires for your vehicle is easy at your Car Salon Tirecraft dealer in Calgary, AB.
No one makes tires like MICHELIN®. That's because MICHELIN® recognizes that you need it all from your tires — safety, a comfortable ride, fuel efficiency, grip and control, toughness, and more. Safe, everyday driving demands it. Many of those performances naturally compete, and increasing one tends to decrease another. That's not acceptable at MICHELIN®.
It's why we put more science into our tires, minimizing the trade-offs and maximizing performance. So you can get the signature performance you want most without giving up the others in the process. That's MICHELIN® Total Performance™. And it's why you'll see the same technology that helps us win the most grueling endurance races make its way into our street tires.
Shop MICHELIN® tires with us today.
Michelin Tires Calgary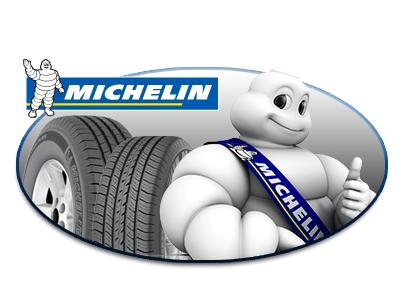 Michelin North America is a $10.76 billion dollar a year company operating 19 plants in 16 locations and employs 22,000 people. It manufactures and sells tires for airplanes, automobiles, farm equipment, heavy-duty trucks, motorcycles, and bicycles. Michelin manufactures tires in six states: Alabama, Indiana, Ohio, Oklahoma, North Carolina, and South Carolina. In addition, there are three plants in Nova Scotia, Canada, and one plant in Queretaro, Mexico. Two plants specialize in the manufacturing of semi-finished goods taking raw materials and turning them into components for the plants that produce tires and one plant strictly produces synthetic rubber. Finished goods are produced in sixteen plants, two sites produce retreads for the trucking and one site produces retreads for the aircraft industry. Michelin Maps and Guides also produce road atlases, road maps, and travel guides for all the major cities in North America.
Michelin Tires Sustainability is a Familiar Ground
We've cared about sustainability since before standards
were imposed on the industry.
As early as 1946, with the introduction of the radial tire (now the most common
tire), we reduced the rolling resistance of tires by 30%.
In 1992 we reduced it by another 20% with the addition of the Silica technology.
What is rolling resistance?
Rolling resistance is the main challenge for tire makers since
it's intrinsic to the product: an object that rolls create friction
and therefore the engine has to work harder.
The quality of the tire determines the fuel efficiency against that friction force.
In 2012, the MICHELIN® ENERGY™ E-V was made available
for electric cars to increase their autonomy.
We're currently working on our fifth generation of green tires.
We aim to improve fuel economy by at least 2% and also reduced CO2
emissions with each successive generation.
Michelin Tires just keep getting Better
By focusing on finding new solutions for your driving needs, our technologies and
innovations have profoundly shaped past and present tires.
Today, we continue our commitment to imagine the future of mobility.
R&D is in our DNA
Our first scientist was hired in 1893. The impact was so great that from that point, we knew that Research and Developmichelin3ment would be key to the evolution of the modern tire.
Today, 6,600 R&D people strive to meet your changing mobility needs. They are diligently researching chemistry, physics, and new technologies, as well as testing prototypes. Our hubs are located on three continents and in seven countries: China, France, Japan, Spain, Switzerland, Thailand, and the United States.
Safe Driving with Michelin Tires
When it comes to safety, tires are one of the most important components of your vehicle.
Your brakes stop the wheels from turning, but it's the grip of the tires that actually brings your car to a stop.
Let's take a closer look.
Here, rubber meets the road: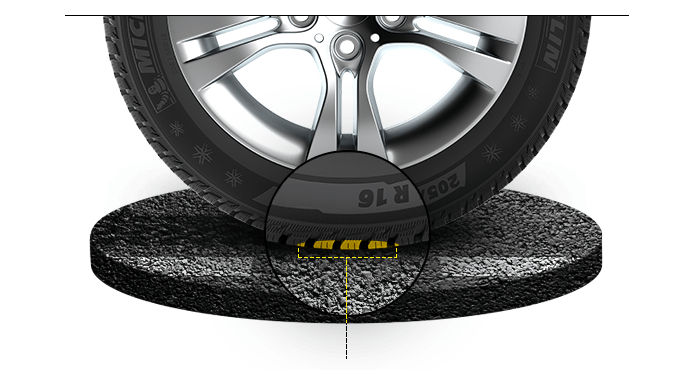 The only thing holding your car to the road is an area on the tires that's the size of a hand.
And this is where it all happens:
braking, acceleration, traction, handling, steering, comfort.
Even the most powerful car won't grip the road without the right tires.
You took time to choose your car.
Taking time to choose your tires is just as important.
We can all recall stressful situations where our tires made the difference:
Think of that bike that came from nowhere.
That driver in front of you suddenly braking.
That dog crossing the street.
That difficult ride in a snowstorm
Your safety does not just depend on the way you or others are driving.
It depends equally on your choice of tires.
For your peace of mind (and your family's), take the time to choose well!