The Baja Proven Product Line
In 1963 Dick Cepek and his family set out with the Washburn family for the ultimate off-road tire test – to drive the length of the Baja peninsula totaling 1000 miles. Dick was so impressed with Cepek 3h the tires that he coined the phrase "Baja Proven" – considering this run to be the ultimate tire test.
Dick went back to the peninsula in 1966 with his friend Ed Pearlman to tackle the trail once again. This was the year of the first official Baja 1000, and Dick and Ed proudly finished in second place.
Not long after. Dick opened the doors to his first off-road retail shop in 1967. He sold a wide variety of off-road tires and wheels and offered every off-road accessory he could find. From jacks that would work in soft sand and desert survival books to tents, auxiliary lights, and other accessories required for a successful trip through the desert.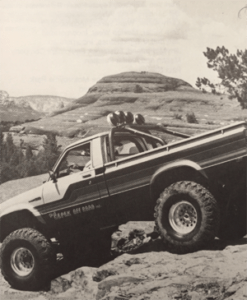 Becoming an International Brand
After four years, Dick Cepek, Inc. became an international retailer selling products to South Africa, New Zealand, Italy, and the Middle East. Two years later he started a wholesale division to distribute products to other international retailers – a huge and immediate Cepek-4success.
Shortly after launching the wholesale division, he opened the doors to the second retail location in El Cajon, Calif. The rest, as they say, is history. He opened multiple stores in the Southwest region of the U.S. and in 1988 opened a retail store in Japan.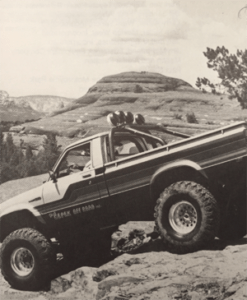 Dick Cepek Today
The Dick Cepek brand authentically represents this same spirit with the high-quality, reliable tire and wheel products we make. We are dedicated to providing the best products available for truck, Jeep, SUV, and 4×4 owners who enjoy the great outdoors and a lifetime of adventure.
Dick Cepek Tires & Wheels offers a full line of tires, wheels, accessories, and apparel. Our products are made to last and carry generous warranties. We also recently announced a generous consumer reward program. Explore our site, or download our catalog.
The Dick Cepek Brand has always taken great pride in providing quality on and off-road products for trucks, S.U.V., and 4×4 owners. From its humble beginnings as a means for Dick to supply his family, friends, and fellow off-road enthusiasts with tires that would take them off the highway and into the great outdoors, to today's high tech tire technology, Dick Cepek's mission is still carried out today by helping thousands of customers to enjoy products that enhance their vehicle and provide the off-road capability to those that need it. Call one of our Tirecraft tire experts to see which Dick Cepek Tire product is right for you!
Peace of Mind
Road conditions can be unpredictable, which is why your peace of mind is our top priority.bridgestone-peace-of-mind For example, our DriveGuard tires all winters worst conditions. And our Dueler tires bring together road-gripping performance and versatility, allowing you to confidently Blizzak winter tires bite into snow and ice, giving you increased confidence.
Dick Cepek Tires
When you hear the name Dick Cepek, you immediately think of off-road adventure.
Dick Cepek was an avid outdoorsman who enjoyed hunting, fishing and all types of outdoor activities. Once he moved out West, exploring the Southwestern desert regions through off-roading was his passion. His passion soon grew into a business, and eventually became a popular aftermarket off-road accessory company. At the time, Dick Cepek products included tires, lights, and suspension products as well has his trademark "Baja Proven" camping supplies many types of vehicles including ATVs.