Continental Tires
Authorized Continental Tires Dealer Calgary
The Car Salon – Tirecraft is proud to offer Continental tires to Calgary, Alberta at some of the lowest prices around. Car Salon staff helps customers find the right Continental tires for their car or truck at the right price that fits their budget.
Give us a call at 403.250.9723 today and we will work with you to find the right Continental tires for your car. Or you can contact us online. Remember Car Salon is a top Continental tire dealer in Calgary, Alberta, and also offers great deals providing Calgary auto repair services.
Not sure which tire is right for your car then use our Online Tire Widget.
Continental's ContiCrossContact LX is an excellent option for an outstanding purchase in the Highway and Street Light Truck / SUV Tire. This tire displays excellent handling and traction produced by the design of an open shoulder. Four profound and wide circumferential lines which extend to the opening avoid hydroplaning and decrease tire damage on rough surfaces. To improve steering, three circumferential block rows were added, giving the tire good straight-line performance while still giving the tire a smooth and quiet ride.
Continental Tires Sales: Repair & Installation  Calgary NE
While developing our premium tires, we consider each and every safety and performance aspect. The result: top ratings for Continental tires – around the world. Continental not only claims to produce world‐class tires of highest quality standards. We can actually prove it, too: Our multi‐award-winning tires are regularly tested by independent international magazines.
Since 2007, Continental products have received the highest recommendations in almost 80% of all tests. Furthermore, the company has been voted the top tire brand by renowned car magazines such as AutoBild and AutoZeitung and warded the best of 50 years test by auto motorsport.
And our constant tire development will keep this tradition up.
•1871: Continental-Caoutchouc & Gutta-Percha Compagnie is founded as a joint-stock company by nine German Hanover-based bankers and industrialists.
•This does not, however, amount to an initial public offering as understood today. Initially, the founders divided up the shares among themselves. Only gradually did the shares come to be traded. The share is already being quoted on the Hanover stock market in 1873.
•October 1882: Continental registers the "prancing horse" as its official trademark with the imperial patent office in Hanover. To this very day, the succinct identifying emblem is a protected trademark.
•Late 1920s: Major companies in the German rubber industry merge to form "Continental Gummi-Werke AG". This company produces almost solely in Germany. But the share of output exported continues to rise.
•1979: The German tiremaker begins to orient itself in a more international direction, a strategy it has vigorously pursued to this very day.
•1979: Continental acquires the European tire operations of the American-based Uniroyal, Inc. This puts Continental on a wider footing in Europe.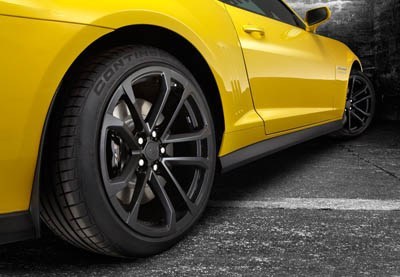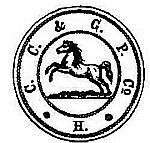 •1985: With the takeover of the Austrian tire brand Semperit, Continental finally gains a foothold in Europe.
•1987: To strengthen its position on the North American market, Continental buys U.S. tiremaker General Tire (GT). Since 2001 GT has been operating under the name Continental Tire North America, Inc.
•1989/1990: Continental and the Portuguese company Mabor establish a joint venture for the production of tires in Lousada, Portugal. In 1993, Continental takes complete control of Lousado tire activities.
•1993: Continental obtains a majority holding in the Czech tiremaker Barum. The company thereby strengthens its market benecke_uv-data position in Eastern Europe.
•1994: Benecke-Kaliko AG is integrated into the ContiTech division. Its production focuses on leatherette and foils.
•1995: The Automotive Systems division is established to step-up systems business with the automotive industry.

•1998: Automotive brake & chassis operations are purchased from the U.S. American company ITT Industries. The core of the acquisition is Alfred Teves GmbH, Frankfurt/Main, Germany.
•2000: Continental and Nisshinbo set up a new joint venture, Continental Teves Corporation, to cash in on the Japanese and Korean markets for brake and chassis systems.
•2001: Continental acquires the international electronics specialist Temic to bolster its position on the American and Asian markets. Temic has production facilities in America and Asia. In 2001 two further acquisitions are made. Continental acquires a majority holding in two Japanese companies engaged in the production of brake actuation components and disk brakes.
•2002: Continental and Yokohama form a 50/50 joint venture to step up tire activities with Japanese automotive manufacturers.
•2003: The joint venture Continental Sime Tyre in Malaysia is established. Continental's expands its tire business in the ASEAN area (Southeast Asian countries) and Australia.
•2004: Phoenix AG merges with ContiTech to give rise to the world's largest specialist for rubber and plastics technologies.
•2006: ContiTech acquires a Danish manufacturer of power transmission belts with production facilities in Denmark, China, Korea, and India.
•2006: With the purchase of the automotive electronics business from the American company Motorola, Continental expands its activities in the telematics area and elsewhere.
•2007: The tire divisions and ContiTech step up their involvement in the Central and Eastern European markets. Continental obtains a majority holding in Matador Rubber s.r.o., Slovakia.
•2007: With the takeover of Siemens VDO Automotive AG, Continental makes the biggest acquisition yet in its corporate history. Continental moves up into the top league of automotive suppliers worldwide. At the same time the company bolsters its market position in Europe, North America, and Asia.
•2009: A milestone for Continental's growth in China and Asia: The new Asian headquarters and a research and development center is opened in Shanghai.
•2011: Continental opens its first tire plant in China.singapur_uv-data
•2011: Continental lays the cornerstone for a new research and development center in Singapore.
•At present: Continental ranks among the top five automotive suppliers worldwide and holds the number 2 spot in Europe.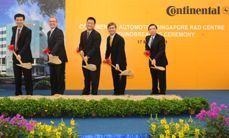 Continental Tires
Getting into an accident can be a painful experience. Every year millions of dollars in damage is done by hailstorms in the Calgary area. We want to make the rest of the process to getting back to normal as easy as possible for you.