Car Pedal Covers
Customize your ride including car pedal covers.
Is it any surprise that you want every last detail to be just right? At the Car Salon, we get your commitment to detail and want to ensure that you can find whatever you're looking for when you come to our site. This is why we have done our level best to bring you not only the most well-priced but best looking and high-performing racing pedals on the market.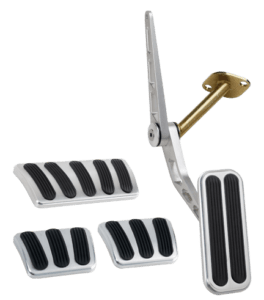 Whether you simply want to upgrade the look of your interior with a carbon fiber racing pedal set or you want to replace a broken or worn down OEM brake pedal, The Car Salon has the selection to meet your needs.
There is simply no shortage of carbon fibre and aluminum car pedal covers you can choose from but how do you know they will fit? Don't take the chance of getting racing pedals that won't work with your car when you can buy our universal manual or automatic racing car pedal covers. All of our pedals covers are guaranteed to work on any vehicle so you don't have to search page after page of racing pedals. What's more, they come with a manufacturer's guarantee to be free of defects.
In business for a decade, The Car Salon prides ourselves on their superb knowledge of automobile parts and the accessory market that is rapidly evolving each year. The ability to quickly adapt to any changes in the marketplace has become the key to a successful business in today's economy. Their extensive knowledge, as well as their willingness to act upon it, has enabled them to become the industry's lead automotive parts provider.
Pedals
The Car Salon is your source for Corbeau seats and Sparco seats for street, race, or offroad. Seats and brackets for cars and trucks.