Frame Straightening Calgary
FLEETS, DEALERS, BROKERS & WALK-INS WELCOME
Car Salon has the most reliable frame repair services in Calgary!
Our frame straightening facility uses the latest Car-O-Liner system from the leading global provider of collision repair systems. Car-O-Liner products are well known for their high quality, advanced technology, and ergonomic design. Should your vehicle require frame repair? Be assured that our modern frame straightening system will restore it to its original condition.
+14037699309
Mon-Fri: 8a.m. – 5p.m.
Sat: 9a.m. – 1p.m.
3XJM+38 Calgary, Alberta
Browse our other Automotive Services!
We provide Calgary affordable automotive repairs & services.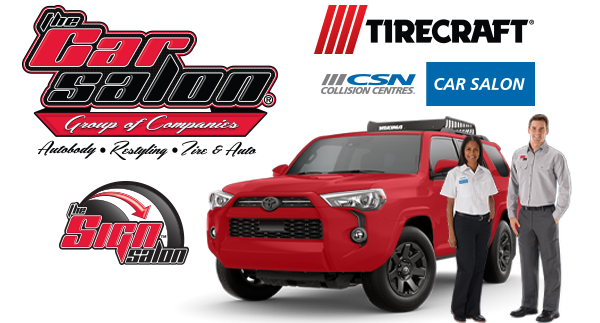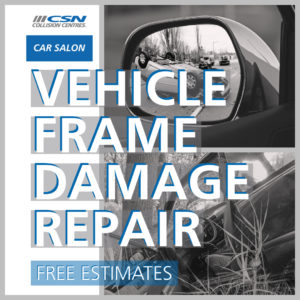 Repairing Damaged Vehicle Frames
Automotive Frame Repairs must be made to very rigorous standards by certified technicians, as a strong frame is absolutely paramount for driver and passenger safety. In some ways, the frame of a car is a lot like an undamaged aluminum soda can that's strong and straight. Once crushed or even dented, it undermines its basis and jeopardizes its structural integrity. The metal is severely weakened even when it is pulled back into its original shape and will crush much easier in the future.
The damaged frame of a vehicle is similar and can crush more easily in a future collision if not properly repaired, thus jeopardizing the safety of drivers and passengers. Typically, there are two methods of repairing vehicle frames.
Car Frame Straightening Service
The straightening of the frame is the method of bending the metal back into its initial form. Auto body shops use computerized tools to determine the most accurate and precise alignment, as well as an ultrasound machine to measure the degree of damage. The frame can be returned to its state of pre-collision if performed properly.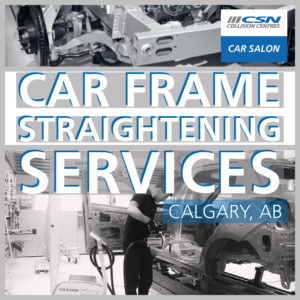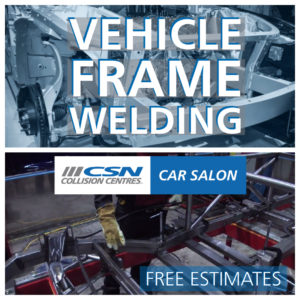 Vehicle Frame Welding
If the damage is too serious to straighten the frame, the technician may suggest cutting out bent frame components and welding them into fresh pieces. Done correctly, in its original condition, the metal at the weld points provides the same structural integrity as the frame.
Frame Alignment Technicians
Our certified auto body technicians can measure the structure of any vehicle within two millimeters of the approved factory dimensions. How do we know the correct dimensions?
The Car Salon Auto Body and Collision Repair Centre in Calgary Alberta utilize Autatex International's CRS (collision repair solution) database. This Software contains structural dimensions for every make and model of the vehicle produced in North America. The information contained in this database is the government recognized as the standard reference for collision repair data.
At The Car Salon Auto Body and Collision Center Calgary, Alberta, Hunter wheel alignment equipment utilizes laser technology to measure the steering angles of any vehicle to within a millimeter! Hunter equipment is also referenced by a database of vehicle specifications which is updated every six months. As part of the inspection and collision repair process, The Car Salon Auto Body and Collision Center located in Calgary, Alberta utilizes both Snap-on and OTC scanning equipment. These devices enable our technicians to communicate and troubleshoot the onboard computer controlling airbags and all other electrical systems.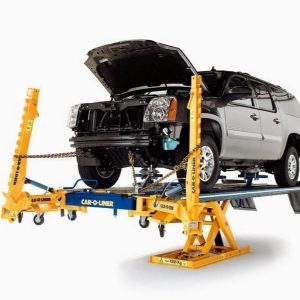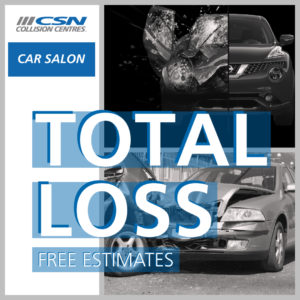 When 
repairing 
is 
out 
of 
the 
question?
Recall that the frame is an important element that protects the occupants of the vehicle in a crash and that repairing it involves much more than simply restoring its initial shape. It is also about restoring structural integrity as if it were never damaged to absorb the force of any fresh effect. If the frame is deemed to be too severely damaged by an auto body mechanic, we may recommend scrapping the vehicle. Replacing the vehicle is then in your best interests.
For car frame repairs by an auto body repair shop repairing vehicles in the Calgary area for over 25 years, The Car Salon Auto Body Centre can be reached at 403.769.9309. The Car Salon also specializes in complete Mechanical Services, Car Audio & Electronics, Car Detailing, Window Tint, Vehicle Decals & Wraps, Car & Truck Accessories as well as many more premium Automotive Services.
If your vehicle has sustained structural or suspension damage, The Car Salon Auto Body and Collision Center has the expertise to fix it right, the first time, on time.