Shop For Tires
Shop tires with the Car Salon located in Calgary, AB from the top brand names and private labels straight off our tire rack. All covered by our Car Salon Tirecraft Calgary Price Match Guarantee.
The Car Salon is an authorized Bridgestone, Continental, Firestone, BF Goodrich, Cooper, Dick Cepek, Falken, Good Year, Kumho, GT Radial, General, Hankook, Michelin, Toyo, Pirelli, Mickey Thompson, Pro Comp, Vredestein, Yokohama & Lauffen dealer. We also carry passenger and light truck tires from other major brands. We have many options to shop for tires available, so you can find the size and style that best matches your needs. If you have any questions, contact us. We're happy to assist you in your search.
Don't see what you want?
We can probably still get them. Give us a call at 403.250.9723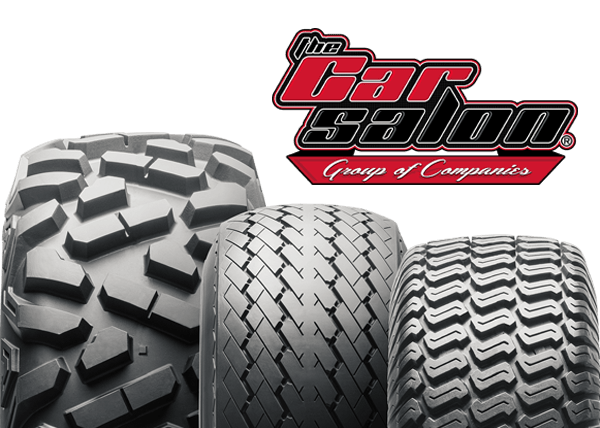 Shop Tires Online Calgary
Brands
We offer Calgary a wide range of brand names and private labels covered by our Car Car Salon Price Match Guarantee. Need a repair service? Browse our Shop for Tires Widget! We carry out complete, warranty-approved maintenance and repair of the vehicle to keep you on the road. Take a look at our specials and coupons to save even more money with current discounts.
When it's time to shop tires in Calgary, at the Lowest Price Period, Car Salon is here to make sure nothing gets in the way of your busy timetable with more than 250,000 styles in inventory!
Need a repair service?
We carry out complete, warranty-approved maintenance and vehicle repair to keep you on the road. Check back often for a look at our auto repair specials and coupons to save even more money with current discounts.
The Car Salon Auto Repair Centre is more than most tire shops. We provide professional automotive repairs, sales, and services.
Our shop started in 1978 and continues with all the customers we serve today. TCS management team got started servicing vehicles and moved up the ranks, we know that great results begin with great people and we continue to choose employees who are committed to customer service and who demonstrate a strong work ethic.
We offer a comfortable waiting area with a TV and free Wi-Fi.
Shop For Tires
ALL-SEASON: Dependable in dry, wet, or snowy conditions.
ALL-TERRAIN: Capable of any type of road surface.
LOW PROFILE: Better handling and performance.
MUD / OFF-ROAD: Best in wet, uneven, rocky terrain.
PERFORMANCE: Sporty, with excellent traction and maneuverability.
SNOW/WINTER
SUV
TRUCK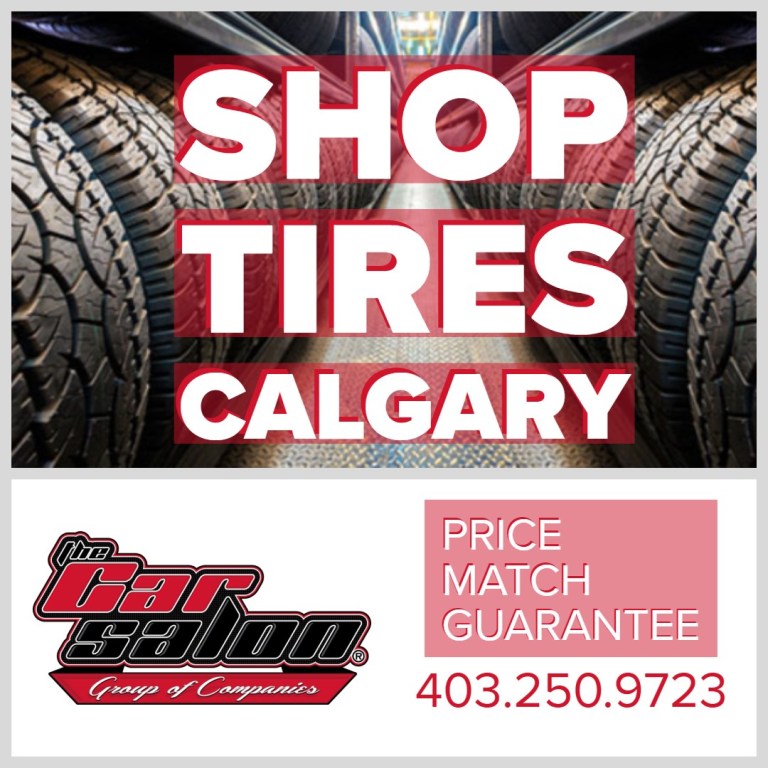 Shop Tires
To meet all your tire needs, Car Salon Tirecraft is here. From finding the correct tires to bringing you low, Out Door Pricing for your lifestyle. By providing a tire installation package that will assist your tires last, we're here to assist.
Manufacturer Rebates
Check the recent sales, best deals from manufacturers, and present rebates on new tires, shocks, struts, etc.
Installation Packages
Car Salon Tirecraft in Calgary, Alberta, is a proud leader in tires and wheels. Our team of automotive specialists will help you with our installation package to make the most of your investment.
Trailer Tires
Look for trailer tires that fit all your needs – from heavy-duty to special trailer service for boats, campers, utility trailers, RVs, and more.
Car Salon Tirecraft
At the Car Salon in Calgary, you will discover excellent tires at excellent rates. Innovative companies like Bridgestone, Firestone but also Dunlop are selling new models. You can search for the size you need on our website, browse our online selection, request deals and services, and even pick up your tires online with our simple online fitting widget.
Tires are only one element of our company. We provide a wide range of services including mechanical repair, tire balancing, and alignments. In order to make this possible, you can trust the Car Salon. Ask for a quote online or call 403.250.9723. We are conveniently situated to serve you from Airdrie, Balzac, Cochrane, and Okotoks.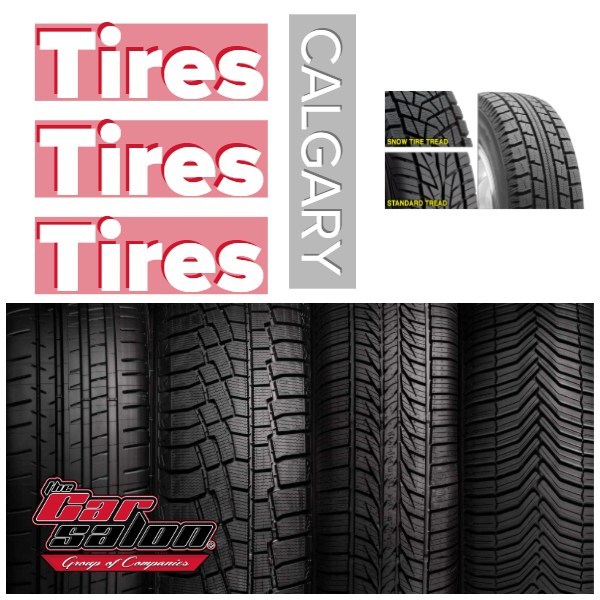 Get multiple automotive services performed on the same appointment.
Tires Calgary
Car Salon is an authorized dealer of Bridgestone and Firestone. We also carry other significant brands for cars and light trucks. Shop online now with the Car Salon. We have plenty of alternatives available to help you discover the size and style that best suits your requirements.
Please contact us if you have any concerns at 403.250.9723 We are pleased to help you with your quest.
Regardless of which passenger vehicle you're driving – a car, truck, SUV, or minivan – the only contact you make with the street is with your wheels. Staying secure behind the wheel relies on getting traction when you need it, and using us at the Car Salon is the best way to do that. That's exactly what our technicians can do for you – dependable passenger and light truck tire services are done by expert mechanics.
Winter Tires
What are they and do you need them?
Once October is here, and temperatures have dropped across the country. That means it's time to put on your car's winter set. And if you don't have winter tires, perhaps you should consider investing in a set.
A few things make it a winter tire. First of all, they have big blocks of tread and deep grooves to bite into the snow. Second, when cornering, they tend to have a squared shoulder to dog in the snow. The multiple compounds of rubber are the reason why they are not only for snow and ice. The winters really excel on the dry pavement where all-seasons tend to be less efficient.
However, there are some major downsides to winter tires. They offer you more grip at lower temperatures, typically  7 degrees and below, but they have less grip above 7 degrees. That implies you need to switch to all-season or summers in springtime. The cost of the second set is there, you typically pay to have them switched twice a year, and then the issue of storing the second set is there.
Perhaps most important for powerful performance cars are winter tires. Often this sort of vehicle comes with normal radials, in contrast to winter certified rubber. When it's hot, they offer you a stronger grip, but when it's cold, they're straight hazardous.
All-seasons are better than they ever were, and for most individuals, they're going to work. But have a set for winter and summer is the way to go if you want the complete highest output at all temperatures.
All-Weather Tires
Do "All Weathers" work in Alberta?
Depends on if you're looking for a do-it-all tire that can bring you through a heatwave to a snowstorm, the trick could be done by all-weather sets.
They have specially crafted tread designs and improved rubber compounds that offer to rival winter and snow-rated rubber momentum in cold weather and perform well under milder circumstances, comparable to all seasons.
Make sure you have the correct tires for you to get traction this winter. And don't forget in the warmer months to check your pressure. Under-inflation wears tread quicker and may also pose a danger to safety.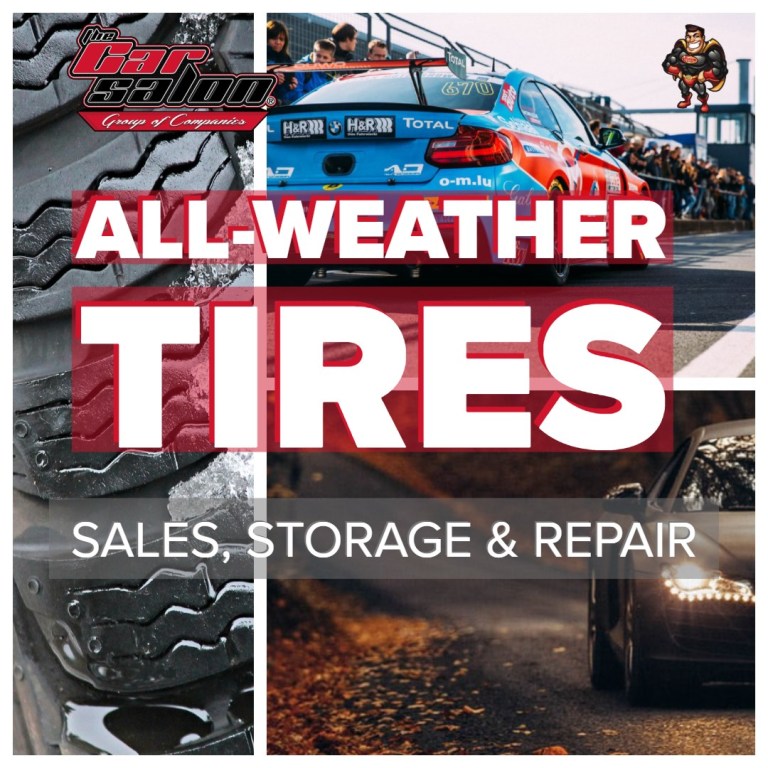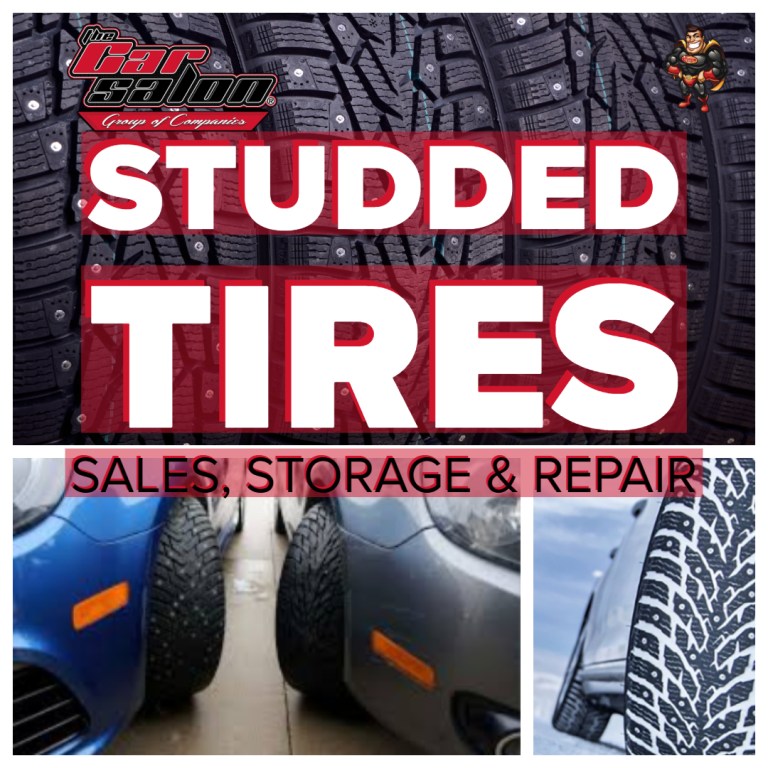 Studded Tires
Yes, they are legal in Calgary!
Are you tired every winter of buying snow tires and finding that you still need more traction? We're offering the best alternative at the Car Salon Tirecraft. In Calgary & surrounding regions, we serve clients. Do not be unprepared when the winter climate strikes tough!
So what are studded tires? We take your new tires and insert in the tread layout 80 to 100 studs per tire into prefabricated holes. Studs look like short, flat nails and are made up of two main parts. The carbide pin of tungsten protrudes beyond the pneumatic tread and contacts the pavement surface, while the outside of the stud is held in the tread at its base. Studs are placed flat-head-down and for spreading the rubber and inserting the stud we use a unique device. Only new sets can be studded.
What occurs at the end of winter when you no longer need your studs? At the Car Salon, we are offering stud removal. If the tires are comparatively new and the tread depth remains important, we can remove the stud by lubricating the studs and removing the studs by twisting each one with pliers. Even if the set is older but still have a reasonable tread depth, we can still give stud removal, although, without the studs, the wheels will now have less traction.
Air pressure should be checked daily once the studs are removed to guarantee that there are no leaks. Whether yours are old or new, our qualified experts will ensure that your vehicle is in great driving condition once the studs have been removed.
Off-Season Tire Storage
Save space and avoid the dirty, cumbersome job of storing your off-season set of tires and wheels in your home with the Car Salon Storage Service.
Convenience
Avoid heavy-lifting, loading, and unloading your tires and wheels several times each year, and let the Car Salon do the work for you.
Storage
In our secure, climate-controlled distribution center, your tires and wheels are stored on a protected tire rack until you need them again in the coming year.